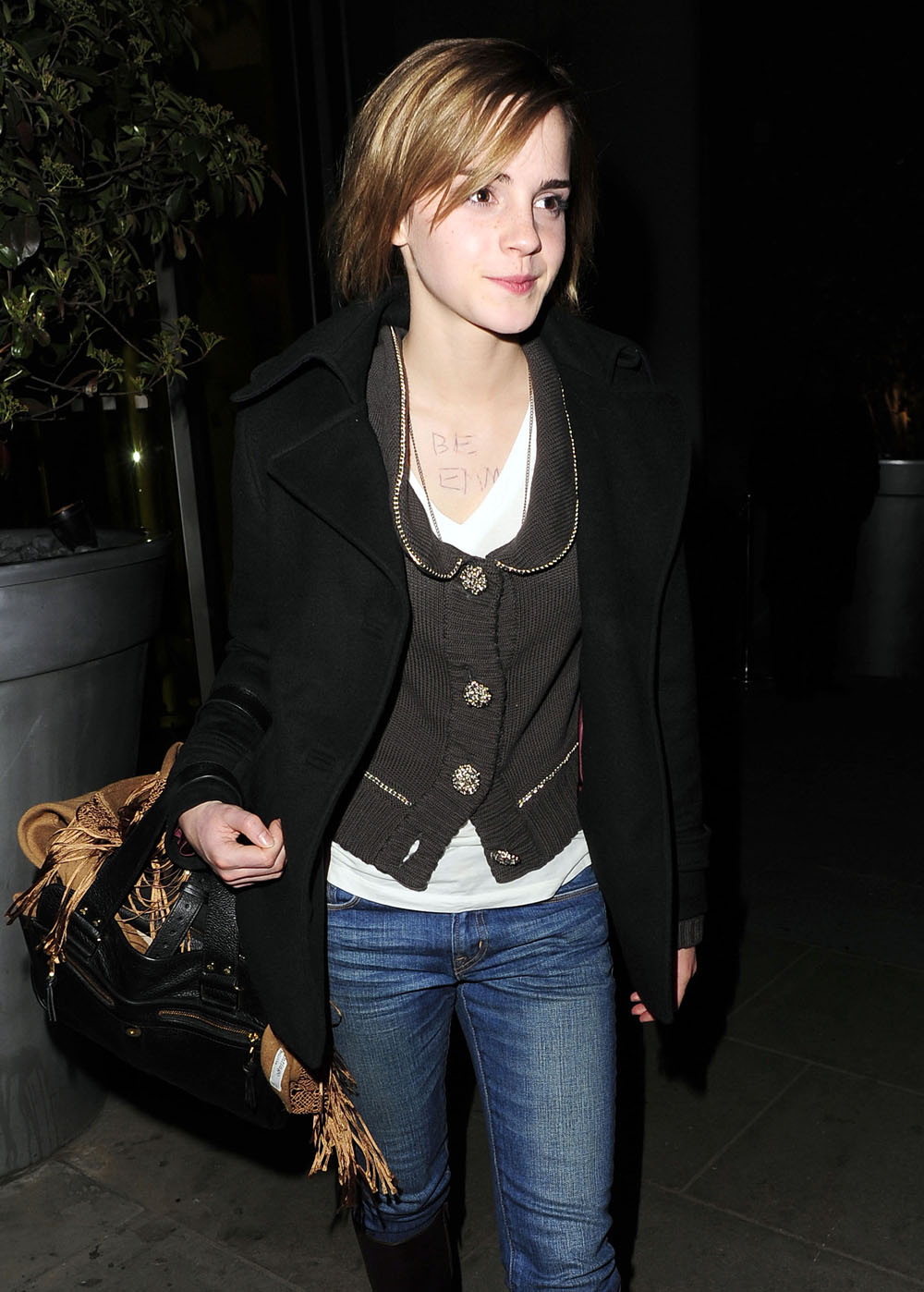 Emma Watson has problems picking up men. The Harry Potter star claims that she's too famous and rich, and her success intimidates normal guys her age. It sounds like a nice problem to have. She also calls being on the set of the Harry Potter films "a goldmine", which I suppose means that she's game for a lot of on-set hook-ups. Lord, I hope she was joking. She's only eighteen! The Daily Telegraph has more:
While winning a starring role in the Harry Potter films has brought Emma Watson worldwide fame and riches beyond her wildest dreams, the actress says it has played havoc with her love life.

"Finding someone that you like, or who likes you, is always difficult at my age," says Emma, who turns 19 next month. "But being famous complicates things much more. I suppose that some boys feel a bit intimidated by me and stay on their guard."

Emma is no doubt relieved that filming has begun on the seventh and final film in the series, Harry Potter and the Deathly Hallows, as she jokes: "It's easier to pull on film sets. They are a goldmine!"

The actress, who plays the brainy Hermione Granger, is currently on a gap year after she gained straight As in her A-levels at Headington School, in Oxford, last summer.

She says she has been enjoying life since she celebrated her 18th birthday. "I've got my driving licence and bought myself a car, a grey Toyota Prius," she says. "And now I can drink alcohol! I feel more free to do what I want to do, and I suppose that I have to be more responsible for myself. That's a big change."
[From The Sunday Telegraph]
I want Emma and Rupert Grint to hook-up. I think they would be really lovely together, the cute ginger boy and the cute brainy brunette. Adorable. I've given up on Emma and Daniel Radcliffe. They seem to have a relationship that borders on brother-sister/gay guy-straight girlfriend. I'm not saying Daniel Radcliffe is gay, but I am saying Daniel and Emma really don't seem to have anything in the way of sexual chemistry, for whatever reason.
Emma seems like a smart girl, and I really hope she doesn't end up like, say, Lindsay Lohan. Emma, to her credit, seems to have found a pretty good work-fun balance in her life, and I hope she continues with her education.
Here's Emma leaving Bungalow 8 nightclub in London with the words "Be Emma" written across her chest on March 5th. Images thanks to BauerGriffinOnline.