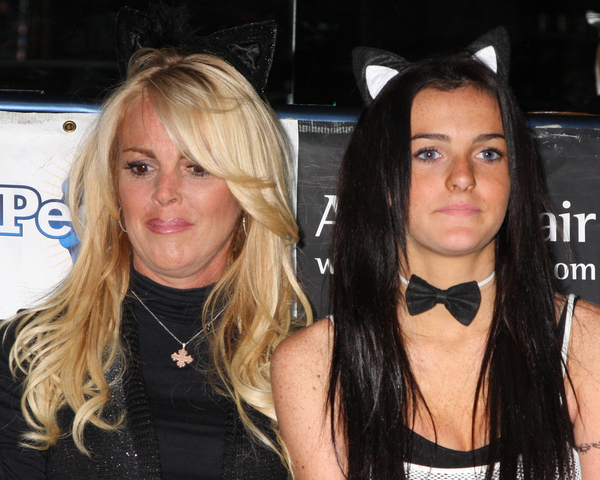 Hardly a week goes by when one of Lindsay Lohan's parents doesn't do something to remind us how she was coached from a young age to achieve her unique level of wasteful, underemployed infamy. Dina Lohan's "why are they censoring me" Twitter account turned out to be a phony, but many people were fooled into believing it was her because she's not the sharpest tool.
Dina's latest stunt involves some stupidity mixed with a sense of entitlement and a dose of poor mothering. She tried to get her youngest daughter Ali, 15, into a nightclub. When she was turned away she used the "don't you know who I am?" line.
When a 46-year-old mom wants to take her daughters out for a special night, a Hollywood nightclub might seem a curious choice. Not so for Dina Lohan, who took Lindsay, 22, and Ali, 15, to Villa on March 25, Us Weekly reports.

"Do you know who I am?" Dina protested when they were turned away at the door because of Ali's age.

"You're making a huge mistake. Huge!" Lindsay added.
[From MSNBC's The Scoop]
Do you think there is any hope for Lindsay to escape the pervasive, lifelong negative influence of her parents? Could she go to therapy and/or another part of the country and stop shopping long enough to have a fulfilling life? She's probably spent enough in the past few years to fund her entire family's retirement comfortably, including her brother and sister. Instead all she's left with are heaps of designer clothing, handbags, hair extensions, a tumultuous relationship, and a tan that's slightly less orange than it was last year. Is that any more hollow than the rest of our lives due to sheer volume of wasted resources?
You hear stories about moms trying to get 15 year-olds into nightclubs and you just want to protect their children. If it's too late for Lindsay, maybe there's still hope for Ali. She's probably been in plenty of other bars that haven't turned her away though.
Ali and Dina Lohan are shown on 10/27/08 at an event for Animal Fair Magazine. Credit: PRPhotos