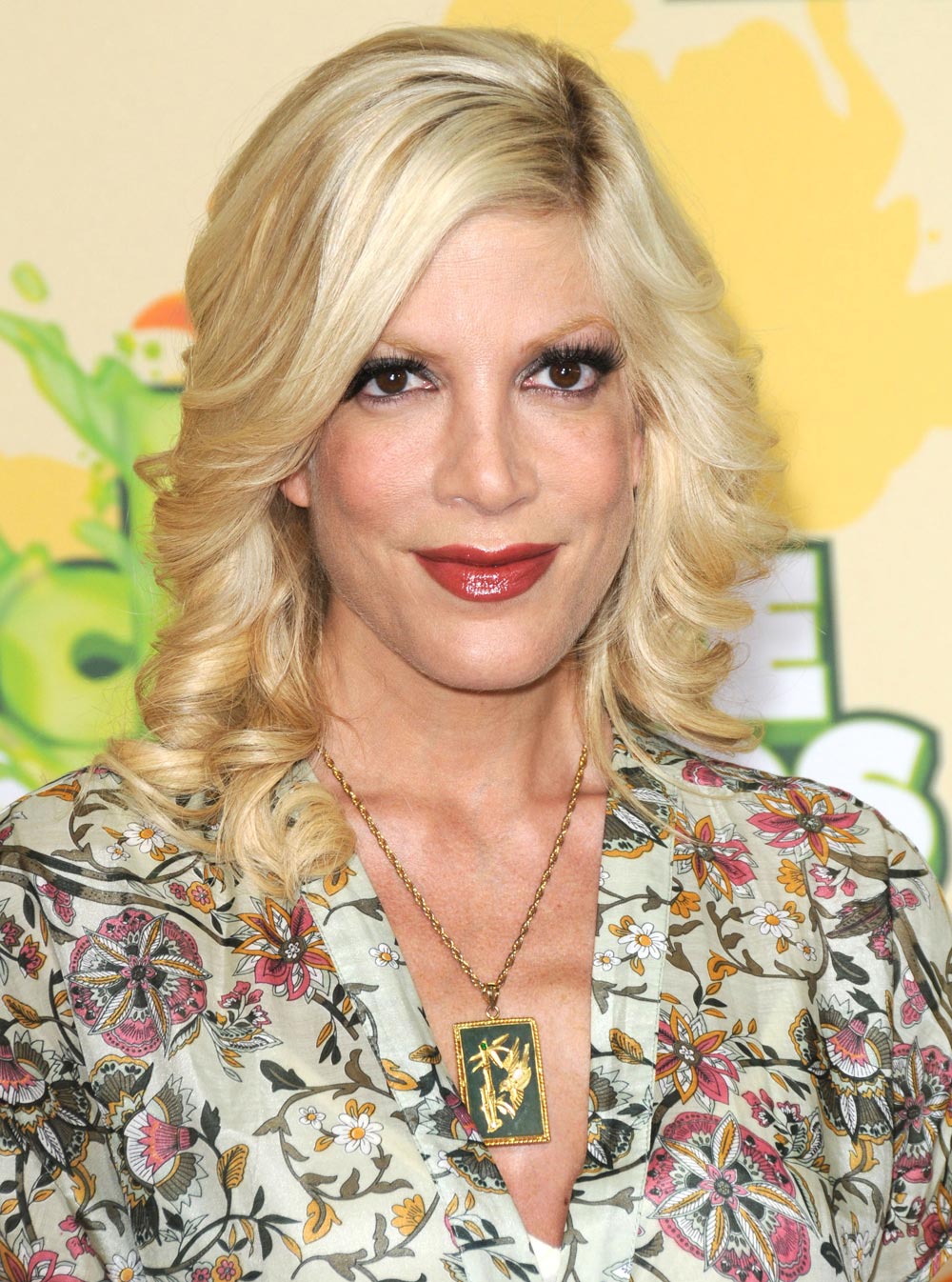 Tori Spelling claimed that she got just $800,000 from her father's 1/2 billion estate and that a lot of it went to pay off debt she had amassed. She even held a yard sale in late 2006 to make some money. She then tried to make it seem as if she used her inheritance to buy the inn that was featured on her reality show, "Tori and Dean: Inn Love," but that inn was rented. Tori's estranged mom Candy Spelling is set to claim in her upcoming book that Tori got a lot more than just $800,000 in inheritance and that Tori was rich and set for life after making millions on her dad's TV shows:
Expect more fireworks in Tori Spelling's ongoing feud with her mom Candy – after Candy accused her daughter of flat-out lying about her inheritance!

The shocking claim comes in Candy's new book "Stories from Candyland," and The Enquirer has an exclusive sneak peek of the blockbuster memoir.

The nasty mother-daughter feud heated up after legendary Hollywood TV producer Aaron Spelling died in 2006. His $500 million estate was due to be divided between Tori, her brother Randy and their mom, his second wife Candy.

Tori said she expected to inherit a sizable portion of the estate, but she claimed Candy, who was the executor, approved an inheritance of just $800,000.

"But in Candy's new book, she pretty much calls Tori a liar, saying Tori had been left much, much more money, although she doesn't give a specific amount," a publishing insider revealed.

"In addition, Candy says Tori was already 'stinking rich' and had made millions starring in her father's show 'Beverly Hills, 90210.'
[From The National Enquirer, print edition, April 13, 2008]
Candy definitely has an axe to grind after her daughter trashed her in her biography, sTori Telling, and you can see why Tori has an issue with her. Tori is a piece of work too though and is said to not even have visited her dad in the last few months before he died, and to not have attended his burial.
I'm inclined to believe that Tori really was broke before she got her inheritance as I remember reading that someone witnessed her unable to pay for stuff with two credit cards that were both maxed out. After that it's possible that she got more than a million in inheritance and it's also possible she blew that too given that she said she was unable to stop spending. Her brother said that he got just $800k too and that they knew that's all they would be receiving well ahead of time.
Tori is hustling and making money her own way. She still has a reality show on Oxygen titled "Tori & Dean: Home Sweet Hollywood," a jewelry line with HSN and another book coming out, titled Mommywood, on April 14. She's not going away any time soon. Maybe if her mom had thrown some more cash at her she would have bought some respite from having to deal with tell-all books and seeing her daughter's grinning mug all over the tabloids.
Tori and Dean are shown at the Kids Choice Awards on 3/29/09. Candy Spelling is shown on 11/6/08. Credit: WENN.com