Is David Arquette worried Courteney is too close to her hot co-star?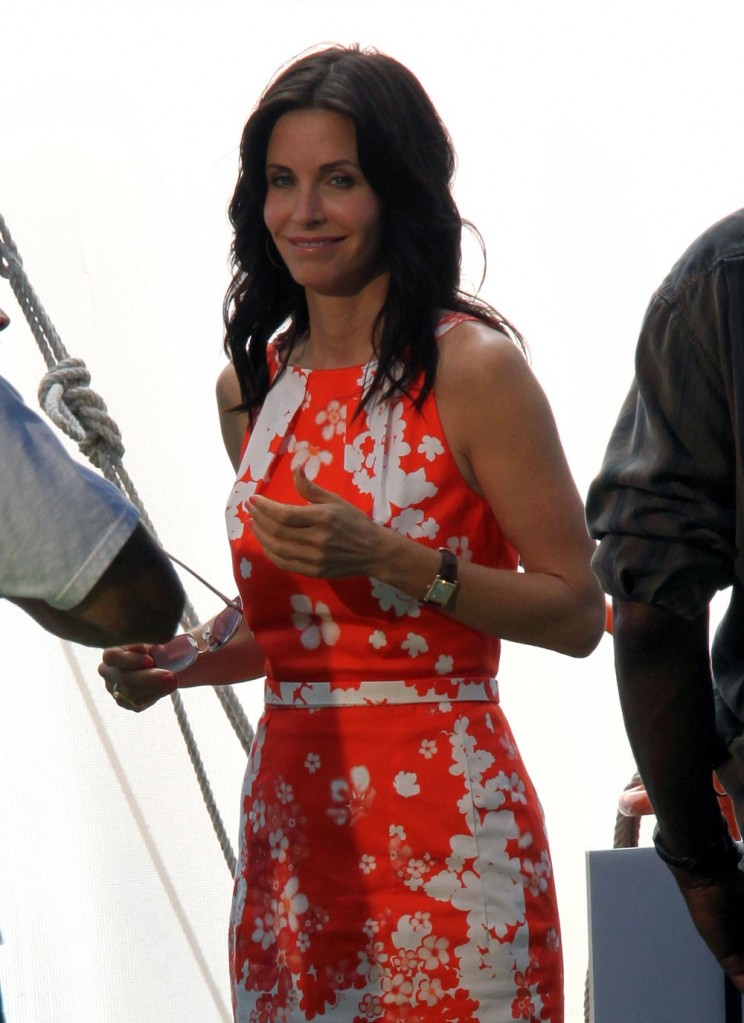 David Arquette is reportedly not happy with the time his wife Courteney Cox has been spending with her hot co-star Brian Van Holt on and off the set of her new show Cougartown. The racy show is about a recent divorcee who is reentering the dating world. David Arquette is known for his own wandering eye, and some speculate that Courteney is using her friendship with Van Holt as a way to get back at her husband and get him to understand how she feels when he makes moves on other women.
"Courteney and Brian have clicked since day one of filming the pilot, and she's using their on-and off-screen chemistry to push David's buttons. She's getting back at him for his wandering eye, and also reminding him she's still got her mojo."

The raven-haired actress and "House of Wax" star Brian raised eyebrows Saturday, March 28, when they arrived at The Other Room, a Venice, Calif., watering hole.

"They showed up together and then were joined at the bar by a few other friends," revealed the insider.

"David was nowhere in sight while Courteney and Brian were flirting with each other and laughing all night.

"Brian even introduced Courteney to some of his friends who happened to be in the bar. They were acting like a happy couple out on the town."…

David and Courteney have worked through previous problems in couples therapy, and though the have agreed to adopt a second baby, Courteney's workaholic ways are rubbing David the wrong way.

"He is miffed at what he perceives to be Courteney giving her career priority over family," said another source.

"And he feels she is making matters worse by getting close to Brian," added the source. "David now realizes how jealous and insecure Courteney felt when he was buzzing around with other girls."

The devoted mom and wife is by no means giving up on her marriage, noted the source. "But Courteney's blossoming friendship with Brian has tuned out to be a serious wake-up call for him to shape up and pay attention to his beautiful wife."
[from National Enquirer April 20, 2009 print ed.]
If this is true, the "make David jealous" strategy might be effective, but it's probably not the healthiest approach to a relationship. Their marriage has always seemed relatively normal to me – there is rarely buzz about trouble in their relationship. And even when there are rumors, it's usually given in a "they're going through a rough patch" sort of way. Especially if they're planning on adopting another child, their marriage has to be pretty stable.
You can't blame Courteney from loving the attention from a young co-star, however. She was recently mistaken for Janice Dickinson – a mistake that would make anyone feel a little starved for reassurance about their "mojo."
Here's Courteney on the set of "Cougartown" on 3/27/09. Credit: Fame Pictures. Brian Van Holdt is shown at the premiere of House of Wax on 4/26/2005. Credit: PRPhotos
Written by SamHill

Posted in Courteney Cox, David Arquette

- Who butchered the National Anthem? [D-Listed]
- Rob Lowe never ages [Lainey Gossip]
- What is Vanessa Hudgens wearing? [Go Fug Yourself]
- Summer guide to reality TV [Reality Tea]
- Game of Thrones recap [Pajiba]
- Tan Mom's music video [Buzzfeed]
- Amanda Knox is broke [Starcasm]
- Backstage at the Billboard Awards [Popsugar]
- Miley is still stuck in the 90s [Popoholic]
- Blind Items revealed: Adam Levine [CDAN]
- Hugh Hefner bought Crystal Harris a house [Celebslam]
- What happened to Aimee Teegarden? [The Blemish]
5 Responses to "Is David Arquette worried Courteney is too close to her hot co-star?"