Bratz coloring books & Marc Jacobs got Lil Kim through prison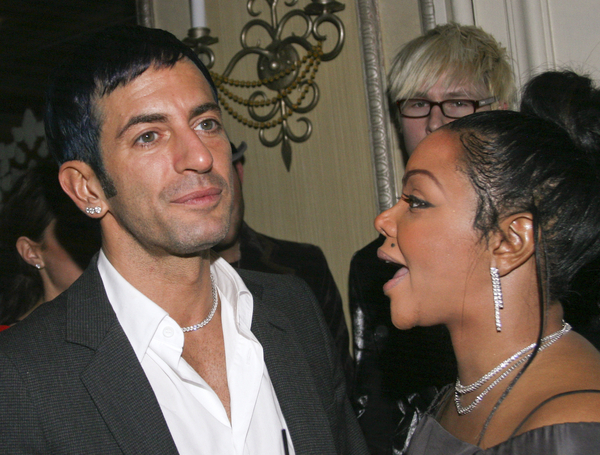 In one of the stranger pairings in Hollywood, Marc Jacobs and Lil' Kim are good friends. They have similar taste in fashion, and in 2005 Marc designed teeshirts featuring Kim's face to benefit The Door, a program for at-risk kids in New York. Kim has credited The Door for helping get through her own childhood.
Marc also proved his friendship during Lil' Kim 10-month stint in prison, sending her letters every week. Kim, a fan of the Bratz dolls, sent him pictures from a Bratz coloring book decorated with Marc Jacobs clothing. When he received the present, he blew up the images and hung them in his home.
Lil' Kim: Rapper, fashion provocateur, jailbird, and, now, artist. With her work hanging in Marc Jacobs' home, no less. The pint-size star, cutting the rug these days on ABC's "Dancing With the Stars," says that while she was serving 10 months in jail on perjury charges in 2006, Jacobs' letters helped keep her going.

"He's one of my best friends and was actually a huge supporter when I was in prison," she said in an interview with StyleList.com. "He wrote me every week! "I decided to buy a coloring book – I'm a huge Bratz fan – and I painted the Bratz and made them all wear Marc Jacobs, and sent it to him. He blew it up and framed it, and now it's hanging in his house. So Marc Jacobs is the best."

Lil' Kim and Jacobs are long-time pals. In 2005 Jacobs announced he was designing T-shirts featuring huge photographs of Kim to benefit The Door, a New York non-profit that helps at-risk youths with everything from health care to homework. Kim said at the time that The Door had helped her while she was growing up in Brooklyn.
[From Style List]
I never thought that Marc Jacobs had a particularly traditional design sense, but this is truly original. A large picture from a Bratz coloring book decorated by Lil' Kim while in jail – certainly a conversation-starter.
It would be great to see the two of them collaborate again. They both have very unique and fashion-forward looks, and come from different parts of the entertainment industry. Think about it: "Home Accessories by Kim and Marc." What do you guys think? What should these two collaborate on?
Here are Kim and Marc at Fashion Week February 2008. Images thanks to PR Photos.com.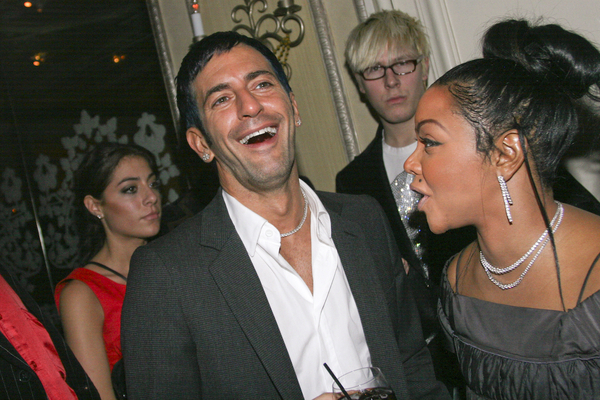 Written by SamHill

Posted in Lil' Kim, Marc Jacobs

- The Blemish interviews Carmen Electra [The Blemish]
- Rumer Willis joins Pretty Little Liars [Lainey Gossip]
- Morgan Freeman falls asleep during interview [D-Listed]
- Fug or fab: Isla Fisher [Go Fug Yourself]
- Tamra Barney confirms spinoff [Reality Tea]
- Movie franchises that rebounded [Pajiba]
- Why Dylan McKay is the perfect boyfriend [Buzzfeed]
- Saoirse Ronan could have been a Lohan [Evil Beet]
- GIFs from Cannes [Popsugar]
- Cat massages a dog [CDAN]
- Heather Graham is so pretty [Celebslam]
- What is Lucy Hale wearing? [Moe Jackson]
11 Responses to "Bratz coloring books & Marc Jacobs got Lil Kim through prison"