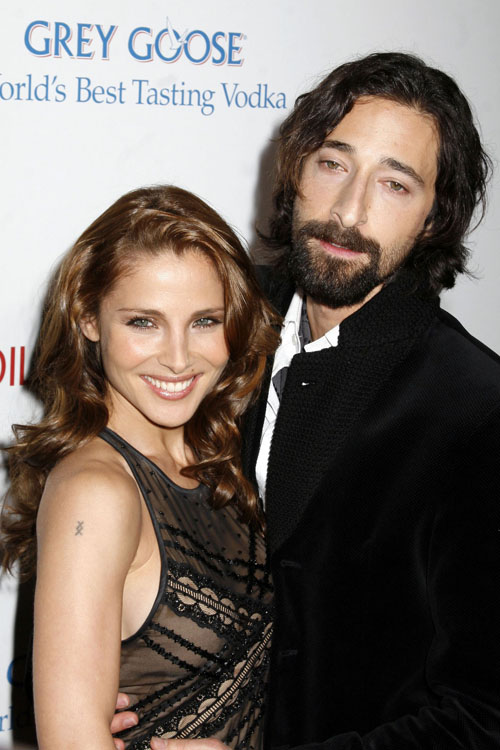 This story as being billed by Star Magazine as some kind male-homewrecking story, but it's not really. It seems Oscar-winner Adrien Brody recently split with his girlfriend of two years, Elsa Pataky. Adrien really wanted to marry Elsa, but Elsa was all "Thanks, but no thanks." Elsa didn't really want to be in a committed relationship, and she didn't want to be settled down, which is always one of the biggest breakup cliches. Next she probably told Adrien, "It's not you, it's me." Then she told him she just needs to go and work on herself, and she's always thought of Adrien as more of a "friend". To finish the job, she probably told him "there are still things I need to do, things I need to see."
Cut to Elsa with her tongue down Olivier Martinez's throat. Apparently, Elsa has no problems being settled down, as long as she's settling under a skeezy-yet-attractive, ratty-sexy Frenchman. Elsa must have waited a full two days before flying off to Paris to get into Olivier's pants. Not only are they getting it on, Star is reporting that Elsa and Olivier are house-hunting together. Poor Adrien:
Adrien Brody's Oscar-winning status seems to be no match for Olivier Martinez's Gallic charm! The Pianist star, 36, is brokenhearted that his girlfriend of two years, Elsa Pataky, is getting hot and heavy with the French stud, a source tells Star.

"Adrien thought Elsa was The One, but she wasn't ready to settle down," says the source.

"So he gave breathing room and thought she'd return to him."

Instead, Snakes on a Plane's Elsa, 32, was swept off her feet by Kylie Minogue's ex Olivier, 43. The two got close at a Paris cafe on May 5 and went apartment hunting the next day.

"Why wouldn't she fall for Olivier? He's gorgeous, fun and charming," says the source. But there's a word of warning for Elsa – and a ray of hope for Adrien, perhaps: "Olivier also definitely likes playing the field!"
[From Star Magazine, print edition, May 25, 2009]
A lot of people think Olivier is a total douchebag, which is probably true. But I still think the guy's probably a lot of fun if you're just looking for something short and sweet. There's something about his face that says "I'm going to try to have sex with your friends… and your mother." So, yes, not serious relationship material, and definitely not moving-in-together material. I give it two months before Elsa runs back to Adrien, crying about how Olivier slept with her mother.
Elsa Pataky and Adrien Brody are shown on 11/24/09. Olivier Martinez is shown below on 11/6/08. Credit: WENN.com.