Jerry O'Connell is involved in some capacity with the AKC National Championship, which is the American Kennel CLub's dog show. I don't remember hearing about it before and it seems to be one of the secondary dog shows other than the National Dog Show and Westminster Dog Show. It airs on Hallmark channel on January 23 and took place in mid December, according to the show's website. (I will link it, it's here, but spoilers because they have the winner right there at the top.) Jerry had an adjacent role at the AKC National Championship, I read that he recorded some segments for them and there's no word on whether he got to comment on the dogs, (which seems like the best job at any dog show). To promote his gig, Jerry talked about his life at home with wife Rebecca Romijn and their pets and it sounds chaotic. He said that all the pets sleep with them and he feels like he's at the bottom of the priority list when it comes to space on their bed.
Living with three dogs and two cats, Jerry O'Connell often falls to the bottom of the food chain at the home he shares with wife Rebecca Romijn and 8-year-old twin daughters Charlie and Dolly.

"We have a cat that my wife refers to as her husband, and he may be the top of the food chain," the actor, 42, tells PEOPLE. "I'm pretty low on the food chain as a lot of the cats and dogs sleep on our bed and I get the least amount of room to all of them. The cats get the most, my wife gets the second most, the dogs get the third and fourth most and I get the fifth most. I'm definitely lowest on the chain!"

And his animal family seems to be continually growing.

"Every time I go out of town, my wife just adopts another animal, be it cat or dog," says O'Connell. "I do love them all — we're a family."

Being that he's constantly around pets, it made sense for the self-proclaimed "all-around dog lover" to make an appearance at this year's AKC National Championship Presented by Royal Canin.

AKC National Championship Presented by Royal Canin will premiere on Jan. 23 at 6 p.m. ET on the Hallmark Channel.
This is a joke but he sounds annoyed by it and like he wishes all those pets weren't in the bed with them. I've only had one cat sleep in my bed at a time and I think I would also dislike having another person plus a bunch of cats and dogs coming and going, but I'm a light sleeper. Most of the people I know with more than one dog crate them at night and keep the bed off limits. From the five minutes of internet research I did (ok two minutes) experts say it's ok to sleep with petsJ as long as it doesn't personally disturb you. Hopefully Jerry and Rebecca's eight year-old twin daughters sleep in their own room and maybe they can offload some of the cats and dogs to them at night.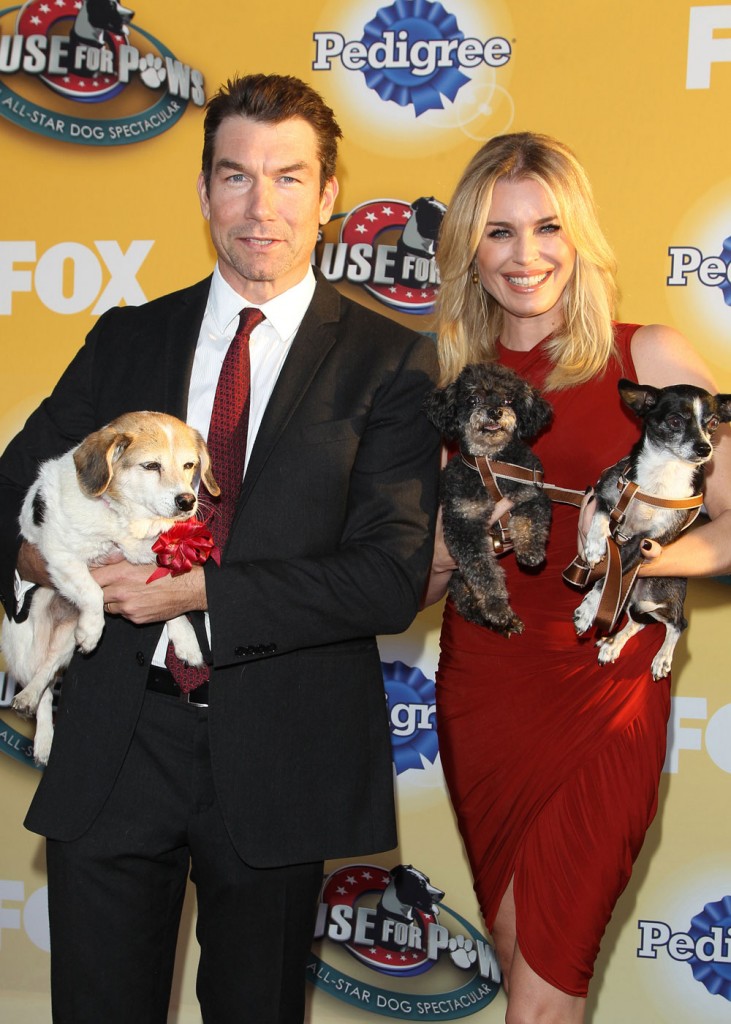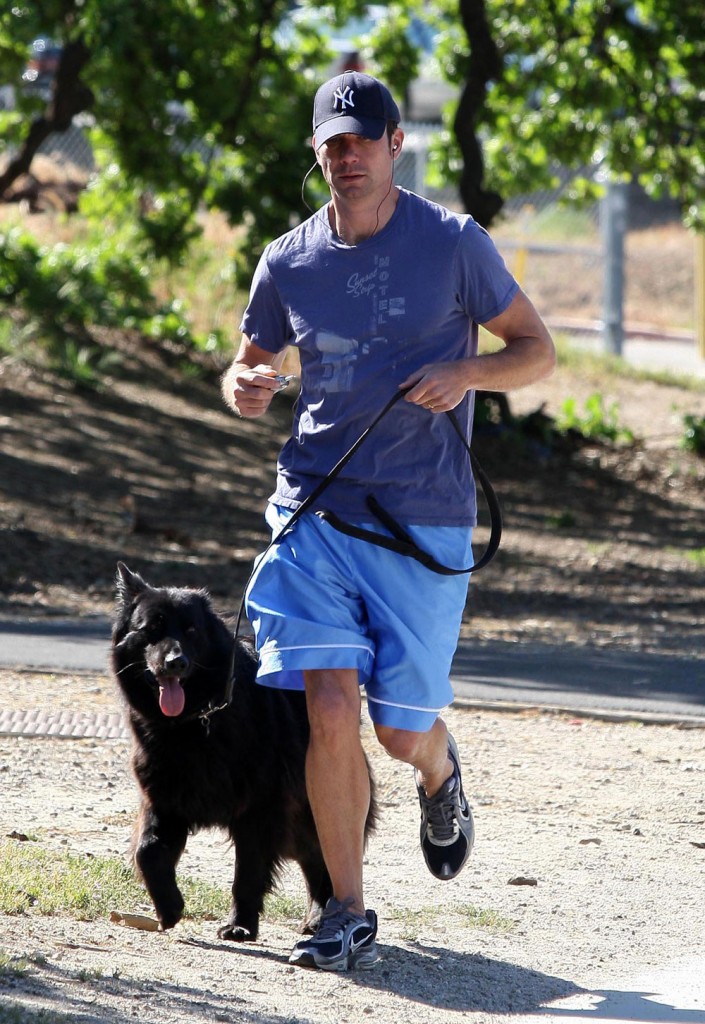 Photos of Jerry out with his black dog are from 2009 and 2010. Rebecca and Jerry are shown at Paws for Cause in 2014. (I don't know if those are their dogs or if they're just adorable red carpet dogs!) Credit: WENN, FameFlynet and Getty