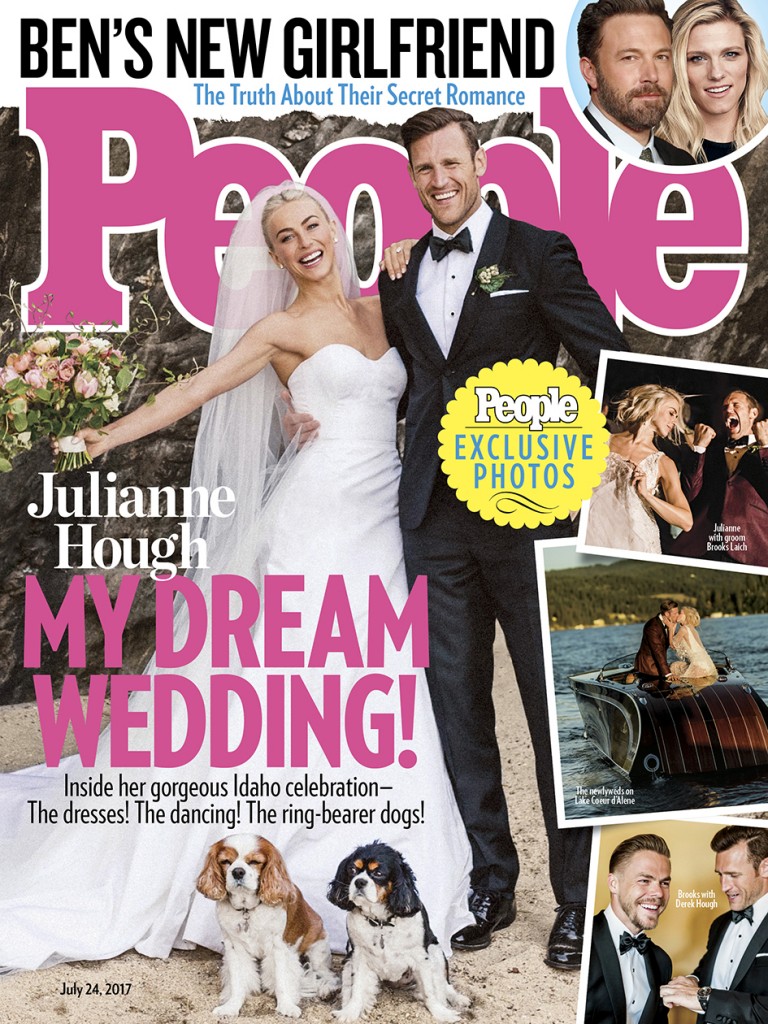 Julianne Hough's dream wedding is the cover story for this week's People magazine. The 29-year-old Dancing with the Stars judge and her 34-year-old hockey playing spouse were wed on Saturday in Lake Coeur d'Alene, Idaho. You may be thinking, '"Why Idaho?" but there's a sentimental reason the site was chosen. According to People, Julianne spent many a summer vacation there as a kid. As she told the magazine "When I introduced Brooks to the lake, he fell in love with this special spot, and we knew this was where we wanted to raise our family and grow old together. It just felt right to be married here."
The magazine shared video highlights of the wedding weekend, including a welcome party for the couple's guests on Friday night, complete with wood fired pizza, giant Jenga and cornhole games. You had me at pizza. Before the ceremony on Saturday, everyone hit the lake to enjoy wake surfing and boating. (In contrast, my pre-wedding festivities involved shots at a dive bar on the beach in Florida.) When the couple got together for their "first look" photos on the shore of the lake, Brooks looked genuinely smitten with his bride-to-be. He looked at her like I look at Buffalo wings, so I know it's love.
Relive the romance of @juliannehough's wedding now! Watch the full wedding special here: https://t.co/YfgTdL9ueO pic.twitter.com/bSiz61J2uN

— People EW Network (@PeopleEWNetwork) July 13, 2017
During the ceremony, the love fest continued. Julianne confessed that "Brooks and I kept eye contact the entire ceremony. We never stopped looking at each other." She told People that the event-defining moment for a day she called "perfection" was "kissing each other for the first time as husband and wife as the confetti cannons exploded around us." I want to be sarcastic, but that is kind of awesome. Julianne went on to say, "I couldn't stop crying all weekend and most people [thought] I would have cried during the entire ceremony, but instead I was just so excited and ready to celebrate!"
And celebrate they did. At their reception, where Julianne swapped her Marchesa wedding gown for a sheer number, she and Brooks had their first dance to OneRepublic's song "All This Time" while a fireworks display lit up the sky. Because of course it did. Julianne's girlfriends and bridesmaids surprised the couple with a recreation of a dance routine she performed during her Move Beyond Live tour to Sia's song "The Greatest." Obviously, there was lots of dancing going on. Julianne's Father-Daughter dance with pop Bruce was accompanied by the song "Daddy's Little Girl," which was written by Julianne and her sister Marabeth 10 years ago. It sure looked like a splendid time was had by all. PEN has a pretty comprehensive wrap-up of the weekend's festivities which will either make you insanely jealous (guilty) or vaguely sick to your stomach. I guess my invitation got lost in the mail. Sigh.
Photos: PEOPLE Magazine, Getty Images