People: Leonardo Dicaprio & Bar Refaeli split, he's already moved on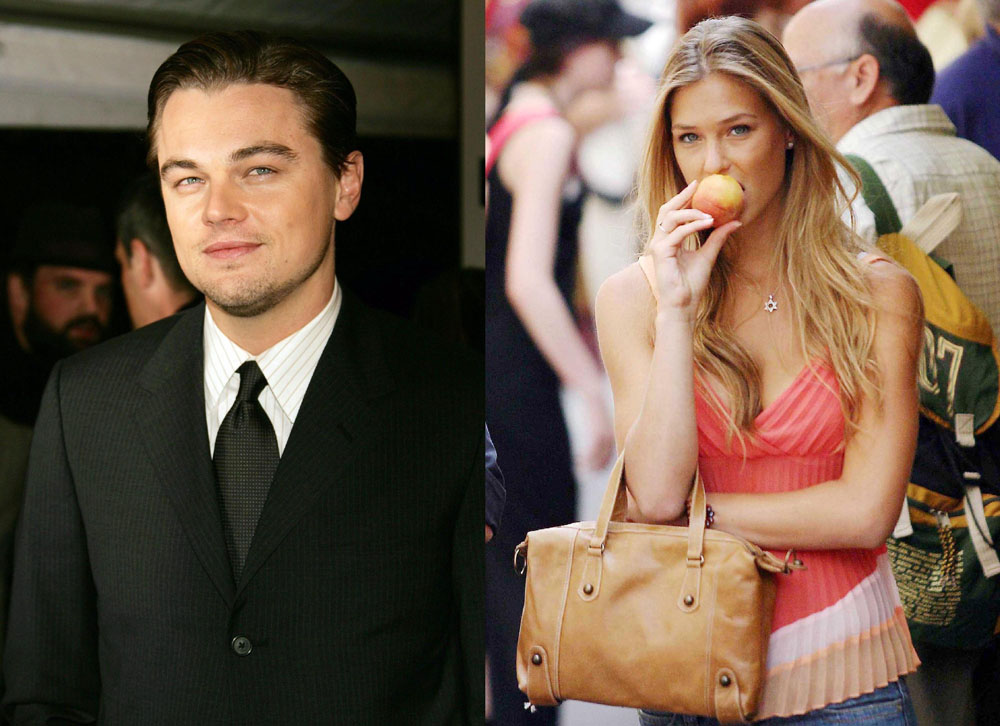 What are we going to do with Leonardo DiCaprio? He and Bar Refaeli have called it quits yet again, sources have confirmed to People. The reason for the latest split seems to be the same old reason – Leo doesn't want to settle down. What is his problem? I really don't think he's some kind of hardcore womanizer, I actually think he's probably pretty loyal to whatever girlfriend he has. Which would make him a serial monogamist. And a modelizer. Ah, the dreaded commitment-phobic serial modelizer. What a joke.
The two have been dating since 2005, but have had little break-ups here and there. Of course, there were also rumors of an engagement, and many thought Bar would be the one model able to tame the wild beast known as "The DiCaprio". Alas, twas not to be:
On-again off-again couple Leonardo DiCaprio and Bar Refaeli have called it quits once more, sources confirm to PEOPLE.

"They're taking time off for the time being, they've split," says a source. "It could just end up as a break but for now they're doing their own thing."

That much was certainly apparent over the weekend as the Israeli-born Sports Illustrated swimsuit model, 23, walked the red carpet at Hollywood Life's 11th Annual Young Hollywood Awards solo, refusing to speak about DiCaprio, while the Titanic star, 34, hit the hotspot Avenue in New York City, where he was seen chatting with another woman.

"He was standing at the bar in front of everyone talking to a girl the entire night – and it wasn't Bar," says one onlooker. "It was in no way behavior for a guy who has a serious girlfriend."

According to a Refaeli source, the model's desire to get serious may have caused the actor to have doubts about their relationship. "She wanted to move faster than he did, she wanted to move in together," the source says, "so he broke it off."
[From People]
I suspected there might be trouble between Leonardo and Bar back during the awards season, when Bar didn't show up on Leo's arm once. Instead, he seemed happy to go to all of the parties with his best girlfriend Kate Winslet, who is probably the closet thing Leo has to the love of his life (in my opinion). Also, way back when Lindsay Lohan and Samantha Ronson first broke up, Lindsay and Leo met up at a club and Lindsay gave him some kind of cracked-out lap dance. My guess is that Leo and Bar have been "taking a break" for the better part of the year, and have only gotten around to announcing it now. Look out ladies! DiCaprio's on the prowl. Anyone not over 5 feet ten inches and larger than a size zero need not apply.
Here's Leo and Bar, who – at least according to the lack of photos of the two together – must never have actually dated. This picture is from June 2006. Images thanks to Pacific Coast News.

Written by Kaiser

Posted in Bar Rafaeli, Leonardo DiCaprio

- Mariah Carey lip synced on American Idol [CDAN]
- Colin Firth is looking good [Lainey Gossip]
- Internet celebrity charged with murder! [D-Listed]
- What is Paz Vega wearing? [Go Fug Yourself]
- New bachelors on The Bachelorette [Reality Tea]
- Goodbye to The Office [Pajiba]
- Bachelor Sean's fiance cheats on him [Evil Beet]
- Britney Spears out with her man [Popsugar]
- Nina Dobrev works it [Popoholic]
- Cindy Crawford needs to lay off the 'tox [Celebslam]
- Who said it: Carrie Bradshaw or The Dalai Lama? [Buzzfeed]
25 Responses to "People: Leonardo Dicaprio & Bar Refaeli split, he's already moved on"