Michelle Pfeiffer is for legalized prostitution & more whipping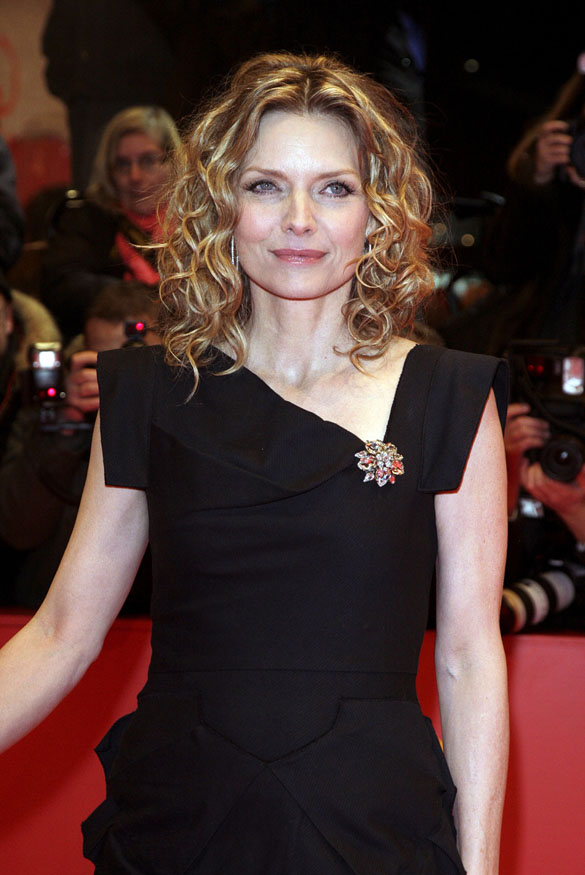 Michelle Pfeiffer has been doing the publicity rounds for her new film Cheri, and she has been utterly charming. Last week we covered a couple of interviews she gave where she talked about how a journalist called her "old and decrepit". She also talked about how she hates the word "cougar" even though period cougar-hood is what Cheri is all about. It's set in 1920s Paris, and Michelle plays an aging courtesan who takes on a young lover, the son of a retired courtesan, played by British actor (and Keira Knightley's real-life lover) Rupert Friend. While out promoting the film, Michelle told reporters at the Cinema Society that she liked the subject matter of the film, and that prostitution should be legalized:
Michelle Pfeiffer and Kathy Bates, who both play French courtesans in "Cheri," think it may be time for America to legalize prostitution.

"There is an argument to be made for providing some protection for [prostitutes]," Pfeiffer told us at the Cinema Society/Noilly Prat screening of her film. "It would solve a lot of problems for them. They're going to do it anyway."

Bates concurred, "For health reasons, it would be better for people to enjoy those pleasures…"
[From The New York Daily News]
I kind of agree – of course there would be many, many issues with the legalization of prostitution, but the subject is certainly worthy of a larger discussion. I'd kind of like to see what a Hookers' Union would look like. What would happen when they called a strike?
Back to Michelle – in yet another interview, Michelle was asked about the new Batman franchise, and her role in the 1992 film Batman Returns, where she played Catwoman. Michelle is all for the return of Catwoman in the new Christopher Nolan-Batman franchise. She's even willing to take the new Catwoman under her wing… or rather, her whip:
Michelle Pfeiffer – who played Catwoman and her alter ego Selina Kyle in 1992 movie 'Batman Returns' – says she thinks the character should be brought back for the next movie in the hit superhero franchise and she would happily compare experiences with the chosen actress.

She said: "You would think they'd bring her back. They better… They should!

"I would be there for the consult. I can give the whipping lessons. I did my own whipping."

Both Angelina Jolie and Rachel Weisz have been mooted for the potential role, but Michelle refused to choose a favourite saying only they would "both would be awesome".

Director Christopher Nolan – who helmed the previous Christian Bale-starring Caped Crusader adventures, 'Batman Begins' and 'The Dark Knight' – is rumoured not to be returning for a third movie.
[From Ireland Online]
"I can give whipping lessons" is my favorite quote of the day. I have an idea for Christopher Nolan. Don't mess around with casting Angelina Jolie or some other, younger actress for Catwoman. Go with the classic. Go with what works. Hire Michelle for the role, all over again. You know she would whip the hell out of Christian Bale. And he totally deserves it.
Here's Michelle Pfeiffer at the premiere of "Cheri" held at Potsdamer Platz in Berlin on February 10th. Images thanks to BauerGriffinOnline.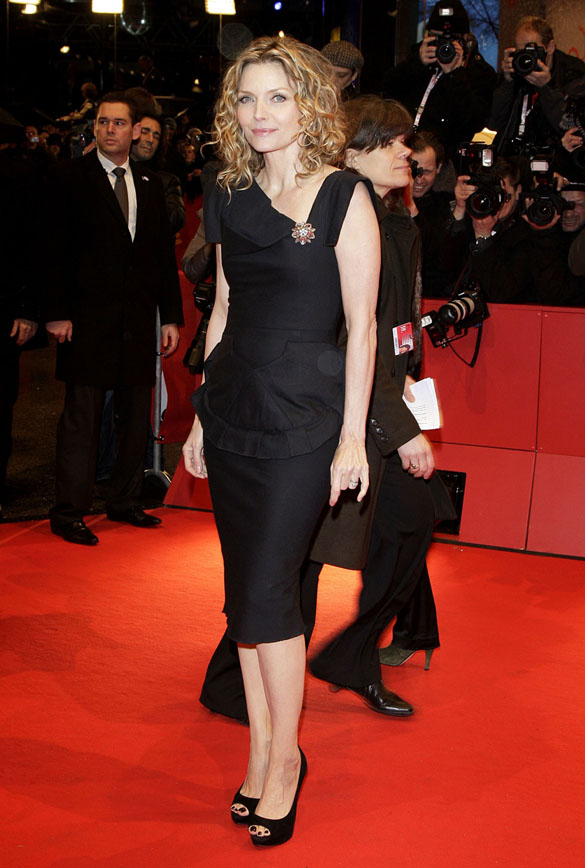 Written by Kaiser

Posted in Michelle Pfeiffer, Prostitution

- Harry Styles & Kimberly Stewart going strong [Lainey]
- Demi Moore's new man is gross [D-Listed]
- Fug or fab: Emma Stone [Go Fug Yourself]
- Arrest warrant issued for Jenelle Evans [Reality Tea]
- Only God Forgives review [Pajiba]
- Hugh Jackman, scooter master [Buzzfeed]
- Who does Drew Barrymore call her sister? [Evil Beet]
- Cannes couples past and present [Popsugar]
- Arrested Development supercut [CDAN]
- Lea Michele's see through skirt [Celebslam]
- Cheating wife's lover escapes out of window [Movin925]
- Joe Francis is crazy [Starcasm]
16 Responses to "Michelle Pfeiffer is for legalized prostitution & more whipping"