Joe and Katherine Jackson filed bankruptcy 10 years ago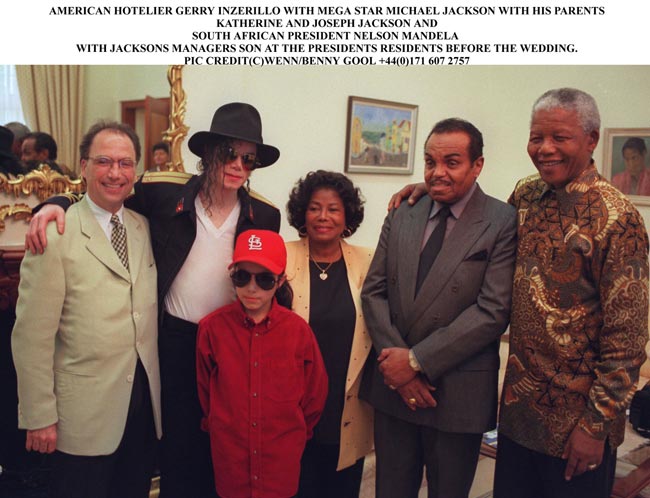 1990 photo. Credit: WENN.com
It really seems like Joe Jackson is not broken up about his son Michael's death in the slightest. Joe went to the BET Awards a few days after Micheal's sudden death and first told a reporter from CNN that he was doing "great" with no hint of sadness in his voice. Then when the interviewer prompted him by saying "It must be tough," he agreed saying "Yeah, it has. It's been really tough, remember we just lost the biggest star in the world, the biggest superstar." There was no mention of the fact that he lost his son, only that "we" lost "the biggest star." It's like his son was just another famous musician to him and there was no personal attachment there. Joe also famously plugged his new record company in the interview.
In a press conference held on Monday, Joe first talked about his record company again, getting in a good sound bite in while sort-of defending mentioning it, claiming that he was asked what he was up to which wasn't true at all, as Kaiser mentioned. He then said how grateful he was that "we" [the family] have so many fans all the world and "we" are loved around the world. He again only talked about his son's fame and his charity work and didn't mention that he meant anything to him at all. It was all about his son's enormous popularity, not how he was missing his Michael or how he cherished him at all.
Along with having no apparent emotional attachment to his son, Joe may have another reason for seeming perfectly ok with the fact that Michael passed well before his time. Joe and Katherine Jackson filed for bankruptcy in 1999 and were still dealing with lawsuits from creditors as late as last year:
Michael Jackson's parents have just recently come through their extremely complex and much-challenged bankruptcy proceeding. The couple filed for Chapter 7 Bankruptcy on March 1, 1999, and although their debts were "discharged" on June 13, 2000, there were so many adversarial motions from creditors, there were still filings coming in as of May 22, 2008, according to court documents obtained by RadarOnline.com.

In their initial petition, the Jacksons listed their assets in the $100,000 – $500,000 range and their estimated debts in the $10 – $50 million range.

Among the debts: $34,91602 was owed on a 1994 Mercedes Benz, $60,130.94 on a 1998 Land Rover, and $36,368.29 on a Land Rover Discovery. $32,561.06 was owed on personal income taxes to the State of California, and they were in to the IRS for $117,871.76. They owed $18 million on one lawsuit judgment and $4 million on another. They owned legal fees to several attorneys including Brian Oxman, who still works with them.

One interesting side note: the couple claimed "month to month tenancy only" on their residence in Encino, CA which they point out is owned by their son.
[From Radar Online]
Michael's estate is estimated to be worth $200 to $500 million after the debts are paid, and you can bet that Joe is salivating at the thought of having access to that money. Jackson's 2002 will supposedly doesn't mention Joe at all, and leaves his estate to his mother and his children. Despite speculation that they've split up, Joe and Katherine still seem to be together. Given what poor money managers they are, you can bet that they'll be squandering that money away as soon as they get their hands on it.
Written by Celebitchy

Posted in Bankrupt, Deaths, Jackson Family, Michael Jackson, Money

- Who butchered the National Anthem? [D-Listed]
- Rob Lowe never ages [Lainey Gossip]
- What is Vanessa Hudgens wearing? [Go Fug Yourself]
- Summer guide to reality TV [Reality Tea]
- Game of Thrones recap [Pajiba]
- Tan Mom's music video [Buzzfeed]
- Amanda Knox is broke [Starcasm]
- Backstage at the Billboard Awards [Popsugar]
- Miley is still stuck in the 90s [Popoholic]
- Blind Items revealed: Adam Levine [CDAN]
- Hugh Hefner bought Crystal Harris a house [Celebslam]
- What happened to Aimee Teegarden? [The Blemish]
27 Responses to "Joe and Katherine Jackson filed bankruptcy 10 years ago"