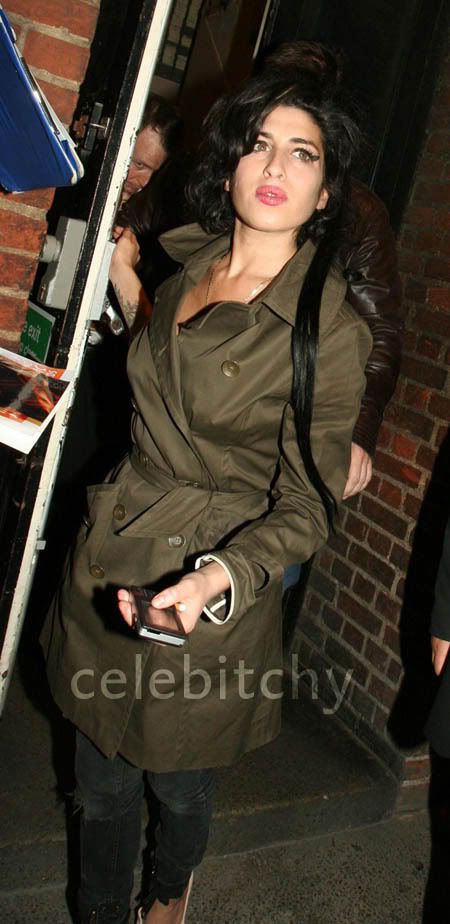 It's been about 5 weeks since Amy Winehouse ODed, got in a bloody fight with her husband and got kicked out of a hotel, and checked in and out of rehab. She also spent a vacation in the Caribbean with her enabler husband, Blake Fielder-Civil.
Although Winehouse cancelled her entire tour after her drug overdose, citing "exhaustion," she hasn't had a major catastrophe in that time. She even performed at a British awards ceremony, although she is said to have stormed out when she was passed over for an award.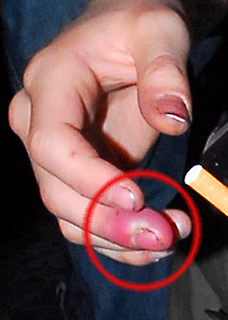 She showed up to see the premiere of her friend Kelly Osbourne's play Chicago on the West End of London on Monday night and she looked well put together for her and seemed to be ok. One of her fingers was all big and red, though, and looked like it might be infected.
Her mother, a pharmacist, blabbed to a magazine that she has Amy on a budget of 300 pounds, or about $600 a week, to keep her from blowing her money on drugs. Maybe that's why she's been holding up, although surely she could find another way to get drugs if she wanted. Janis Winehouse said that her daughter is an addict and that she can't convince her to stop, and that this is all she can do:
Amy Winehouse's mother is controlling her spending by restricting her to a £300 a week budget.

Janis Winehouse, 52, is so worried about her daughter she controls the rest of her income and only gives her the pocket money to prevent her spending more on drugs…

In an interview with First magazine, she has also revealed she no longer recognises her own daughter.

She said she sends her daughter text messages saying: "Where are you, what planet are you on? Call me."

But the pharmacist, from Barnet, north London, said: "Amy is playing Russian roulette with her health and musical gift.

"She's lost herself. We're not talking about my Amy. It's not someone I recognise. She has become her own stage creation."

She said: "I knew she was smoking marijuana but not that she was doing class A drugs until she collapsed. She won't stop until she sees the point of stopping… when I saw her afterwards, I did not tell her to clean up, there was no point.

"I know all about class A drugs. I understand the process where the brain shuts out everything except the drugs. Talking to her about it won't make any difference."
[From The Daily Mail]
If Amy Winehouse's mom wants to get through to her the best way would be to STFU and just deal with her daughter on her own. It sounds like she's trying to save face though and let everyone know that Amy's drug problems are not her fault. She should be thinking of her daughter, though, and not about how it makes her look. Maybe she thinks that by airing it out she'll somehow get through to her daughter, but I can't help but think that she's more concerned about people thinking she's a bad mom.
Amy is 24, so I find it hard to believe that her mother still controls her finances. Her mom isn't her manager.
Whatever is going on with Amy, she seems to have been relatively strife-free for about a month and apart from that messed up finger she looks like she's managing. She has an incredible voice and I hope that she takes care of her issues and can come back better than ever. Unlike Britney, she doesn't have an inflated sense of herself or even seem to realize how talented and worthy she is. Maybe once she has a little time to get her head on straight she will be able to beat her demons and sing her heart out.
Amy Winehouse and her husband are shown outside of the theater on Monday. Thanks to WENN for these photos.