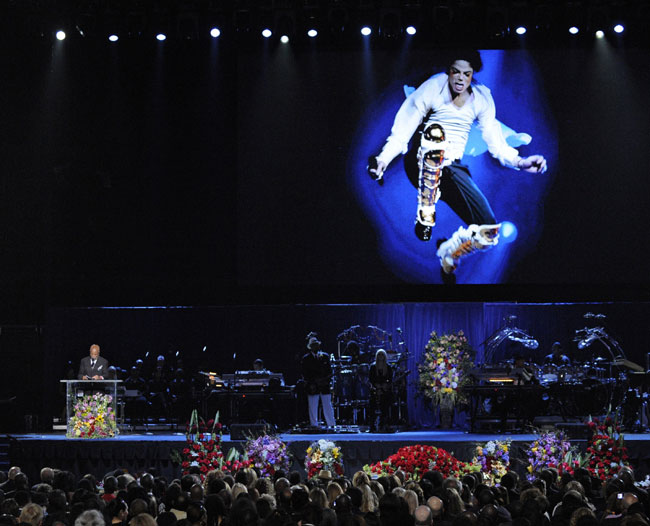 On Monday JayBird wanted to run the story about Michael Jackson's supposed "secret son" that ran in last week's Enquirer. I didn't think we should cover it, because I read the Enquirer piece and wasn't convinced at all. Supposedly Omer Bhatti was conceived during a one night stand Jackson had with a Norwegian fan in 1984. Omer, now a 25 year-old aspiring rapper, lived with Jackson in Neverland on and off for years in the late 90s into 2003 and was often photographed with him in lookalike clothing. He bears a resemblance to Michael, but it's hard to tell due to Michael's plastic surgery and lightened skin. Omer is said to want a DNA test as he believes that he' Michael's son. To me the story seemed like Omer was another adolescent kid that used to hang around Michael like several others, without much evidence that he could have been his son.
UK paper The Sun has a photo that shows that Omer seated in the front row at Jackson's funeral right next to the family. The Sun reports that there's a video showing Omer on Christmas day in the late 90s with Jackson's children, although they do not have the footage online. They also claim to have more information about his family, now living in Oslo, Norway, including the fact that his mother and step father once worked for Jackson.
THE dancer thought to be Michael Jackson's secret lovechild was given a seat in the FRONT ROW at the King of Pop's memorial service, The Sun can reveal.

Devastated Omer Bhatti, 25, sat with head bowed and wearing dark glasses alongside the star's grieving brothers and sisters during the poignant tribute two weeks ago.

It will further fuel suspicion that he is Jacko's fourth child. And childhood snaps show an uncanny likeness to Prince Michael II, seven – known as Blanket – the youngest of the star's three "official" children…

After Omer was born, Jacko sent two employees to Oslo to help his mum raise him.

He and Omer are reported to have first met in 1996. Omer, then 12, impressed the dance legend with his own dance moves after waiting for him at a hotel in in Tunisia.

It is thought Omer's family sold their house in Holmlia, Oslo, and moved to Neverland in 1997.

They have since returned to Norway.

Omer had idolised Jacko since he was a child and has performed as a tribute act across the globe.

From 1996 he began appearing in public with his idol and even performing with him.

The young dancer was by Jacko's side when he called in a witch doctor to cure him of pain in Aspen, Colorado, in 2004…

[Omer] has remained in LA since the memorial service.

Yesterday The Sun called at his family home in Norway but mum Pia was unwell. Her Pakistani husband Riz confirmed that Omer sat in the front row at Jacko's service.

He said: "Yeah, yeah, I know because I was watching. I told my wife, 'Just wait until the press see this. It's not a small thing'."

Both Pia and Riz, in their late 40s, worked for Jackson in the US. Riz is believed to have been a driver and Pia a nanny. Both have refused to answer questions about the star.

Yesterday Riz would neither confirm nor deny that Omer is Jacko's son. He said: "Make what you like. I don't want to discuss anything."
[From The Sun]
Is Omer Michael's biological son or just a young friend that stayed by his side for years? It's all quite strange, especially since he was given a seat in the front row at the memorial. The detail that seems to provide the best evidence, if true, is that Michael sent employees to Norway to help care for the boy as an infant. It's hard to imagine why he would have done that unless he has some connection to Omer. There's a huge amount of money at stake and if Jackson does have another child he's sure to make a claim on his late father's estate. Given all the legal issues at hand, it's not likely that Omer will see a dime in the next decade, even if he can easily prove that he's Michael's son.
Here's a video of Omer dancing and singing. He goes by "O-Bee" and it looks like this video and the introduction was created by someone else, not by Omer:

Header photo credit: WENN.com