Is Katie Holmes waiting for a hit movie before she has another baby?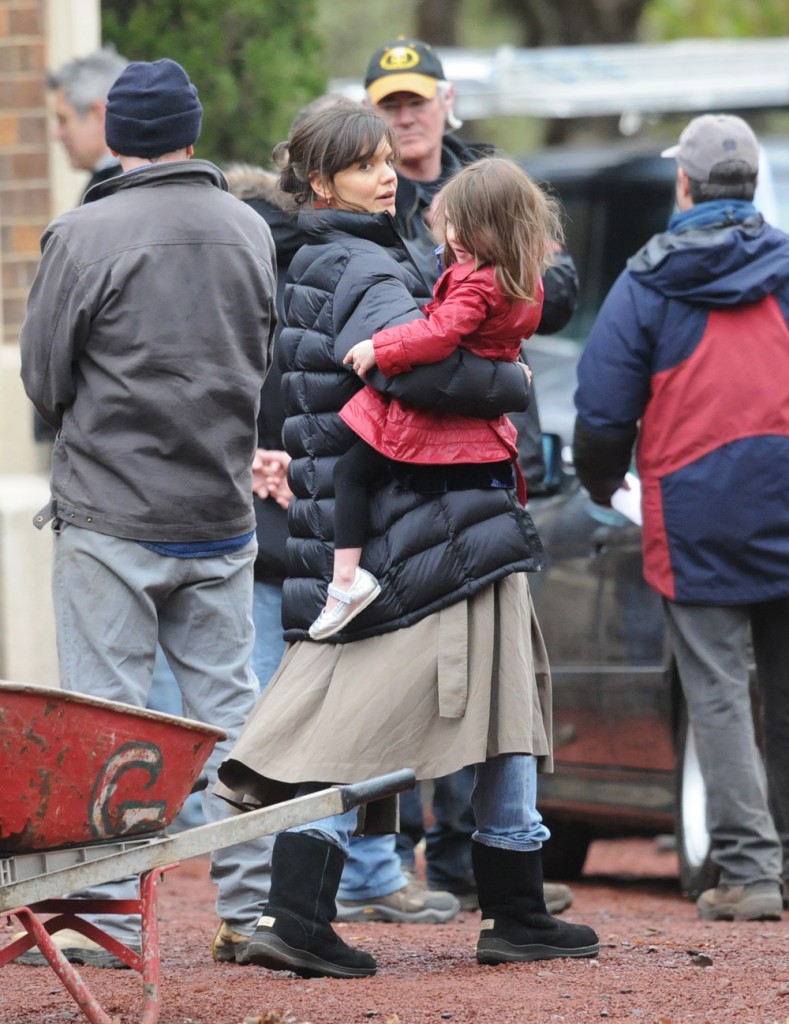 OK Magazine UK is claiming that Katie Holmes is putting her career before babies – gasp! But don't worry – they say she will have another baby once she has a hit movie. Apparently OK has sources inside Katie's uterus – or about that close. Which frankly wouldn't surprise me – you know how chatty Fallopian tubes can be, especially when questioned by tabloid journalists.
KATIE Holmes will have another child after making her next film.

The actress, who has three-year-old daughter Suri with husband Tom Cruise, is desperate to star in a box office hit before she expands her family.

A source said: "She wants another hit before she has a second baby."

Katie's last film Mad Money failed to impress at the box office when it was released in 2008.

The crime comedy, also starring Queen Latifah and Diane Keaton, only managed to match its estimated £17 million budget when its cinema run ended.

The 30-year-old star is currently on location in Australia filming horror movie Don't Be Afraid of the Dark alongside Guy Pearce.

Katie recently insisted she believes it is possible to be a good mother and have a successful career.

She previously said: "I happen to be a woman who believes she can have it all. We women can do an awful lot if we put our minds to it.

"And not only that, we can have fun doing it! Even when it's crazy – which is pretty much most of the time – it's fun. At least, that's been my experience.

"It's a good combination for me and Tom – work and family, a healthy balance."
[From OK! Magazine]
Katie's career really seems like it could go either way at this point. If she chooses good projects and works with the right people, it could pick back up again. I seriously doubt we'll ever see her making an Oscar acceptance speech, but you never know. If Tom Cruise had dialed down the crazy at the beginning of their relationship, his connection could have been good for her. Instead it seemed to really hamper an already dimming career. It sounds like Katie has a good plan in terms of focusing on her career right now. She seems like the kind of mom who always puts her child first, and it doesn't look like Suri's suffering from any lack of love and attention while Katie's on set. But another baby could put her out of commission just as things are starting to pick up for her again. Katie's young and has lots of time to have children – and hey, maybe even a Golden Globe or a SAG award too.
Here's Katie with Suri on the set of "Don't Be Afraid Of The Dark" on July 29th in Melbourne. Images thanks to INF Photo.

Written by JayBird

Posted in Babies, Careers, Katie Holmes

- Zach Galifianakis is awesome [Buzzfeed]
- Prince at the Billboard Music Awards [D-Listed]
- Bieber's Billboard look [Go Fug Yourself]
- Married to Medicine recap [Reality Tea]
- Celebrity first marriages [Pajiba]
- The last Mad Men baffled a lot of people [Lainey]
- Karolina Kurkova's crazy hot dress [Moe Jackson]
- Jennifer Garner on set [Popsugar]
- Kitten vs. Lizard [CDAN]
- Doetzen Kroes' great butt [Celebslam]
- Shameless star Jeremy Allen White [OMG Blog]
- RIP Ray Manzarek [Bossip]
21 Responses to "Is Katie Holmes waiting for a hit movie before she has another baby?"