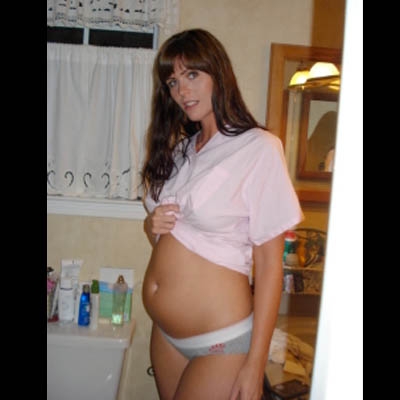 Since we found out that Samantha Burke was the baby-mama of Jude Law's baby a few weeks ago, many amongst us have been asking those nagging little questions. Did Samantha lie to Jude about being on the pill? Why won't Jude Law just wear a condom? Did Samantha get pregnant on purpose? Is the baby even Jude's? Did he demand a paternity test? Does Samantha hope to ride this baby-mama status to stardom? Just how supportive is Jude of Samantha? Why is Samantha Burke taking weird camera phone pictures of herself scantily-clad? And finally, what is this little dalliance going to cost Jude Law?
As we do some deep thinking about those questions, Samantha Burke would like to tell us something "I'm no gold-digger." It seems Samantha is blogging about her pregnancy, and she describes herself as "far from a gold-digger" and that she's "never" dated a rich man before. Of course, the Daily Mail also has some sources that claim Samantha is asking Jude for 5,900 pounds (GBP) a month in child support. I checked the exchange rate, and that's about $10,000 a month (technically $9,756.90 as of this weekend). It sounds like a very high number (to me) – that would be about $120,000 a year for 18 years, or a total of $2.16 million to get the kid to adulthood. Good Lord. Now I wish Jude would get me pregnant. Gah! I'm such a gold-digger.
The woman expecting Jude Law's love child has hit back at claims that she is trying to exploit the star. In an internet blog about her pregnancy, Samantha Burke writes: 'I'm no gold-digger.'

The model, from Florida, has been accused of deliberately getting pregnant by Law after meeting him in New York.

Pictures of Miss Burke, 24, showing off her 'baby bump' have already appeared on the internet, along with reports that she wants £5,900 a month in maintenance for the child, due in October.

But she insists in her blog she has no interest in Law's fortune. She writes: 'I can't tell you how far from a gold-digger I am. I've never dated a rich man in my life. I've always wondered how girl friends of mine could even ask their boyfriends to buy them clothes.'

Despite her assertions, the diary webpage seems designed to capitalize on her new-found fame – with ads telling readers how to contact her managers.

Before her modeling career took off, Miss Burke spent her weekends at the beach with friends and worked as a scantily-clad Hooters waitress. She quit the job after being signed by Florida-based agency Izon Models and began traveling to and from New York for work. She eventually made the city her home and began to take acting classes at the New York Studio for Film and Television.

Miss Burke met Law, 36, while he was in the city filming Sherlock Holmes. They are understood to have spotted one another outside the 1OAK nightclub in the city's Meatpacking district. They went for a meal at a nearby diner before going back to the actor's room at the Greenwich Hotel.

Miss Burke is due to give birth to a baby girl in October. Law has said he plans to be a 'fully supportive part of the child's life'. But he only learned of the pregnancy two weeks ago.
[From theDaily Mail]
I can actually relate to Samantha's statement, "I've always wondered how girl friends of mine could even ask their boyfriends to buy them clothes." I've never figured out how and why some girls do this, it's so bewildering to me. Mind you, I'm talking about just dating, not engaged or married couples, where obviously the financial stuff gets mingled. I knew a couple several years ago where the girl didn't work, yet she had her own place which her boyfriend paid for. He even paid for all of her bills, and paid off her credit cards too. They weren't engaged or anything, there were no kids involved and they had just been going out for a year or so and he was just doing it to take care of her. I've always found that kind of stuff astounding. I wouldn't even know how to ask a guy to pay my phone bill.
So if I was in Samantha's position – knocked up with Jude Law's baby – would I behave differently? Would I ask for child support at all? I probably would, actually. But I wouldn't try to convince the world that I wasn't in it for the money.
Note by Celebitchy: Samantha did write this – it's on her new official website, Samantha-Burke.com, featuring modeling photos, contact information and details of her pregnancy. I get that she's trying to control the news about her, but she's doing it whilegiving us bikini photos and booking information. It kind of takes away from her message, don't you think?