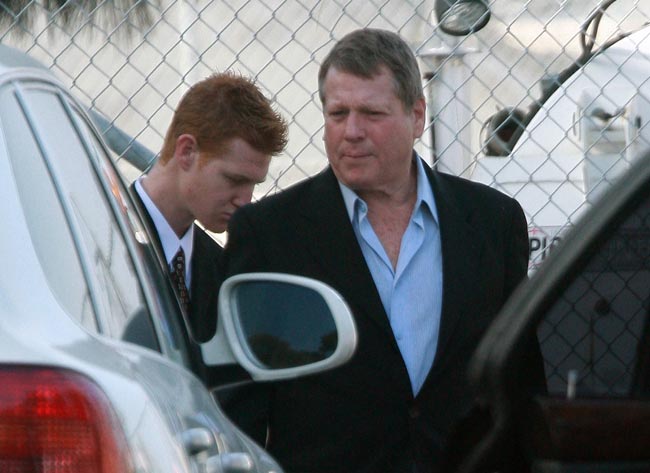 Ryan O'Neal has reportedly brokered a deal for his son, Redmond, to appear in his own reality show once he's released from jail in four months. This story originates in In Touch, so let's hope it's not true. They're reporting that once Redmond gets out of jail he's planning to live with his drug supplier dad, Ryan, who will also appear on the show. They don't say if it will be a typical reality show, meaning skewed to show some kind of manufactured plot, or if it will be documentary-style like his late mom Farrah Fawcett's show, "Farrah's Story."
Ever since Farrah Fawcett's final days were turned into reality television for the documentary "Farrah's Story," it's become tougher to determine what's acceptable documentation of struggle. So it's hard to know what to make of her adult son Redmond O'Neal's new reality show plans.

The troubled son of Fawcett and Ryan O'Neal will reportedly chronicle his struggles with addiction in a new show. Filming is set to begin in four months, once O'Neal is released from the California detention center where he's serving time for possession of narcotics and bringing narcotics into a jail facility.

"Redmond has signed the deal that was brokered for him by his dad," according to a source that spoke to In Touch. "Ryan will be on the show, too."

The magazine goes on to say that Fawcett, who died of anal cancer on June 25 at age 62, is the inspiration for the show.

"Redmond wants to do this to honor his mother. He really wants to get better to honor her memory," the source told In Touch.

The magazine goes on to say that Redmond will only receive the inheritance left to him by his mother if he remains sober.
[From MSNBC]
The thing that bothers me about this story is that after Redmond gets out of jail he's going right back to the dysfunctional home where both he and his dad were busted for meth possession last September. Ryan's half brother Griffin O'Neal told Larry King Live that he often fought with his father over enabling Redmond's drug use. Griffin said that Ryan and Remond often partied together and that "Redmond hung out with Ryan a lot, because Ryan allowed the drug use… in the house." At least they'll have to hide it when the cameras are rolling, but I doubt Ryan has changed at all after his girlfriend's death and his son's incarceration.
Ryan and Redmond are shown outside court on 1/9/09. Credit: Fame Pictures