Ashlee Simpson kicks Pete Wentz out of the house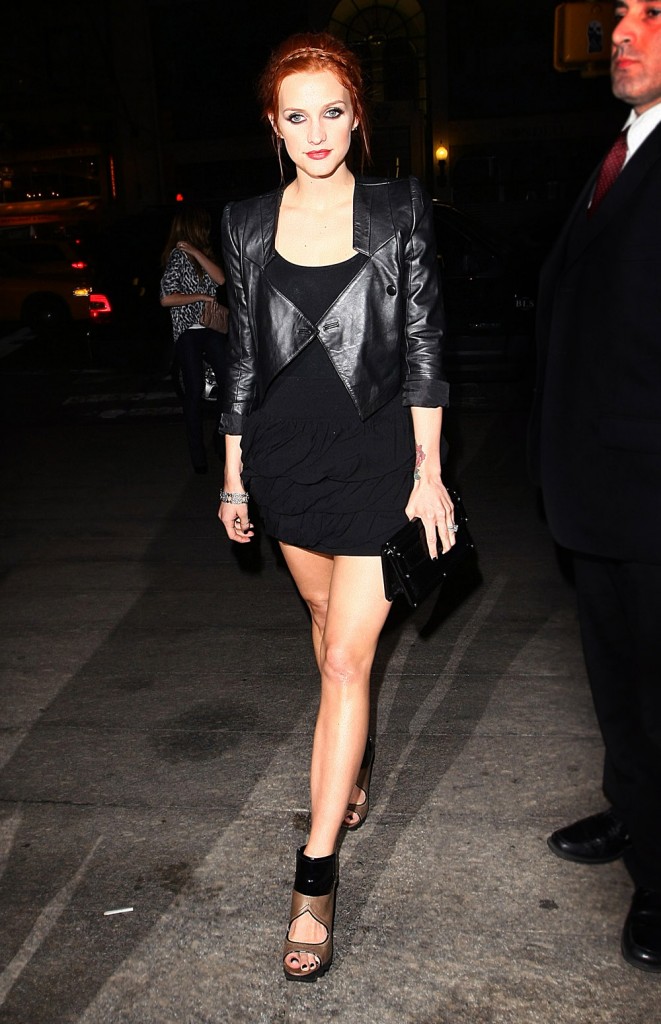 Not all that surprisingly, there's trouble in Pete Wentz and Ashlee Simpson's marriage. It's been rumored for a long time that they've been having issues, most of them having to do with the fact that Ashlee completely put her life on hold to take care of their son Bronx, whereas Pete has never even slowed down. He's still out partying and living it up just as much as always, without any consideration for his wife or son.
Now Star says Ashlee's found proof that Pete is cheating on her. But he's being typical loser douchebag Pete and not giving a care. And now she's consulting divorce lawyers.
It was Ashlee Simpson-Wentz's worst nightmare come true. While rummaging around in a guest bedroom in her $4.7 million Beverly Hills home on Aug. 19, she discovered what she believed to be evidence of husband Pete Wentz cheating on her, a friend tells Star. Ashlee was so distraught that she dropped off their 9-month-old son, Bronx, at her parents' house and checked into a hotel, even though Pete was performing with Fall Out Boy in St. Louis that night. "I can't stand being at that house anymore," Ashlee, 24. told her pal. "I need to clear my head. I have a lot on my plate, and my marriage is stressing me out."

But when she called Pete to talk things out, he didn't answer, which only enraged her. After repeatedly calling him (and getting his voicemail), Ashlee finally reached her husband – and snapped. An insider says she screamed, "Don't even bother coming hoe! I don't want to look at you!"

She must have struck a nerve, because that same night, Pete posted on Twitter, "Money doesn't grow on trees. Neither does happiness," before referring to himself as an "a–hole." Four days later, he took a break in the band's tour and traveled hoe to L.A. Pete Twittered about his excitement to see his son – but made no mention of his wife: "Can't wait to see the little homie."

As Star reported, Ashlee has long suspected her husband of getting too close to the young female musical acts he works with, Hey Monday and Millionaires and she can't take the flirting anymore! "Ashlee doesn't trust Pete at all," says an insider. "They fight all the tie and sometimes don't speak for days. Things have gotten bad. Pete doesn't want to deal with Ashlee and her drama."

Pete's flirting sparked the latest public brawl between him and Ash at the one-year anniversary of his Chicago bar, Angels & Kings, on Aug. 15. Although he hadn't seen his wife in almost a month and she'd come to town just for the day to support him, Pete, 30, quickly left Ash in the VIP area to hit the DJ booth and party with friends. After an hour and a half, she'd had enough and stormed over to her inebriated husband, says an eyewitness. "Ashlee was fumin. She yelled at Pete, 'Enough! Let's go!'"
[From Star, Sep. 14, 2009, print ed.]
Of course Pete, being the total wang that he is, all that matters is that he's having the best possible time. From all the articles I've read about their marriage, he acts like a total douche and then tries to put it all on Ashlee for being a nag. A "nag" being someone who refuses to fully support his self-indulgent lifestyle at any point. While Pete and Ashley have admitted they didn't plan on having Bronx, Ashlee has matured the requisite amount to be a parent. Pete has quite possibly become even less mature and more self-centered. According to Star, Ashlee's consulting with divorce lawyers to try to figure out how custody would work and who'd get what. They don't go into specifics about what makes her sure that Pete's cheating, but I think she should leave him regardless. He isn't being a husband or a partner. He's just a guy that ambles home once in a while. He's extreme childishness and self-centeredness is an embarrassment to all men. Ashlee can do better, and deserves someone decent enough to know what she's worth.
Here's Ashlee exhbibiting the famous Simpson demeanor on Late Night. Celebitchy pointed out she laughs like Fran Drescher. She also looks drunk, but again, I think that's just ditzy Simpson mannerisms.
Here's a super skinny looking Ashlee Simpson at Nobu 57 with her friends in NYC on Thursday night. Star also mentioned in their article that thanks to stress about Pete, 5'6 Ashlee has gone from 137 lbs to 105 lbs in just seven months. Images thanks to WENN.com and Fame Pictures .

Written by JayBird

Posted in Ashlee Simpson, Pete Wentz, Relationship trouble

- Zach Galifianakis is awesome [Buzzfeed]
- Prince at the Billboard Music Awards [D-Listed]
- Bieber's Billboard look [Go Fug Yourself]
- Married to Medicine recap [Reality Tea]
- Celebrity first marriages [Pajiba]
- The last Mad Men baffled a lot of people [Lainey]
- Karolina Kurkova's crazy hot dress [Moe Jackson]
- Jennifer Garner on set [Popsugar]
- Kitten vs. Lizard [CDAN]
- Doetzen Kroes' great butt [Celebslam]
- Shameless star Jeremy Allen White [OMG Blog]
- RIP Ray Manzarek [Bossip]
40 Responses to "Ashlee Simpson kicks Pete Wentz out of the house"