Are Megan Fox & Angelina Jolie fighting over a 'Barbarella' remake?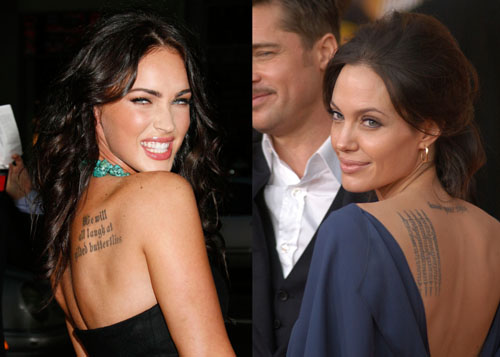 The rumor going around Hollywood casting couches is that producers are interested in a Barbarella remake. The original 1968 film starred Jane Fonda in all her sex-kitten glory, and is considered a cult classic. While I hope that these remake rumors are false in total, I'll play along. So the question floating around is this: Who's got modern Hollywood's biggest sex kitten? Angelina Jolie or Megan Fox? And yes, this how lacking in imagination Hollywood producers are, the only two names they could come up with were Angelina and Megan.
The tabloids are having a field day with this story, trying to pit Jolie and Fox against each other as they "battle" it out for the role that I'd bet neither of them really wants. This has happened before – for nearly a year, Megan Fox was pegged as the actress set to "replace" Angelina in the Lara Croft franchise… and nothing came of that. Megan claimed no one had even approached her and that she "would never replace" Angelina. As far as I can see, no one really wants to make another Lara Croft movie.
So far, Angelina hasn't commented on the Barbarella rumors, but Megan has denied them, sort of. While Megan was in Toronto, CNN has her denying the rumors that she and Jolie are going head-to-head for the role, but Megan also said she would consider playing the part if she was offered it. As far as the "competition" with Jolie, Megan said she and Angelina aren't "really in the same age group." Ugh. Jane Fonda was 30 years old when she played Barbarella. Megan is 23 (allegedly), and Angelina is 34. Draw your own conclusions.
Obviously, people are desperate to pit Angelina "Classic Jolie" Jolie and Megan "Budget Jolie" Fox against each other. If asked about Megan, I would imagine Angelina would say "Who?" But Megan has mentioned Angelina in nearly every other interview, usually complimentary. Let's see, there was this, from a red carpet interview: "If I could just be Angelina's girlfriend, I would be so happy…I love Angelina Jolie. She's someone I admire and look up to. She's my favorite actress in Hollywood. I just love that she's incredibly honest, and I feel that she's not afraid to be herself. She tells you exactly what's on her mind." There was also this, on comparisons to Angelina: "I think it's a lack of creativity on the media's part. Because I have tattoos and dark hair and I was in an action movie? That's as far as the similarities extend. I'm not the next anyone."
There is one weird quote that keeps popping up in these Barbarella stories, and I can't figure out if it's for real. What I did figure out is that real or fictional, it's from several months ago, and if Megan said it, it wasn't about Barbarella. Allegedly, Megan said, regarding Angelina, "I guess I see resemblance between us two, but I want to become my own person, my own star in the sky, you know? I look way better than her, I am really a diverse person." I hope Megan didn't say it, but it sounds like her snotty voice, doesn't it?
Written by Kaiser

Posted in Angelina Jolie, Megan Fox

- Friends reunion on Ellen [Popsugar]
- Lindsey Vonn watches Tigers kids [Lainey Gossip]
- George Michael fell out of a car going 70mph [D-Listed]
- Real Housewives of Orange County recap [Reality Tea]
- New Man of Steel trailer [Pajiba]
- Jared Padalecki's hot bod [Buzzfeed]
- Doctors confirm Taylor Swift's new boobs [Evil Beet]
- Catherine Zeta-Jones finished treatment [CDAN]
- Anna Paquin hates the paps [Celebslam]
- Lance Armstrong is gross [The Blemish]
- What is Barbara Palvin wearing? [Moe Jackson]
- This is Petra Nemcova? [SVC]
12 Responses to "Are Megan Fox & Angelina Jolie fighting over a 'Barbarella' remake?"