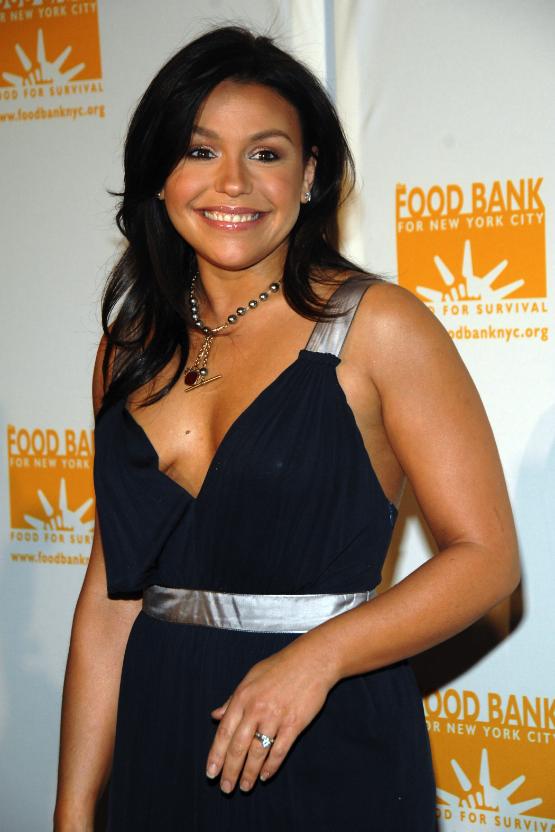 Obnoxious cook and talk show host Rachel Ray didn't just claim to be a size six in passing, she did it in an article that takes up two pages in this week's In Touch.
The story is an interview with Ray that focuses on how she "maintains" her weight. It's titled "How a great cook stays a size six." Ray gives some reasonable answers to questions about if she's lost weight and if she exercises regularly, saying she doesn't focus on her looks and that she does some light exercises at home but doesn't go to the gym. Then she claims to have been a size six "for several years," due to "stretch fabrics." She doesn't look like a size six to me, but I guess that can vary based on the store and style:
You look amazing – have you lost weight since last season?
I don't know or care – I'm happy and I feel good. My looks are never the focus of my work.

Does working with food all day make it harder to maintain your weight?
No, it's easy. When you cook, you control the salt, fat and quality of your food.

What's your secret to staying thin without depriving yourself?
Everything in moderation. And I'm not thin, but thanks!

How do you avoid eating if you feel tempted?
I don't avoid it. I eat.

Have you always been the same size?
No, but for several years I have been a 6. Within a size 6, you can play with about 20 pounds thanks to stretch fabrics. I don't get on the scale, I have enough to worry about! I eat well – lots of vegetables and whole grains and protein. When a size 6 gets too tight, I just eat less and move more.

When you chose to work out, what kinds of exercises do you prefer?
I do sit-ups, Jane Fonda butt lifts and push-ups each day, that's it. I have a gym card that spends most of its time mocking me from my wallet. With my schedule, it's very hard for me to maintain a consistent gym routine.
[From InTouch, print edition, November 5, 2007]
I am not making fun of Rachel Ray's weight. I don't really like her as a person but she looks good. She just does a disservice to normal-sized women by claiming to be a size six when she's at least an eight, as if it's something to be ashamed of and to blatantly fib about. It's possible she does have some clothing that's a size six and that it fits her due to "stretch fabrics," but is everything she owns a size six? Unless her people change the tags like Oprah's staff is rumored to do, it's doubtful. I haven't lived in the states in a while and could be out of touch with the sizing though. What do you guys think?
Rachel Ray is shown in the header on 4/24/07 at Food Bank for New York City's Annual Dinner, thanks to Splash News. She is shown below posing with her wax figure at Madame Tussauds on 2/21/07 thanks to PRPhotos.