"American Gangster" screening with Denzel Washington & Russell Crowe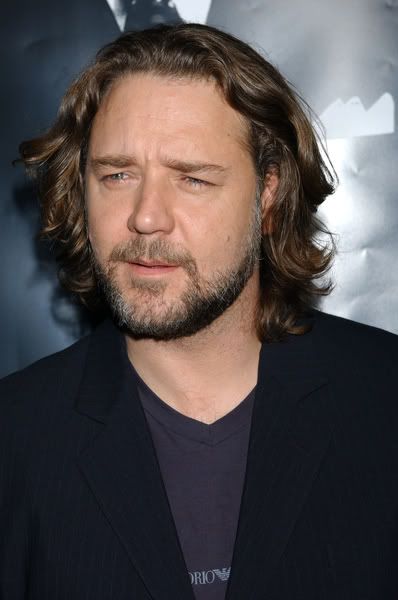 Russell Crowe, Mel Gibson, and Jeremy Piven were among the Hollywood luminaries with anger management issues at American Gangster industry screening in Hollywood last night. Denzel Washington stars in American Gangster as Frank Lucas, a hugely successful drug lord in early 70s Harlem. Crowe plays a detective out to catch Lucas, and the film draws moral parallels between the two characters, with neither shown as morally superior or more deserving.
Comingsoon.net has an interview with Crowe and Washington about the upcoming film and their respective roles:
ComingSoon.net: Can you talk about the delicate balance between good versus evil we see between your two characters?
Washington: (laughs for a long time) Now, who was the good guy and who was the evil guy? That's the delicate balance.

CS: One could say that the cord runs parallel to both.
Washington: Right, and there you have it. (laughter) The cord runs parallel to both. Jump in there, Russell. (laughs)
Crowe: Well, I think that's one of the fascinating things about the two characters and about the story itself. That none of that's clear. There's not a clear singular morality, and when you get the opportunity to play that sort of thing, which is nothing more than reality and the sort of humanity as it exists, it's just a bit of fun. You know, Richie's an honest guy and all that sort of thing, but as his wife calls him out in the court: you're only honest in one area — you try and buy yourself favorites for all the sh*t that you do. I just think that's an honest appraisal of who he was at that time, but it also leaks into that area of discussing why people go bad in the first place, or what the process of Frank Lucas was to become a drug dealer. If Frank Lucas had been befriended by somebody else and educated in a different area, he might get in a situation where a university's named after him. He's a very smart guy and he uses things that he's learned to the best of his ability to change his life and change the life of his family at that time. But it just happened to be that Bumpy Johnson was his teacher. We were joking yesterday about doing his sort of course work on the street, PhD in criminality under Bumpy Johnson.
Washington: Yeah. (laughter)
[From ComingSoon.net]
Here's the trailer. The film looks like it kicks ass, and I'm in the states now and think that I'll see it this weekend:

The real Frank Lucas, on whom Denzel Washington's character is based, is now out of prison after two separate stints, the most recent ending in 1991. He is 77 and is confined to a wheelchair. A documentary will air about Lucas on BET on October 31st.
American Gangster is getting largely positive reviews, and is out in US theaters on Friday.
Thanks to PRPhotos for these premiere pictures, which also include Oliver Martinez. The lights there must have been bright, because everyone looks like they're squinting. There are also stills from the film, thanks to allmoviephoto.
Written by Celebitchy

Posted in Denzel Washington, Movies, Premieres, Russell Crowe

- The Blemish interviews Carmen Electra [The Blemish]
- Rumer Willis joins Pretty Little Liars [Lainey Gossip]
- Morgan Freeman falls asleep during interview [D-Listed]
- Fug or fab: Isla Fisher [Go Fug Yourself]
- Tamra Barney confirms spinoff [Reality Tea]
- Movie franchises that rebounded [Pajiba]
- Why Dylan McKay is the perfect boyfriend [Buzzfeed]
- Saoirse Ronan could have been a Lohan [Evil Beet]
- GIFs from Cannes [Popsugar]
- Cat massages a dog [CDAN]
- Heather Graham is so pretty [Celebslam]
- What is Lucy Hale wearing? [Moe Jackson]
Pages: 1 2 3 4 5 6 7 8 9 10 11 12 13 14 15 16 17 18 19 20 21 22 23 24 25