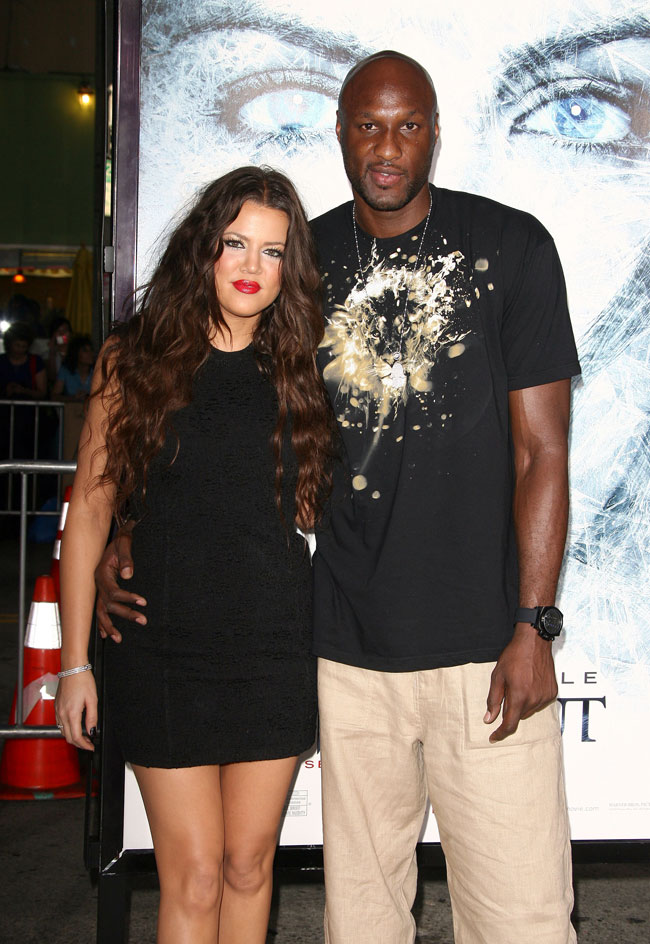 In case you missed it, Khloe Kardashian has been dating LA Laker Lamar Odom for about a month. Did I say "dating"? I meant "they just got engaged". They announced it Friday, when sources spread it around E!, People and Us Weekly that Khloe and Lamar were looking to get married "within two weeks" because Lamar wanted a wedding before he went into his basketball training.
Now we have an official date for the nuptials. Save the date for… Sunday. This Sunday. According to People's sources, "The ceremony is being thrown together so quickly that guests are being notified by phone that formal invitations will arrive this week." Lamar got Chloe a ring over the weekend – and they did the ring-shopping together, because after only a month of dating, it's not like Lamar knows Khloe's middle name, much less her ring size.
Khloe Kardashian is not wasting time on wedding planning!

The reality star plans to wed beau Lamar Odom, a forward on the Los Angeles Lakers, this Sunday, Usmagazine.com has confirmed.

"Khloe and Lamar want to get married before Lamar has to go away for training, and the [basketball] season starts up [this fall]," a source tells Us of the couple. (The Lakers are set to play their first preseason game on Oct. 7.)

After only about a month of dating, Kardashian, 25, and Odom, 29 — who met at a party in L.A. — will be tying the knot in the L.A. area.

"They are hoping to pull together a wedding … so they can get married and have time for a honeymoon," the source told Us.

Earlier this month, Odom gushed to Us that he was "very happy" with the star of Kourtney & Khloe Take Miami.

"Khloe is smart and beautiful and that is very hard to find," he added.

At Hollywood club Guys and Dolls earlier this month, Kardashian "would pull him up to dance and steal kisses here and there…every time a good song came on," a witness tells Us.

Odom recently signed a four-year, $33 million contract with the Los Angeles Lakers and helped the team win the NBA Championship in June.
[From Us Weekly]
I could talk a lot about how they barely know each other, and how Khloe is just trying to one-up her sisters, all of that stuff. But it's not really important. I don't think their impulsiveness and stupidity is really harming anyone, so live and let live. What is there to say? They're going to go through with this no matter how much we tut-tut them. All we can do is sit back and watch the show.
Khloe and Lamar are shown out on 9/8 and 9/9/09. Credit: Fame Pictures