Suri Cruise rocks leopard-print flats, has $3 million wardrobe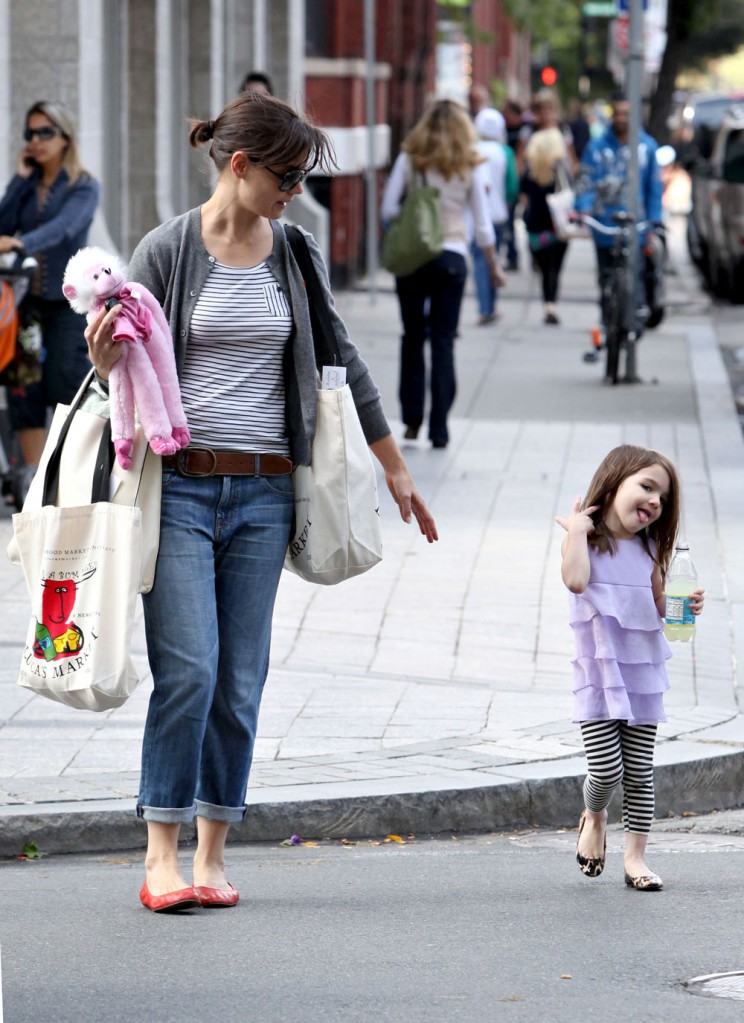 Here are some pictures of Suri Cruise and Katie Holmes out and about in Boston earlier this week. Surprisingly enough, Katie doesn't look death warmed over – her outfit is really cute, but I really wish she would stop rolling up her jeans. That trend needs to die. Suri, as always, looks totally fabulous. Thank goodness, she didn't try to apply her own lipstick again, and she's not wearing her sparkly kitten heels. Instead, Suri's rocking striped leggings, a lovely little violet tiered blouse and… drum roll, please… leopard-print ballet flats! Kick. Ass. I love those shoes. I'm with Katie - Suri might be my fashion inspiration too.
The Sun is reporting that Tom Cruise and Katie Holmes have spent 2 million pounds in total on 3-year-old Suri's wardrobe – I just did checked with the exchange rate calculator, and that's $3,220,720! Do you believe it? I'll buy that Suri's wardrobe – from her first newborn onsie to her current kitten heels – would be in the "hundreds of thousands of dollars" range, but I find $3.2 million to be a bit absurd. Or is it? I was just skimming through our Suri Cruise archives, and it's kind of amazing how Suri is consistently decked out in beautiful, expensive-looking little doll clothes. Little doll dresses, usually… and no coats and very few pairs of pants. Princess Suri prefers her couture doll dresses, thank you very much.
TOM Cruise's three-year-old daughter Suri has a wardrobe of designer clothes worth £2MILLION.

Actor Tom, 47, and wife KATIE HOLMES, 30, have commissioned the world's top fashion names to custom-make outfits for their toddler.

An insider said: "They really splurge on Suri." The pair's pal VICTORIA BECKHAM is also said to have commissioned designer ROBERT CAVALLI to make a dress for Suri.

The source added: "Suri is very vocal when it comes to outfits. She's rarely seen in anything twice."
[From The Sun]
Yeah, I really don't think it's that much, but I haven't priced kids' couture lately. My guess is that if there are enough rich, gullible, shopaholic parents (cough cough TomKat), there are probably enough stores that sell $10,000 dresses for 3-year-olds. The tabloids usually inflate these numbers – several months ago, they were reporting that Suri's special, fancy, elaborate tutoring cost Tom $1 million, and I think that was probably total bullsh-t. If the report has any truth whatsoever, then Katie needs to get a new hobby other than spending Tom's money.
Suri Cruise and Katie Holmes are shown on 9/29/09, credit: Fame Pictures
Written by Kaiser

Posted in Fashion, Katie Holmes, Suri Cruise, Tom Cruise

- Zach Galifianakis is awesome [Buzzfeed]
- Prince at the Billboard Music Awards [D-Listed]
- Bieber's Billboard look [Go Fug Yourself]
- Married to Medicine recap [Reality Tea]
- Celebrity first marriages [Pajiba]
- The last Mad Men baffled a lot of people [Lainey]
- Karolina Kurkova's crazy hot dress [Moe Jackson]
- Jennifer Garner on set [Popsugar]
- Kitten vs. Lizard [CDAN]
- Doetzen Kroes' great butt [Celebslam]
- Shameless star Jeremy Allen White [OMG Blog]
- RIP Ray Manzarek [Bossip]
49 Responses to "Suri Cruise rocks leopard-print flats, has $3 million wardrobe"