Pink to open and dance in her own strip clubs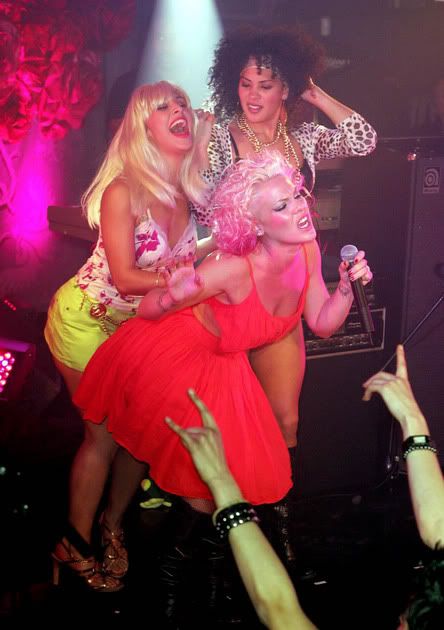 Pink plans to open a chain of strip clubs – and wants to dance in them herself!
The pop babe is such a fan of erotic shows she is allegedly considering launching lapdancing dens in London, Las Vegas and Los Angeles.
An insider told Britain's Daily Star newspaper: "They could be huge because everybody loves her and her determination to take on the establishment."
Pink trained to be a pole dancer for her latest erotic-themed show and flew in strippers from LA to perform on stage with her. We reported that she was planning to do a little pre-show stripping for her new husband, Carey Hart, while they were in London two days ago.
Female-owned strip clubs can be just as successful and sexy, and may offer a better work culture for dancers. Jenna Jameson owns a club in Arizona that has done well, although it's now facing legal challenges from the community. Pink should stay behind the scenes though and leave the work to the professionals for the sake of her marriage and her business.
Three more pictures after the jump.
Written by Celebitchy

Posted in Business ventures, Pink

- Harry Styles & Kimberly Stewart going strong [Lainey]
- Demi Moore's new man is gross [D-Listed]
- Fug or fab: Emma Stone [Go Fug Yourself]
- Arrest warrant issued for Jenelle Evans [Reality Tea]
- Only God Forgives review [Pajiba]
- Hugh Jackman, scooter master [Buzzfeed]
- Who does Drew Barrymore call her sister? [Evil Beet]
- Cannes couples past and present [Popsugar]
- Arrested Development supercut [CDAN]
- Lea Michele's see through skirt [Celebslam]
- Cheating wife's lover escapes out of window [Movin925]
- Joe Francis is crazy [Starcasm]
One Response to "Pink to open and dance in her own strip clubs"