Daniel Craig Picks Bond Girls, Will Be Showing Off His Body Again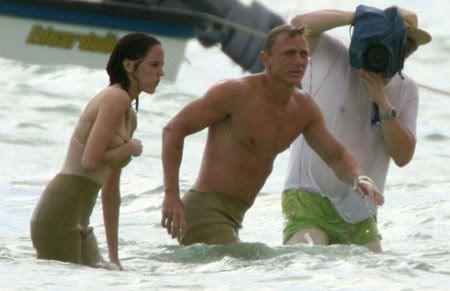 There are probably a whole range a reasons why being James Bond is immensely cool. Like the gadgets and guns, some of which are designed exclusively for Bond's use. Or the luxury cars that are sometimes amphibious. Then there's the unlimited supply of custom fitted tuxedos. But probably the best perk of being 007 is the chicks. Daniel Craig knows this.
Daniel Craig is hand-picking his Bond girls for the new 007 film, due out at the end of next year.

"Daniel campaigned for Eva Green to do Casino Royale and is having a similar input in the casting of the next film," says my movie mole.

"There'll be four girls, all of whom will look Latin-American as much of the film is set in Panama, and Daniel is having a hard time choosing between those screen testing."
Anyone who has a job perk like choosing co-workers based entirely on their looks (let's face it, Bond girls are not known for their acting ability, although some of them could act) and still gets paid $60 million for four films would definitely take on the role.
Daniel was of course partly chosen for his own good looks. He plans on slimming down for his next role, not in a skinny way, but rather not bulking up quite so much in the muscular department. He'll also be showing off his physique, again.
Craig is quoted as saying: "I'm probably not going to bulk up as much as I did last time. That was an exercise that worked and I'm very happy I did it because I wanted to know if I could do it, but I've got to do stuff which will be closer to what I'm doing on screen, like running and jumping. I've got to do some of that."

Craig also revealed that the film's producer, Barbara Broccoli is determined to make sure he is forced to strip off in the next Bond film, 'Bond 22′.

He said: "I think Barbara is going to have words with me about that. I'll be, 'I'm not going to take my top off', and she'll say, 'Yes you are.' There are no plans. They might have me taking a shower, what can I tell you?"
A 007 shower scene? That we'd like to see…
Written by Helen

Posted in Daniel Craig

- Mariah Carey lip synced on American Idol [CDAN]
- Colin Firth is looking good [Lainey Gossip]
- Internet celebrity charged with murder! [D-Listed]
- What is Paz Vega wearing? [Go Fug Yourself]
- New bachelors on The Bachelorette [Reality Tea]
- Goodbye to The Office [Pajiba]
- Bachelor Sean's fiance cheats on him [Evil Beet]
- Britney Spears out with her man [Popsugar]
- Nina Dobrev works it [Popoholic]
- Cindy Crawford needs to lay off the 'tox [Celebslam]
- Who said it: Carrie Bradshaw or The Dalai Lama? [Buzzfeed]