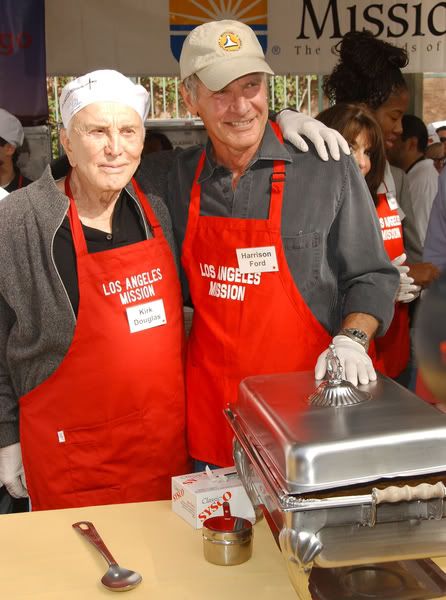 Celebrities were out in LA yesterday to assist the Los Angeles homeless mission in serving an early Thanksgiving meal to the city's homeless. Actors Kirk Douglas, Harrison Ford, Calista Flockhart and Nia Long were among the famous faces helping out and bringing attention to the cause.
Wearing red aprons and plastic gloves, they stood alongside volunteers at the annual feast at downtown's Los Angeles Mission, doling out turkey drumsticks, mashed potatoes and gravy, rolls, vegetables and pumpkin pie.

Actresses Nia Long and Calista Flockhart and "The Hills" reality TV star Spencer Pratt were among others passing out almost 3,000 plates of food to lines of men, women and children.

"It's very grounding," said Long, who dished out vegetables and rolls with her 7-year-old son. "I feel grateful for all the things I have."

A house band pounded out music as people sipped on bright green and orange punch at rows of tables outside.
[From The Huffington Post]
LA mayor Antonio Villaraigosa was there, and he actually washed homeless people's feet as part of the event, getting down on his hands and knees to personally attend to the feet of the down-on-their-luck attendees. That's an incredible gesture and I find it touching. One of the women whose feel Villaraigosa washed agrees. Yasmine Villalobos is quoted by Huffington Post as saying "He washed my feet, and it was so special. I will remember it forever."
I love seeing 90 year-old screen legend Kirk Douglas out. He was most recently photographed looking incredibly surprised as John Travolta kissed him full on the mouth before presenting him with an award. Hopefully they'll be plenty more photo ops for Mr. Douglas, and those pictures will soon fade from our collective memory.
Kirk Douglas has volunteered with the LA Mission for years, and helped establish their Anne Douglas Center for Women, named after his wife. Anne and Kirk Douglas oversaw the donation of ten computers to the center last summer. In a statement about the celebrities volunteering at the LA Mission on Thanksgiving, Douglas said "Their involvement will help their souls as much as it helps the guests being served."
Have a great Thanksgiving everyone.
Shown below are Kirk Douglas, Harrison Ford, Calista Flockhart, Alana Curry, Spencer Pratt, Antonio Villaraigosa, Kate Linder, Nicholle Tom, Nia Long, Antonio Villaraigosa, and Calista Flockhart's son, Liam. Thanks to PRPhotos.