Paula Abdul gets beat up!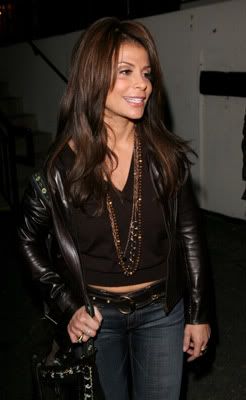 You probably heard this already, but I just wanted to post some of the many unflattering pictures of Paula Abdul. Abdul was out at an after-hours party in Hollywood when she ran into a former Creative Artists talent agent, Jim Lefkowitz, who is said to have been offended by her attitude. Abdul said that "a man she knew" threw her against the wall that night leaving her with a concussion and spinal injuries. Her attacker is assumed to be Lefkowitz, although that has not been confirmed.
Her exboyfriend was out with her and also suffered injuries that night. It is thought that he was defending her:
Us has learned that the night also ended with Abdul's ex-boyfriend Dante Spencer in the hospital. According to a source, last Saturday night Abdul and friends headed to Xenii (a floating after-hours party held in a different location each week), where she ran into former CAA agent Jim Lefkowitz.
Abdul suffers from a neurological disorder called complex regional pain syndrome that may have made her injuries worse. She used the disorder to explain her erratic behavior on American Idol last season, but it does not seem sufficient to explain away her current problems on the show.
Here's Abdul on March 23 looking out of it at "An Evening with Liza Minnelli" presented by The Academy of Television Arts and Sciences.
Written by Celebitchy

Posted in Drugs, Fights, Paula Abdul

- Mariah Carey lip synced on American Idol [CDAN]
- Colin Firth is looking good [Lainey Gossip]
- Internet celebrity charged with murder! [D-Listed]
- What is Paz Vega wearing? [Go Fug Yourself]
- New bachelors on The Bachelorette [Reality Tea]
- Goodbye to The Office [Pajiba]
- Bachelor Sean's fiance cheats on him [Evil Beet]
- Britney Spears out with her man [Popsugar]
- Nina Dobrev works it [Popoholic]
- Cindy Crawford needs to lay off the 'tox [Celebslam]
- Who said it: Carrie Bradshaw or The Dalai Lama? [Buzzfeed]
One Response to "Paula Abdul gets beat up!"