Ethan Hawke defends Madonna & Romania's Gypsies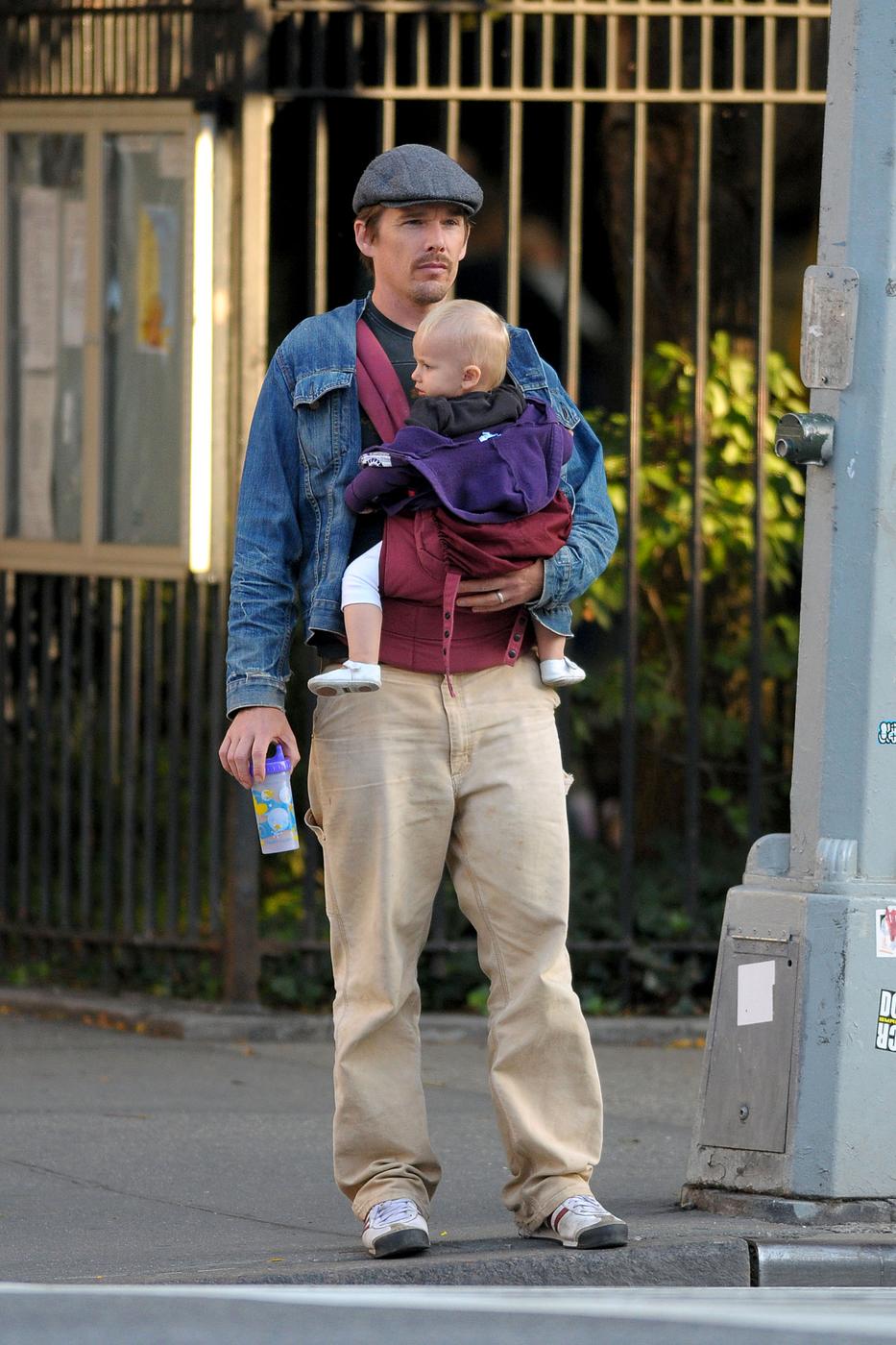 The whole Gypsies-as-a-political-issue thing isn't something I'm terribly familiar with, so I actually had to do a little bit of research on the issue, specifically the Gypsy issue within Romania. I apologize in advance if I'm incorrect, but from what I can see, Gypsies (Roma) seem to be a culturally, politically and socially oppressed minority within Romania. The Roma maintain their own language (Romany), names, music, customs, set of laws, and the overwhelming majority refuse to marry outside of the Roma, although many have begun to become more integrated into non-Roma communities.
It was back in August when Madonna was performing in Bucharest, Romania, and she spoke out on the issue of Gypsies. According to Fanfarazzi, Madonna "explained that no one should be discriminated against and that it made her 'sad' that Gypsies, also known as Roma, face this kind of plight. That's when thousands of Romanian fans, who did not agree, loudly booed the pop star. She didn't react." Poor Madge. Entering a country's internal political debate like a freight train, and she isn't even thanked for her trouble.
So this Gypsy history and Madge history is the jumping off point for this latest story about Ethan Hawke. Apparently, Ethan is all over the Roma stuff because his mom is president of the Ovidiu Rom charity. According to the website: "The mission of Ovidiu Rom is to empower the poorest members of Romanian society through education, job training, community development and public awareness." Ethan thinks Madge is amazing for standing up for Gypsies, and he's even traveled to Romania to see the Gypsies' conditions first hand:
At an August concert in Bucharest on her "Sticky & Sweet" tour, Madonna called for an end to widespread discrimination against Eastern Europe's Gypsies – and her stance provoked boos from thousands of fans in Romania. Now 'Reality Bites' star Ethan Hawke, visiting Romania to help promote his mother's charity supporting education for Gypsy children, placed the pop superstar alongside Bob Marley and John Lennon as part of a tradition of artists speaking out against racism.

"She transcended being a pop star," he told reporters. "She drew international attention and shone the spotlight on a level of racism and the need for greater education," Hawke said.

"I don't have an agenda, Madonna doesn't have an agenda. We aren't politicians," Hawke said.

Hawke, 38, was to speak later Saturday at the Ovidiu Rom charity Halloween ball. He and his mother, Leslie Hawke, the charity's president, were already dressed in costume: the actor in top hat and tails and his mother in a Japanese-style kimono, black wig and geisha-like makeup.

A pair of Madonna's Christian Dior shoes with autographed skyscraper gold heels are to be raffled off at the ball, which is to be held in the giant palace of the late dictator Nicolae Ceausescu. Among the other prizes is a gold chain provided by actress Vanessa Redgrave.

Hawke has been coming to Romania to support his mother's work since 2000, he said.

"I feel I can do something," he told reporters, "instead of being part of the problem."

Romania has the largest number of Roma in Europe, numbering officially half a million, but whose population is believed to be as high as 2 million. The European Union's Fundamental Rights Agency has said Gypsies face "overt discrimination" in housing, health care and education.

Romania, home to the Dracula legend, may have influenced two-time Academy Award nominee Hawke's latest movie, 'Daybreakers,' in which he plays a researcher in the year 2019 facing a plague that has transformed the world's population into vampires. The movie comes out in 2010.

Prince Vlad the Impaler, the Romanian warlord whose cruelty inspired Bram Stoker's 1897 novel, 'Dracula' has spawned dozens of Hollywood movies about vampires in the Transylvania region.
[From PopEater]
I'm generally pretty "meh" on Ethan, but I'll give him credit for this. He's supporting his mom, and he's being generous with his time and energy, all to bring awareness to a cause that I really didn't know was such a big deal. Way to go, Ethan. And way to go, Ethan's mom (who sounds really cool).
Here's Ethan taking a stroll through New York City with his daughter Clementine along for the ride on October 11th, and with wife Ryan Shawhuges on August 30th. Images thanks to Pacific Coast News.

Written by Kaiser

Posted in Ethan Hawke, Good Causes, Madonna

- Who butchered the National Anthem? [D-Listed]
- Rob Lowe never ages [Lainey Gossip]
- What is Vanessa Hudgens wearing? [Go Fug Yourself]
- Summer guide to reality TV [Reality Tea]
- Game of Thrones recap [Pajiba]
- Tan Mom's music video [Buzzfeed]
- Amanda Knox is broke [Starcasm]
- Backstage at the Billboard Awards [Popsugar]
- Miley is still stuck in the 90s [Popoholic]
- Blind Items revealed: Adam Levine [CDAN]
- Hugh Hefner bought Crystal Harris a house [Celebslam]
- What happened to Aimee Teegarden? [The Blemish]
64 Responses to "Ethan Hawke defends Madonna & Romania's Gypsies"