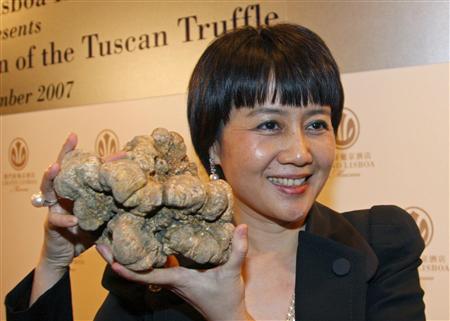 One of the largest white truffles ever found went for a record-breaking $330,000 at a charity auction held in three locations yesterday. White truffles are fungi that typically grow in northern Italy and Croatia. Truffles come in other varieties, including the well-known black truffle, which can be found in the French countryside. White and black truffles are rare and highly sought after as food. Truffle hunting can be extremely lucrative, as the prized delicacies can be priced at around $11,000 a kilo. (2.2 pounds.)
Dogs are specially trained to hunt the truffles and locate them in the wild. Rocco, an Italian mutt, found the 3.3 pound white truffle near Pisa, Italy at the base of a tree and abut 2.5 feet underground. His owners, Christiano and Luciano Savini, auctioned off the huge fungus for charity. It went to a Hong Kong casino owner in Macau after a bidding war with controversial artist Damien Hirst. The proceeds will be donated to different charities in London, Macau, and Italy.
First sniffed out by a mongrel dog in the woods of Tuscany, the biggest white truffle unearthed in half a century fetched a record $330,000 (£160,000) yesterday at a charity auction more passionate and raucous than if a Rembrandt or Titian had been at stake.

The knobbly, soil-encrusted 1.5kg (3.3lbs) white tuber magnatum pico was the subject of fierce bidding and was finally claimed by the Hong Kong billionaire Stanley Ho, nicknamed 'The King of Gambling' and one of Asia's richest men.

Bidding was linked by satellite between Macau, Florence and London's Refettorio restaurant, where guests included the DJ Chris Evans and his wife, Natasha. Giorgio Locatelli, consultant chef at Refettorio, took instructions from the artist Damien Hirst, in Cornwall over a mobile phone. After bowing out at $130,000, Hirst told him: 'I'm walking down the beach. F%@& it!'

The value was heightened by a dry summer which has made white truffles – dubbed 'white gold' and the fungal equivalent of caviar – more precious than ever. Trade prices hit £3,500 per kilo at the start of the brief season, from October to December, with Harrods charging £5,500. The previous auction record was set only last month when a white truffle fetched $212,000 in Hong Kong.

At the Grand Lisboa hotel in Macau, 500 guests attended a black tie dinner, many arriving via a heliport on the roof. Fourteen truffles were up for auction at the three locations, some presented on red silk, culminating in the 1.5kg colossus which was announced as 'the truffle of the century'.

'It is a beautiful truffle,' said Locatelli. 'There is a long decline in truffles from 50 to 100 years ago because of pesticides and the way we are using our planet without respecting it. To produce truffles you need a purity of environment.'
[From The Guardian]
The article notes that a 5.5 pound truffle was given to President Eisenhower in 1954.
I started to cover this because Madonna and Cate Blanchett were expected at the auction, but neither attended according to reports. It doesn't seem like bidding suffered much due to lack of star power, and the scene sounds like something out of a Bond movie.
The truffle must be cooked and eaten within the next week, as truffles need to be consumed within 20 days or they will become moldy and inedible.
When I read this article I was trying to remember if I've ever eaten truffles other than the chocolate kind, and I've had meals at restaurants that claimed they were made with truffle oil. It turns out that truffle oil usually doesn't contain the pricey ingredient, and is typically just olive oil infused with a synthetic truffle flavor. At prices like that, it's no wonder the oil doesn't have any real truffles in it.
Here's a video about the largest truffle, thanks to Telegraph.co.uk:

The header image is of Angela Leong, the wife of the winning bidder Stanley Ho, holding the prized truffle. Image from Reuters.