Renee Zellweger is dating Uma Thurman's ex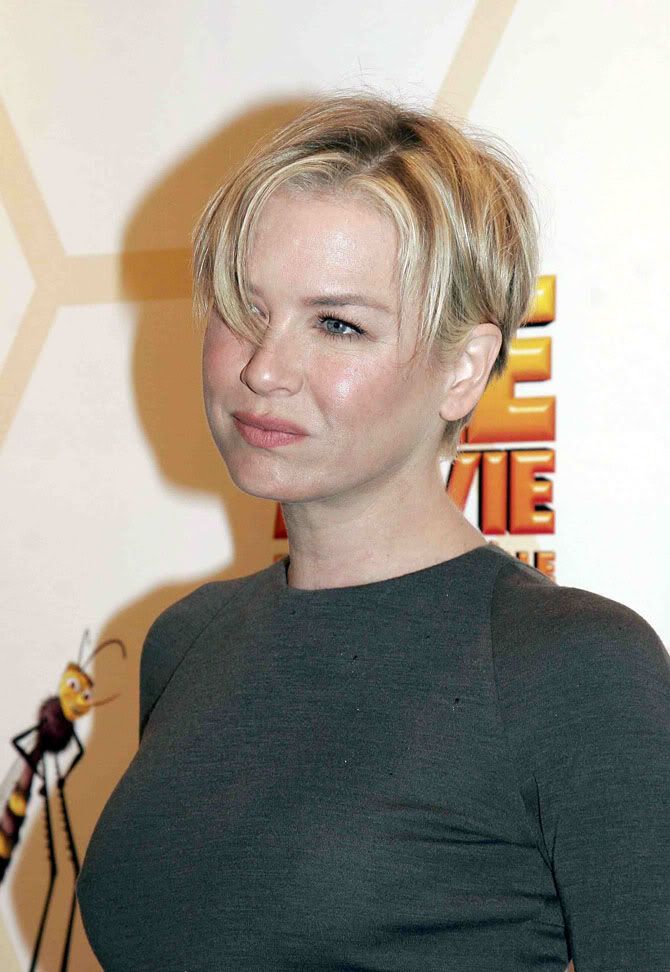 38 year old actress Renee Zellwegger was spotted out on a date with millionaire hotelier Andre Balazs, 50. Balazs dated Uma Thurman for years and was recently linked with rageaholic Naomi Campbell. Renee and Andre were seen out at dinner, with Renee trying to hide her face from the paparazzi waiting outside. They ended the night at her place so it looks like the date went well for both of them.
[Renee Zellweger] is dating… hotel mogul Andre Balazs… The two were recently spotted getting cozy at Manhattan's posh San Domenico restaurant.

And when Renee and Andre finished their dinner at 2 a.m., they headed to her place.

Although the actress tried to hide from the cameras, The Enquirer got the scoop on the couple's new romance.

"Renee is totally into Andre," a Hollywood insider told us.
[From The National Enquirer, print edition, December 10, 2007]
Single Renee Zellweger is often portrayed as a sad sap by the media. She was said to have been rejected by rock legend Paul McCartney after the two enjoyed at least one romantic date this summer, and she hasn't had much luck in love otherwise. Her marriage to country singer Kenny Chesney ended in 2005 after four months, and she had an on and off relationship with singer Jack Black White, who married a model shortly after breaking it off with Renee.
Zellweger doesn't do much to dispel our impression of her. She was recently quoted as saying that she likes to go to parties late when no one will point at her, referring to herself as "the weird actress girl in the corner." She sure has low self esteem for an Oscar winner and one of the highest paid women in Hollywood. Maybe that's part of the reason why she's unlucky in love.
Zellweger stars as the female voice of the lead character in the animated film Bee Movie, which I found thoroughly awful. She said she rented her Hollywood home to co-star Jerry Seinfeld and that it was coincidentally infested with bees. She claims to be unaware that the bees had taken up residence in her home before Seinfeld rented it. Is it scandalous that the star of Bee Movie had to kill a bunch of bees to live somewhere? Maybe I'm jumping to conclusions, but it seems likely that Seinfeld had the bees exterminated, not that there's anything wrong with that.
Renee is shown in the header image at the French premiere of Bee Movie last night. thanks to Splash News. The other images are from the US premiere on 10/28/07, thanks to PRPhotos.
Written by Celebitchy

Posted in Andre Balazs, Hookups, Renee Zellweger

- Mariah Carey lip synced on American Idol [CDAN]
- Colin Firth is looking good [Lainey Gossip]
- Internet celebrity charged with murder! [D-Listed]
- What is Paz Vega wearing? [Go Fug Yourself]
- New bachelors on The Bachelorette [Reality Tea]
- Goodbye to The Office [Pajiba]
- Bachelor Sean's fiance cheats on him [Evil Beet]
- Britney Spears out with her man [Popsugar]
- Nina Dobrev works it [Popoholic]
- Cindy Crawford needs to lay off the 'tox [Celebslam]
- Who said it: Carrie Bradshaw or The Dalai Lama? [Buzzfeed]