Billy Elliott got hot, shirtless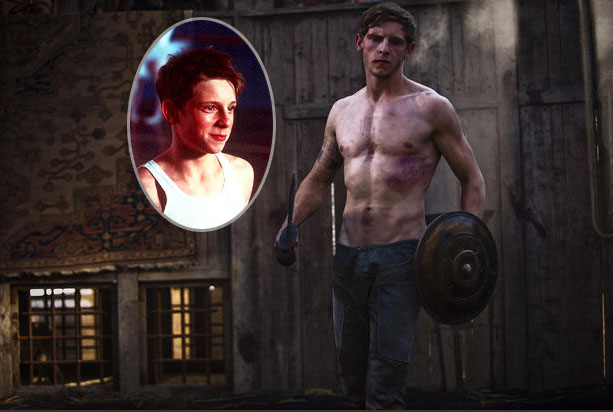 Remember that cute little kid in the heartwarming British movie Billy Elliot from 2000? He got hot! Jaime Bell is all of 23 now so I don't feel guilty drooling over this photo from an upcoming film that shows him hot, sweaty, shirtless and dirty in low-rider pants. It's those lower abs that are doing it for me. (I'm not of the "any guy over 18″ mindset, I'm in my mid 30s so they have to be at least 21.)
In Eagle of the Ninth Bell stars as a second century slave to a Roman army leader played by Channing Tatum. Tatum's character comes to Scotland to help his dad (Donald Sutherland) solve a mystery of a missing legion of troops. I'm sure the film will have plenty of hot guys fighting, but sadly only Bell, not Tatum, is shirtless in the stills now available.
The Eagle of the Ninth is set in the dangerous world of second-century Britain. In 140 AD, twenty years after the unexplained disappearance of the entire Ninth Legion in the mountains of Scotland, young centurion Marcus Aquila (Tatum) arrives from Rome to solve the mystery and restore the reputation of his father, the commander of the Ninth. Amongst all the drama, he meets and is accompanied by a British slave named Esca, who will be played by Bell, while Sutherland will come into the picture as Marcus' uncle Aquila, who has retired in Britain.
[From Screencrave]
I couldn't find a trailer for this movie yet. Eagle of the Ninth is out sometime next year and has no specific release date listed on IMDB. Note to producers: there's still more time to work in footage of shirtless guys.
Since starring as Billy Elliot, Jaime Bell has had roles in King Kong, Flags of Our Fathers, and Jumper. He's shown below at the UK premiere of Defiance on 1/6/09 with Liev Schreiber and Daniel Craig.
Thanks to Huffington Post for the heads up!
Film stills from Yahoo! and credit Matt Nettheim/Focus Features. Other photos credit: WENN.com
Written by Celebitchy

Posted in Channing Tatum, Hot guys, Jaime Bell, Movies

- Zach Galifianakis is awesome [Buzzfeed]
- Prince at the Billboard Music Awards [D-Listed]
- Bieber's Billboard look [Go Fug Yourself]
- Married to Medicine recap [Reality Tea]
- Celebrity first marriages [Pajiba]
- The last Mad Men baffled a lot of people [Lainey]
- Karolina Kurkova's crazy hot dress [Moe Jackson]
- Jennifer Garner on set [Popsugar]
- Kitten vs. Lizard [CDAN]
- Doetzen Kroes' great butt [Celebslam]
- Shameless star Jeremy Allen White [OMG Blog]
- RIP Ray Manzarek [Bossip]
22 Responses to "Billy Elliott got hot, shirtless"