Just what you wanted to see today: Kirsten Dunst in a bikini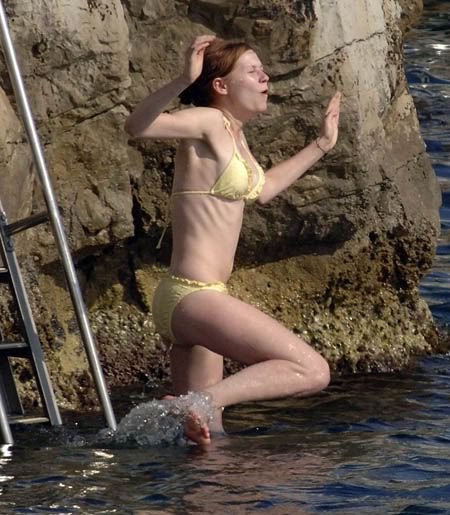 Kirsten Dunst has a cute body when she's not covering it up in layers of ill-fitting vintage clothing. She's not too thin and her boobs are probably natural. She needs to do something about her teeth, though. I read an interview with Dunst in British In Style in which she said she thinks her teeth give her character and won't change them, even though her mother has urged her to get them fixed. It's not invasive like getting plastic surgery and people would say she made a wise move. She can even write it off her taxes. Dunst would have plenty of character left to go around if she got veneers.
I don't like Kirsten Dunst, but I'm not sure why – apart from her easily mocked appearance. She doesn't say rude or vain things all the time like Eva Longoria or Jennifer Aniston. She just seems kind of annoying. It's like she crashed the celebrity party and never bothered to try to act like she deserved the fame and cash that go along with it.
In these pictures of her swimming at Cap d'Antibes in Antibes, about 20 minutes from Cannes, she looks happy like a little kid and I kind of feel sorry for her.
Dunst's film "Marie Antoinette" opens at Cannes tomorrow.
Pictures [via]
Written by Celebitchy

Posted in Cannes, Kirsten Dunst, Photos

- Mariah Carey lip synced on American Idol [CDAN]
- Colin Firth is looking good [Lainey Gossip]
- Internet celebrity charged with murder! [D-Listed]
- What is Paz Vega wearing? [Go Fug Yourself]
- New bachelors on The Bachelorette [Reality Tea]
- Goodbye to The Office [Pajiba]
- Bachelor Sean's fiance cheats on him [Evil Beet]
- Britney Spears out with her man [Popsugar]
- Nina Dobrev works it [Popoholic]
- Cindy Crawford needs to lay off the 'tox [Celebslam]
- Who said it: Carrie Bradshaw or The Dalai Lama? [Buzzfeed]
4 Responses to "Just what you wanted to see today: Kirsten Dunst in a bikini"