Alec Baldwin is a horrible father, blames ex-wife for everything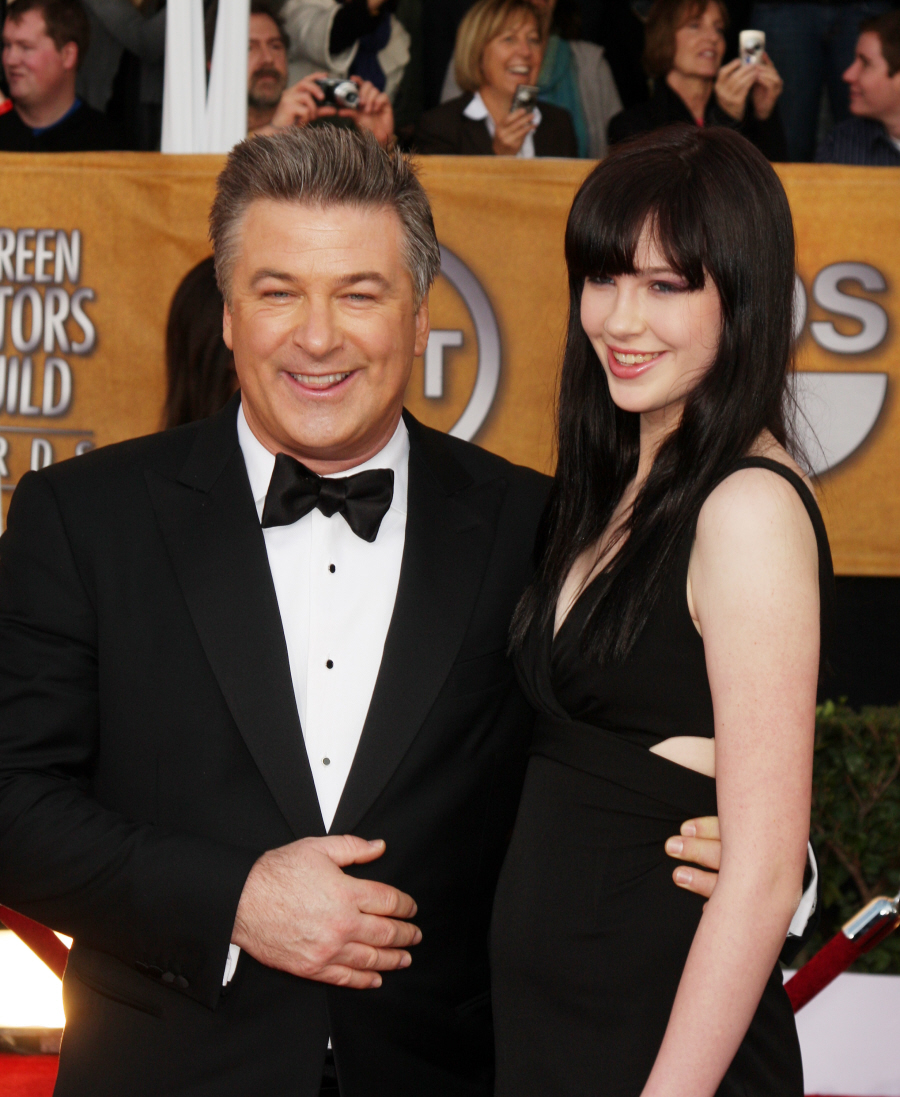 Last week, Alec Baldwin was briefly hospitalized after it is believed that he threatened suicide over the phone to his 14-year-old daughter Ireland. Initially, the report was that Ireland was in New York with her dad, but now the evidence suggests that she was with her mom, and that it was an argument over the phone that triggered the incident. Anyway, Alec didn't actually take anything (except maybe an Ambien, according to the Enquirer). After Alec was released from the hospital, he was certainly well enough to attack a photographer. In any case, this Enquirer report is mostly a rehash of that incident, with one new twist: Alec Baldwin is blaming everything on his ex-wife, Kim Basinger. Of course.
Alec Baldwin believes his bitter ex-wife Kim Basinger is trying to sabatoge his big night co-hosting the Oscars, say sources.

"Kim's trying to throw me off my game – but I'm going to do a superb job," Baldwin vowed to a pal.

Baldwin, who's headlining the March 7 telecast with Steve Martin, was "still steaming days after landing in the hospital following an embarrassing 911 call by his 14-year-old
Daughter Ireland – an incident he believes was engineered by Basinger, say insiders.

Ireland, who was in LA, reportedly had a phone argument with her father while he was at his New York apartment – and he allegedly told her: "I'm tired of this. I'm going to take some pills. I'm going to end this."

Ireland tried to call back, and when he didn't answer, she called 911, saying she feared a "possible alcohol or drug overdose" according to a published report. Baldwin was rushed to Lenox Hill Hospital and examined for 45 minutes before being released.

"Alec admitted taking only one Ambien sleeping pill, which isn't life-threatening," an NYPD source told the Enquirer. "He simply wanted to go to bed after what he called a 'typical' father-daughter fight 'about next to nothing.' It's his contention that Ireland told her mom about the call, and Kim told her to call 911 to embarrass him. Obviously, there's no love lost."
[From The National Enquirer, print edition, March 1 2010]
Now, I'm not on either side, Team Alec or Team Kim. I think they're probably both huge tools. But in this particular incident, I'm Team Kim. What kind of douchey father tells his daughter (the "rude, thoughtless little pig") that he's going to commit suicide after a fight about nothing? My original view of this incident is unchanged: Alec is a passive-aggressive drama queen who needs to get a grip.
A few days ago, I put this Gawker story in the links, and it's worth another look. It's an examination of why Hollywood is still in Alec Baldwin, even though it's pretty clear, in Gawker's Brian Moylan's words "Baldwin clearly has a very troubling approach to parenthood." The eventual verdict? It's because liberal Hollywood likes Baldwin's liberal politics, and oh yeah, he's a good actor too. It's a pretty interesting piece.
Alec Baldwin and Ireland on January 25, 2009. Credit: WENN. Alec "attacking" the pap in New York on February 11, 2010. Credit: Mauceri/Donnelly/INFphoto.com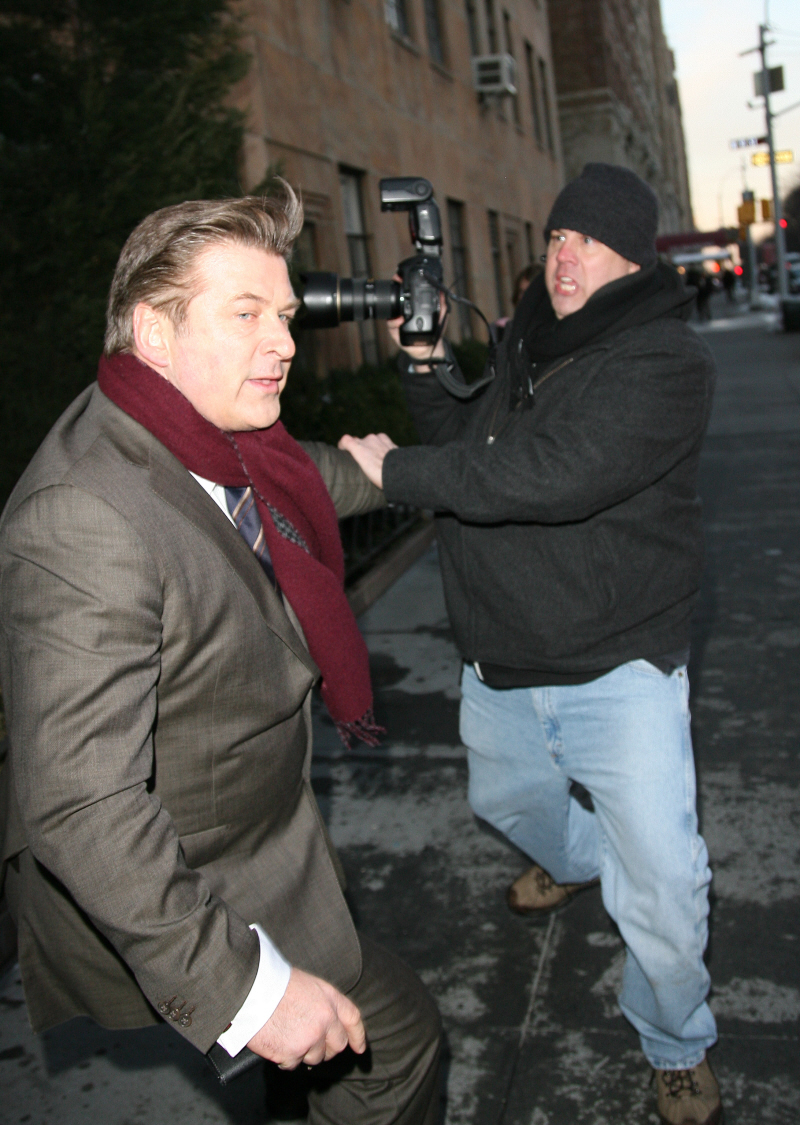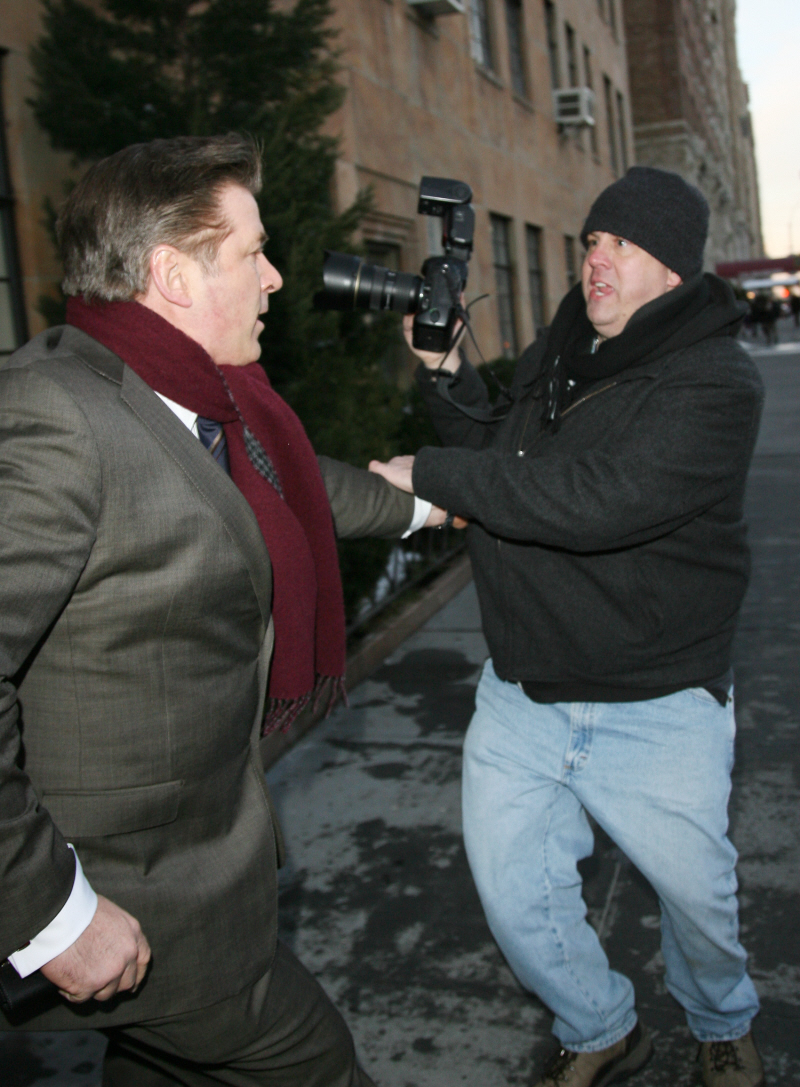 Written by Kaiser

Posted in Alec Baldwin, Drama

- Mariah Carey lip synced on American Idol [CDAN]
- Colin Firth is looking good [Lainey Gossip]
- Internet celebrity charged with murder! [D-Listed]
- What is Paz Vega wearing? [Go Fug Yourself]
- New bachelors on The Bachelorette [Reality Tea]
- Goodbye to The Office [Pajiba]
- Bachelor Sean's fiance cheats on him [Evil Beet]
- Britney Spears out with her man [Popsugar]
- Nina Dobrev works it [Popoholic]
- Cindy Crawford needs to lay off the 'tox [Celebslam]
- Who said it: Carrie Bradshaw or The Dalai Lama? [Buzzfeed]
48 Responses to "Alec Baldwin is a horrible father, blames ex-wife for everything"