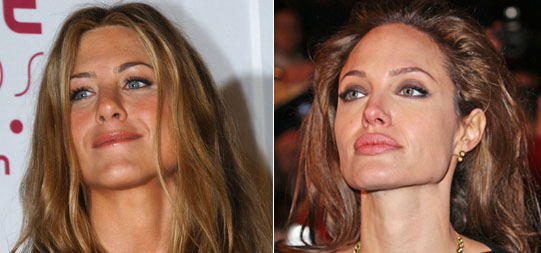 I've been ignoring this hoping it will go away on it's own, but US Weekly is covering it now on their website and I may as well mention it. This was all over the tabloids this week and we didn't cover it because we try to tread lightly on any of these Brangelina stories, especially one that specifically mentions Aniston. (She inevitably gets brought up even if the story has absolutely nothing to do with her, but this one does.)
So Angelina and Aniston are both slated to host the same charity event before the Oscars, which US notes is "press free." It is thought to be their first run-in since Angelina hooked up with Brad three years ago. That means that the tabloids will be able to go wild with speculation and hype about every minor exchange between the two, if there is any, following the event. If they even glance at each other it will be a big deal. At least it will be around Oscar time and there will be plenty of other shit to report that week too.
Jennifer Aniston, Brad Pitt, and Angelina Jolie are among the A-list hosts of this year's Night Before pre-Oscar bash, Us Weekly reports in its latest issue, on newsstands now.

The press-free charity event promises to be the first time Aniston and Jolie have met since Pitt left Aniston in 2005 and started a family with Jolie a short time later.

"Jen wants to go but knows it would be a disaster waiting to happen," an Aniston insider tells Us.

A source tells Us that Aniston will be at the event as long as her filming schedule allows. The minimum entrance fee is $25,000 for four tickets, with proceeds benefiting the Motion Picture and Television Fund.
[From US Weekly]
Aniston and Pitt broke up in 2005 after five years of marriage. That's not really that long ago in the scheme of things. My last boyfriend before my husband was five years ago, and although there was no cheating or anything I would actively avoid him if we were still in the same social circle. There are exes that I'm cool with, but he's not one of them. It's only natural for people to say that Aniston probably doesn't want to meet Angelina, and I know I wouldn't want to meet my ex's wife if it was that particular ex.
We don't know their situation, but even if Aniston has long since moved on, it's got to be a bit annoying if not mildly painful that people say she hasn't moved on. If you were hurt in a relationship it would be much easier to forget about it if it wasn't plastered on all the magazine covers at your local drugstore for the last three years.
My advice to Aniston is not to go. Why bother? You're damned if you do, and damned if you don't. Come up with a way to gracefully bow out, and don't show up. This is what I would personally do if I had to deal with my ex's new wife. Am I a coward? Definitely, and I am lucky enough to never have to deal with people talking about my love life in the press. I know it's a charity event and all, but she can send a donation or contribute in another way, they won't suffer because she's not there. Don't give the gossip rags anything to talk about.
In related overhyped and probably fabricated news, Angelina and Brad are said to be planning a Spring wedding. These stories come up every few months so I'm doubting it. The ever-reliable British press is also reporting that an unknown suitor has been leaving roses on Aniston's doorstep every day for a month.
Aniston also celebrated her 39th birthday this week with 20 friends. They had dinner and cake at an Italian restaurant in Vancouver where she is currently filming.
Please go easy and be respectful in the comments. It's Valentine's Day, show some love.