New Joker figurine based on Heath Ledger's character to be released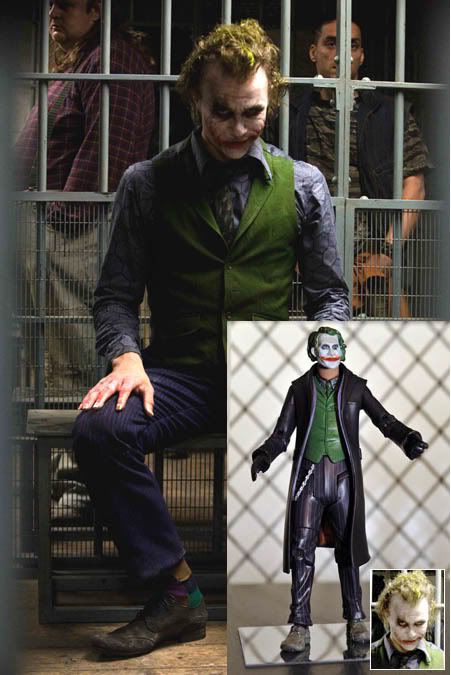 There are at least two new official action figures coming out that depict Heath Ledger's much-anticipated Joker character in the Batman movie The Dark Knight, which is due for release on July 18. Ledger called his Joker "a psychopathic, mass-murdering, schizophrenic clown with zero empathy …" and was open about how he suffered insomnia and psychological torment during his grueling preparation for the role. His family said that it's fine with them that the action figures are released and that Heath was proud of his portrayal of the Joker. The NY Post quotes a toy expert who acknowledges that the action figures may become collectibles as a result of Heath's untimely death:
The Post got a sneak peek at the action figures for this summer's upcoming Batman flick "The Dark Knight," in which Ledger stars as the psychotic villain The Joker .

Although the doll is being unveiled less than a week after Ledger's funeral, his family stands behind the company's decision to go ahead with marketing the collectible.

"Heath was very proud of his work in the film, and his family is aware and supportive of Warner Bros. and its partner's plans for the movie," said a family spokesperson.

Mattel will be selling two versions of the Joker doll, both of which hit store shelves in May.

The first retails for $7.99 and features a rocket launcher that can be placed in the Joker's hand.

The second (pictured), a slightly larger, more detailed version created by famed action-figure designers the Four Horsemen, sells for $10.99 and comes with a toy knife.

"It's not exactly a marketing point," said Mattel's P.J. Lewis of Ledger's death. "But kids are going to buy the toy if they like the movie."

Cliff Annicelli, editor of Playthings magazine, said he believes Ledger's death will definitely increase sales of the Joker figure, especially among adults.

"I would expect it will be a hotter collectible than it would have been before his death," said Annicelli.

Mattel will probably rely on comic book stores, instead of toy stores, to sell most of the figurines, he added.

"That's been the marketing plan all along, because the movie is dark and not particularly kid-appropriate," Annicelli said.
[From The NY Post]
I really want to see this film, because the last Batman with Christian Bale was phenomenal. It was a rare mix of a superhero action film with real depth and emotion. Plus, there was Christian Bale. It's going to be hard to see Heath on screen, and not think about the fact that he's gone and that it was one of his last roles. He's undoubtedly owned it, and advance buzz is that his Joker is darker and scarier than we've ever seen before.
Warner Brothers is expected to step away from marketing the film based on The Joker out of respect to Heath. The NY Daily News quotes the editor of boxofficeguru.com as saying that "Ledger's portrayal of the Joker is already one of the most anticipated screen characters of the whole year."
Here's the trailer for Batman: The Dark Knight

Thanks to /flim for the movie poster below and still of Heath and Maggie Gyllenhaal. There are other genuine-looking photos of Heath's character floating out there that I've found, but they seem to be off limits for now.
Written by Celebitchy

Posted in Deaths, Heath Ledger, Movies, Toys

- Zach Galifianakis is awesome [Buzzfeed]
- Prince at the Billboard Music Awards [D-Listed]
- Bieber's Billboard look [Go Fug Yourself]
- Married to Medicine recap [Reality Tea]
- Celebrity first marriages [Pajiba]
- The last Mad Men baffled a lot of people [Lainey]
- Karolina Kurkova's crazy hot dress [Moe Jackson]
- Jennifer Garner on set [Popsugar]
- Kitten vs. Lizard [CDAN]
- Doetzen Kroes' great butt [Celebslam]
- Shameless star Jeremy Allen White [OMG Blog]
- RIP Ray Manzarek [Bossip]