Liev Schreiber and Naomi Watts at The Omen Screening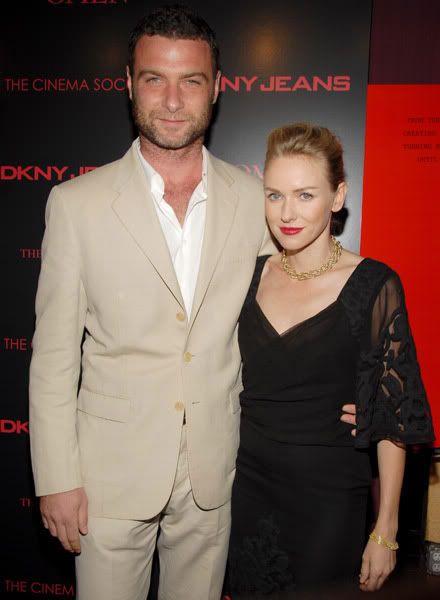 Liev Screiber, Julia Stiles, and Mia Farrow star in "The Omen," a remake of the 1976 horor film about a little kid who's the devil incarnate.
Here's the trailer: warning
This looks creepy as hell and you couldn't pay me to see this. (Unless it was three figures, then I'd go and cover my eyes.)
At the screening of "The Omen" last night in NY, Watts is wearing a loose-fitting dress, but I don't think she's pregnant unless it's early on. In some HQ photographs that came out a couple of weeks ago you can see her stomach through a sheer top and it's flat.
"The Omen" comes out, predictably, on 6/6/06.
Also shown are Julia Stiles, Mia Farrow, and creepy little Seamus Davey-Fitzpatrick.
Written by Celebitchy

Posted in Liev Schreiber, Movies, Naomi Watts

- The Blemish interviews Carmen Electra [The Blemish]
- Rumer Willis joins Pretty Little Liars [Lainey Gossip]
- Morgan Freeman falls asleep during interview [D-Listed]
- Fug or fab: Isla Fisher [Go Fug Yourself]
- Tamra Barney confirms spinoff [Reality Tea]
- Movie franchises that rebounded [Pajiba]
- Why Dylan McKay is the perfect boyfriend [Buzzfeed]
- Saoirse Ronan could have been a Lohan [Evil Beet]
- GIFs from Cannes [Popsugar]
- Cat massages a dog [CDAN]
- Heather Graham is so pretty [Celebslam]
- What is Lucy Hale wearing? [Moe Jackson]
One Response to "Liev Schreiber and Naomi Watts at The Omen Screening"