Jessica Simpson at the MTV Movie Awards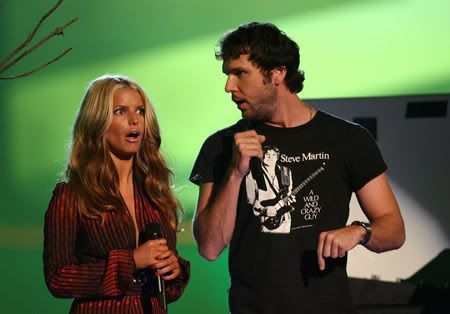 Jessica Simpson attended the MTV Movie Awards with her father and manager, Joe. She looked tolerant of her dad, but not thrilled to be with him.
Jessica is quoted as saying that Jessica Alba would do well as a presenter and that "all she has to do is strut her stuff."
She also supposedly drove Jamie Foxx crazy, but that doesn't take much for the 30 minute man:
Meanwhile, "Dukes of Hazzard" co-star Jessica Simpson, sporting a skirt as short as her marriage to Nick Lachey, drove "Miami Vice" star Foxx so crazy that he seemed to forget the beatbox noises he was laying down for co-presenter Colin Farrell's stroll across the stage.
Jessica wore an unfortunate black and red dotted print dress that was split down the front but somehow managed to hide her cleavage. Her breasts looked like round balls suspended under fabric. She appeared on stage with Dane Cook, her costar in the upcoming "Employee of the Month." (Here's Dane Cook's MySpace)
The MTV Video Music Awards air on Thursday at 8:30 p.m.
Written by Celebitchy

Posted in Awards, Jessica Simpson, Photos

- The Blemish interviews Carmen Electra [The Blemish]
- Rumer Willis joins Pretty Little Liars [Lainey Gossip]
- Morgan Freeman falls asleep during interview [D-Listed]
- Fug or fab: Isla Fisher [Go Fug Yourself]
- Tamra Barney confirms spinoff [Reality Tea]
- Movie franchises that rebounded [Pajiba]
- Why Dylan McKay is the perfect boyfriend [Buzzfeed]
- Saoirse Ronan could have been a Lohan [Evil Beet]
- GIFs from Cannes [Popsugar]
- Cat massages a dog [CDAN]
- Heather Graham is so pretty [Celebslam]
- What is Lucy Hale wearing? [Moe Jackson]
One Response to "Jessica Simpson at the MTV Movie Awards"