Nicole Richie and Paris Hilton fight in absentia on screen – world yawns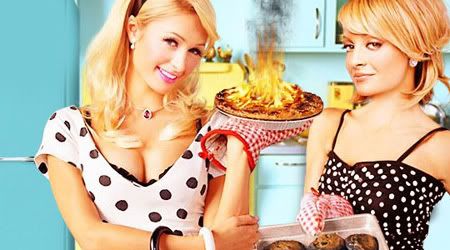 Last night's first epside of the new season of "The Simple Life 4: We don't speak to each other" premiered on the E! Network. While the ratings haven't come out yet, we would assume it didn't draw the same audience as the 13 million viewer peak of the series' third season on Fox. (We thought "The Break Up" would tank too, so what do we know?)
"Simple Life 4″ was originally going to have a "Bridezilla" theme as it followed the psuedo-celebrities as they planned their weddings to whomever they were engaged to at the time. When their relationships were discarded like last month's four-figure handbags, producers settled on a "wife swap" plot that falls flat.
The show is said to royally suck. Paris and Nicole get up to their normal cringe-worthy scripted hijinx – except this time they do it separately and with less panache.
There's another problem for E! Can dumb and dumber be as effective with each doing her own thing as they were together? Or would it be like Dean Martin without Jerry Lewis or cereal without milk — dry and hard to swallow?
Faithful followers will have to wait and see. E! didn't send out review copies to everybody, but critics who have seen it say it's lost that certain something that made it a stupid classic of sorts.
The two do sort of run into each other in a Hollywood restaurant, according to the New York Daily News. And E!'s camera crews just happened to be there. Nicole sent a cookie over to Paris' table with a naughty note written in icing. Anyone who thinks all this isn't being staged to hype the show probably still believes in the Tooth Fairy.
The series has been turned into a contest with each of the two "girls" getting half the show. Sunday they fill in for a couple with a small daughter and a child on the way. The two pop tarts are never seen together and have different film crews, so their paths don't cross. Calling them "girls" really is fitting because they get to act like third-graders having a fight on the playground.
They take turns caring for the child, which sounds pretty scary, and doing hard chores like filling the dishwasher.
Here's a preview of the fourth season. The announcer speaks Dutch. Don't let that throw you, because the clip's in English and how much can they say about this crap anyway?
Here is Nicole Richie at MTV's "Spankin' New Sounds" on June 1st with Christina Milian [via] and flying out of San Diego supposedly on June 2nd. [via] (She's wearing the same dress so we would assume these pictures were taken on the same day.)
Written by Celebitchy

Posted in Fights, Nicole Richie, Paris Hilton, Television

- Mariah Carey lip synced on American Idol [CDAN]
- Colin Firth is looking good [Lainey Gossip]
- Internet celebrity charged with murder! [D-Listed]
- What is Paz Vega wearing? [Go Fug Yourself]
- New bachelors on The Bachelorette [Reality Tea]
- Goodbye to The Office [Pajiba]
- Bachelor Sean's fiance cheats on him [Evil Beet]
- Britney Spears out with her man [Popsugar]
- Nina Dobrev works it [Popoholic]
- Cindy Crawford needs to lay off the 'tox [Celebslam]
- Who said it: Carrie Bradshaw or The Dalai Lama? [Buzzfeed]
2 Responses to "Nicole Richie and Paris Hilton fight in absentia on screen – world yawns"