Christina Aguilera "regrets" that Britney wasn't at the MTV movie awards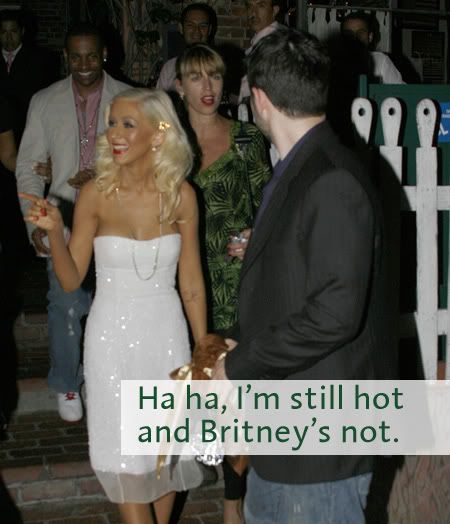 Highlighting the fact that she's happily married and hot as ever with a thriving career while Britney Spears, well – isn't, Christina Aguilera said that she's oh so broken up by the fact that Britney couldn't make it to the MTV movie awards this year:
"It's a shame Britney doesn't go to any shows or awards anymore, because they are so much fun, even if you're not nominated for things, I miss seeing how hot she looked on red carpets and seeing her at awards and shows was the only times we really had time to catch up with each other because we're both so busy".
In case you want to give Aguilera the benefit of the doubt and don't think this is a dig at Britney, read what she said about Britney's wedding with K-Fed two years ago:
Christina Aguilera, meanwhile, branded the Spears-Federline wedding as "trashy, pathetic and low rent." "It's surprising," Aguilera said at the time. "The whole affair seems somewhat pathetic."
They may have served chicken wings and hamburgers, but the wedding wasn't all that trashy. A rare hand-beaded invitation to the Spears-Federline wedding along with an initialed party favor candle is for sale on eBay for nearly $1,000. The favors were classy even if the relationship never will be. The eBay seller should have waited until the divorce announcement in order to drive up the price.
Here's trash-talking Christina Aguilera at The Ivy with her husband on June 2nd. She looks pretty tipsy, and it's not the first time.
Pictures [via]
Written by Celebitchy

Posted in Arrogant, Awards, Britney Spears, Christina Aguilera, Music

- The Blemish interviews Carmen Electra [The Blemish]
- Rumer Willis joins Pretty Little Liars [Lainey Gossip]
- Morgan Freeman falls asleep during interview [D-Listed]
- Fug or fab: Isla Fisher [Go Fug Yourself]
- Tamra Barney confirms spinoff [Reality Tea]
- Movie franchises that rebounded [Pajiba]
- Why Dylan McKay is the perfect boyfriend [Buzzfeed]
- Saoirse Ronan could have been a Lohan [Evil Beet]
- GIFs from Cannes [Popsugar]
- Cat massages a dog [CDAN]
- Heather Graham is so pretty [Celebslam]
- What is Lucy Hale wearing? [Moe Jackson]
2 Responses to "Christina Aguilera "regrets" that Britney wasn't at the MTV movie awards"