Did Megan Fox get something new "tweaked" on her face?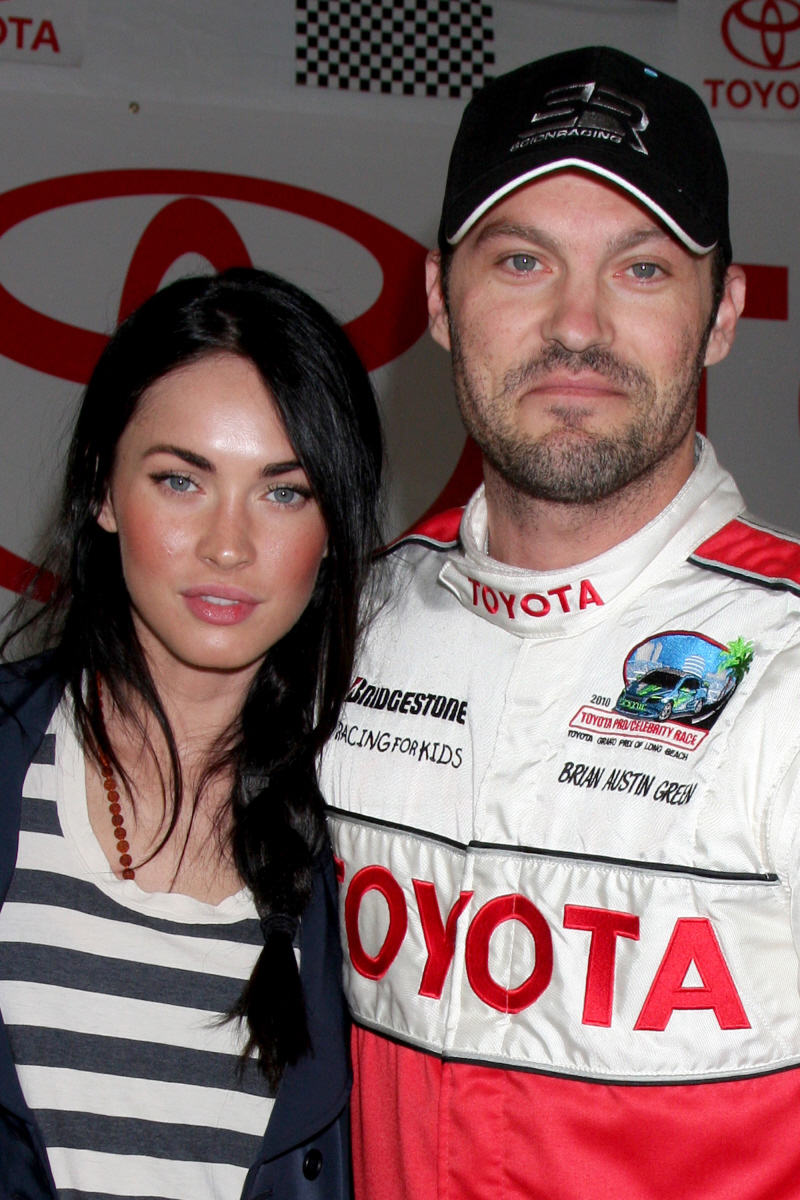 I've long thought/known that Megan Fox has had a lot of stuff "tweaked" on her face. Granted, she's no Heidi Montag, but if you're looking at photos of Megan from four years ago, the difference in her face is rather startling. Back in January, a photo agency even called Megan out on her lip plumping, doing closeups of her newly "plumped" lips as she was trying to hide her face from photographers. Anyway, Megan was out over the weekend to support her long-term boyfriend Brian Austin Green, and Lainey at LaineyGossip thinks that at this point, Megan has a "pretend face…Like some random bitch holding a sign in front of her head from a cutout magazine."
Megan Fox has been working. She has not been famewhoring, she has not been pap-baiting, and as far as celebrity famewhoring pap-baiting offenders go, she's actually not the worst. You'll note, it is possible to go long stretches without seeing Megan Fox "candids". And it's IMpossible to go long stretches without seeing Alba/Biel "candids". So no, while she may be irritating when she opens her mouth, Fox isn't high on the list of hate. Maybe the middle third. Sound fair?

Having said that, if she says she hasn't worked on her face, I say she's full of sh-t.

Megan's on again off again fiancé Brian Austin Green took first place at the Toyota Celebrity Pro Race at the Long Beach Grand Prix on Saturday. She was there to cheer him on. See? Look at her. It doesn't look real does it? It's like a pretend face. Like some random bitch holding a sign in front of her head from a cutout magazine. It's freaking me out.
[From LaineyGossip]
I hate to admit this, but I think Megan looks kind of cute in these photos. I mean, it's the rare time BAG has something to do that she can show up for, and she's got her "I'm a good girlfriend" face on. She looks hot (like, temperature hot) and a little sunburned too. Not to say she probably hasn't gotten something new done to her face – she probably has. I just can't put my finger on it at the moment.
Oh, and since I'm feeling slightly generous to Megan, I'll agree with Lainey and say that I like that there aren't Megan Fox photos every other day. She doesn't go to the opening of every envelope, she only saturates the photo agencies when she's got a film coming out. That part of PR strategy is pretty smart.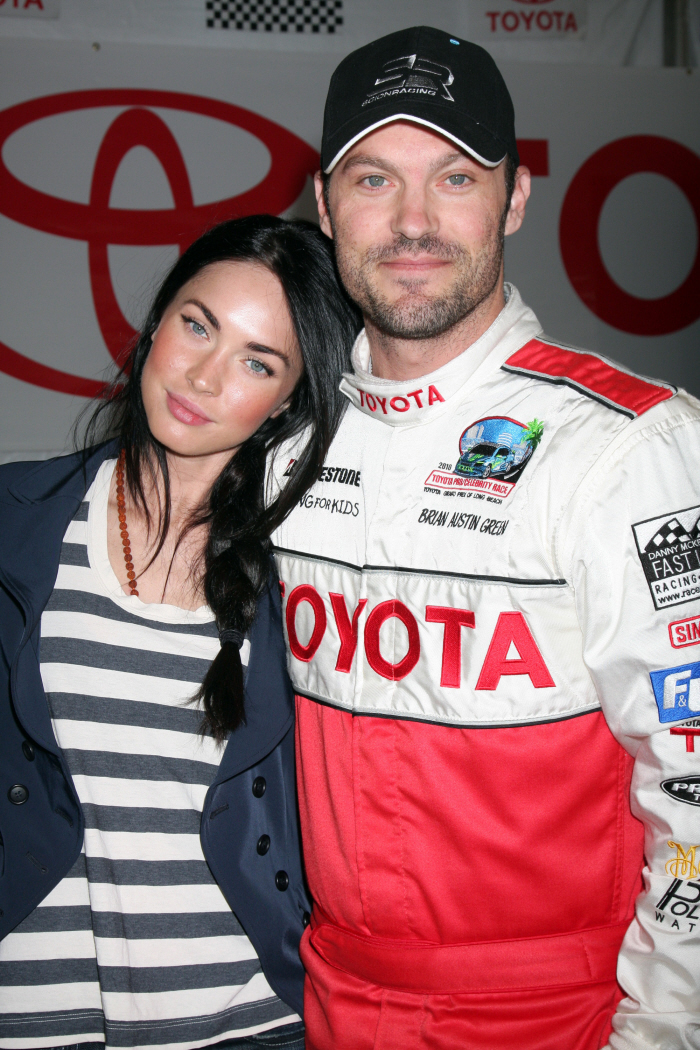 Megan and BAG on April 17, 2010. Credit: WENN.

Written by Kaiser

Posted in Megan Fox, Plastic Surgery

- Mariah Carey lip synced on American Idol [CDAN]
- Colin Firth is looking good [Lainey Gossip]
- Internet celebrity charged with murder! [D-Listed]
- What is Paz Vega wearing? [Go Fug Yourself]
- New bachelors on The Bachelorette [Reality Tea]
- Goodbye to The Office [Pajiba]
- Bachelor Sean's fiance cheats on him [Evil Beet]
- Britney Spears out with her man [Popsugar]
- Nina Dobrev works it [Popoholic]
- Cindy Crawford needs to lay off the 'tox [Celebslam]
- Who said it: Carrie Bradshaw or The Dalai Lama? [Buzzfeed]
77 Responses to "Did Megan Fox get something new "tweaked" on her face?"