Are Brandon Davis and Lindsay Lohan dating?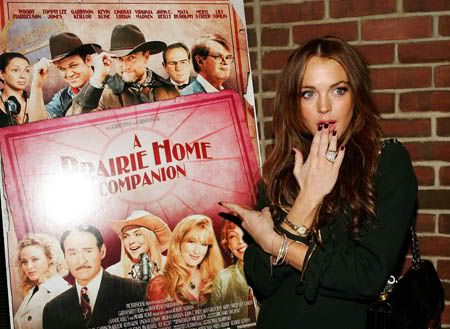 Lindsay Lohan and Paris Hilton made up at a party, with Paris later calling Lindsay "sexy" for good measure. Lindsay may have also made up with her verbal attacker, Brandon Davis, in spades, because his grandmother claims she's dating him:
IN a desperate bid to extinguish the "firecrotch" furor that has burned the oil-rich Davis dynasty in Beverly Hills,
family matriarch Barbara Davis is telling friends that her bratty grandson, Brandon Davis, is now dating Lindsay Lohan, the subject of his vulgar tirade last month.
At sappy saxophonist Kenny G's birthday party in Malibu Saturday, Barbara [Brandon Davis' grandmother] was overheard inexplicably telling party guests, "Brandon is dating Lindsay now!" A rep for Barbara agreed, telling Page Six that Brandon took Lohan out to dinner last weekend.
But chief Lohan-dler Leslie Sloane responds that Davis has gone daffy: "It is unfortunate that Barbara Davis is desperate enough to make up a lie about Lindsay dating her grandson.
"Lindsay took the high road and accepted Brandon's apology last week, but they are not dating and they did not go to dinner together.Lindsay is dating several men who live overseas." (That's several men, lest any of Lohan's foreign suitors think they have the freckle-faced phenom all to themselves.)
That's hysterical. Old people get confused and think that youngsters are dating whenever they hang out together. In Lindsay and Brandon's case they're probably just screwing.
Lindsay's publicist says she's dating "several men," though, so how can she keep up?
Here's Lindsay with Karl Lagerfeld at the CFDA fashion awards and with Kevin Klein, Meryl Streep, and Lilly Tomlin at the Prarie Home Companion premiere. She is shown with her little sister at the movie's after party. [via]
Written by Celebitchy

Posted in Brandon Davis, Hookups, Lindsay Lohan

- Mariah Carey lip synced on American Idol [CDAN]
- Colin Firth is looking good [Lainey Gossip]
- Internet celebrity charged with murder! [D-Listed]
- What is Paz Vega wearing? [Go Fug Yourself]
- New bachelors on The Bachelorette [Reality Tea]
- Goodbye to The Office [Pajiba]
- Bachelor Sean's fiance cheats on him [Evil Beet]
- Britney Spears out with her man [Popsugar]
- Nina Dobrev works it [Popoholic]
- Cindy Crawford needs to lay off the 'tox [Celebslam]
- Who said it: Carrie Bradshaw or The Dalai Lama? [Buzzfeed]
2 Responses to "Are Brandon Davis and Lindsay Lohan dating?"