Tom Cruise wears lifts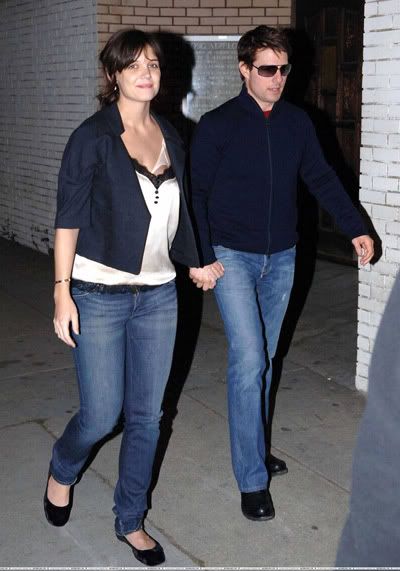 The NY Daily News notes that Tom was as tall as Katie in heels at the MI3 fan screening in LA last week, suggesting the pint-sized star, who is 5'7" to Katie's 5'9", was wearing lifts:
When Cruise and Holmes first went public with their romance last year in Rome, where they were frequently photographed smooching, their altitude difference was sharp and clear.
But on the red carpet at the L.A. premiere of "M:i:III" the other night, Tom and Katie were … well … exactly the same height!
And Katie was wearing what appeared to be white patent leather Roger Viviers that come with a 3 1/4-inch heel — which would have raised her height to over 6 feet.
So how is it that Tom could stand with her eye to eye, when he should have been staring at her chin?
Cruise's spokesman, Paul Bloch, insisted that nothing was out of the ordinary: "He had normal shoes on."
But the most plausible answer appears to be lifts — which, when built inside the heel of a standard dress shoe, can easily add inches.
You can't blame the guy for trying to look a little taller.
Tom and Katie have sent a baby gift basket to Brooke Shields in response to Shields' personal note congratulating them on the birth of Suri. Now that the Tom and Brooke have newborns born on the same day in the same hospital, it's time to bury the prozac hatchet.
Here he is with Katie out in LA. She looks tired and her nursing bra is peeking out the top of her shirt. Tom is rushing her somewhere that's likely Scientology-related and he ignores the photographer, while Katie attempts to smile. [via]





Babies
|
Brooke Shields
|
Katie Holmes
|
Tom Cruise
|
TomKat
Katie Holmes and Brooke Shields gave birth at the same hospital and floor!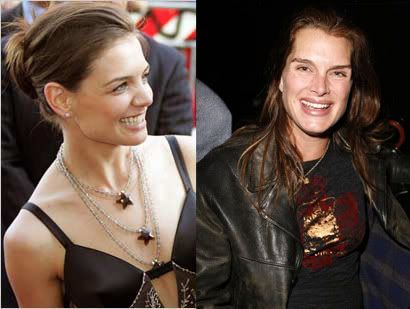 Yesterday it was big news that Brooke Shields had her baby right before little Suri supposedly slipped silently out of Katie Holmes. A more incredible detail is the fact that Katie and Brooke gave birth in the same hospital, on the same floor!
Everyone assumed that Katie gave birth at home as planned, but she is said to have snuck out with Tom to go to the hospital. She also chickened out and had an epidural - not that there's anything wrong with that.
"We know (now) it was in a (Los Angeles) hospital. And, strangely enough, despite all of the media surrounding Tom and Katie's home in Beverly Hills, they were able to leave the house, get to the hospital, and come back home without anyone knowing.
"I'm pretty sure it was a silent birth because they kept saying, 'We're going to do it.' "
Silent births are espoused by the Church of Scientology, and involve just what the name implies: as much silence as possible during births by everyone there, even the mother.
"(But) she did have drugs," Cagle said. "She did have an epidural, and all of that stuff. And he did say recently that, if she wants to holler, she can holler..."
What no one could have anticipated, Cagle said, was Shields having her baby the same day as Holmes: "(Shields) not only had her baby yesterday, but in the same hospital, on the same floor as Tom's. So, clearly, the god of irony and hilarity was in Hollywood (Tuesday)."
[
via
]
Shields was famously criticized by Cruise for publically admitting that she used antidepressants to get over a serious bout with postpartum depression. Cruise believes that psychiatric drugs are harmful because of his cult's stance against their use.
Hopefully the baby was attended to properly and will be cared for by Katie, and not Scientology handlers, for its first three days.
Posted to
Babies
|
Brooke Shields
|
Katie Holmes
|
Tom Cruise
|
TomKat