Brett Favre's lame voicemails and alleged dick pics revealed (SFW)

Deadspin has a video that features voicemail and online messages allegedly from married former NY Jets quarterback Brett Favre, 40, to a now 26 year-old female then-employee of his team, Jenn Sterger, that were sent in 2008. According to the story on Deadspin, Sterger received myspace and voicemail messages from someone sounding exactly like Favre that she assumed was him. When she told him online that she didn't want to get involved with anyone on the team, he left her another message and then sent her cellphone photos (allegedly) of his penis. Classy. He's not even well endowed. I've had guys send me webcam dick pics back when I was single and I can say with all confidence that I avoided them like the plague after that. Why do men think this works? Does it ever?
The Brett Favre Jenn Sterge scandal that erupted in August is back again with new allegations, new pictures, and now a voice mail on Deadspin. Brett Favre last summer was silent on the Jenn Sterger allegations that involved those notable Crocs shoes; it was all the result of an interview between Sterger and the website's reporter. During that interview, the conversation took an unlikely turn. After it, Favre had no comment. In fact, at the time, Favre wasn't commenting much about anything, having not decided if he was done with the NFL or set to return to the Vikings.

But this time critics are walking all over the "leaked" tapes as possibly fake.

In August, Jenn Sterger sat down with a Deadspin reporter. "We later had a phone conversation about who some of the more well-known [phone]-shot senders were. One person, she claimed, who was very into cell phone-[actions] was none other than Brett Favre."A.J. Daulerio, who was interviewing the Maxim and Playboy model, was surprised by the revelation.

Over the summer, Jenn Sterger claimed the photos were during the time Brett was with the Jets and she was a sideline reporter. Sterger says she also got weird voice mails, one of which she played only for the Deadspin reporter.

Today that changed when audio tapes of those alleged conversations hit Deadspin with "revealing" pictures of a person the website questions is Favre.

During the audio, you hear clearly an older man, who sounds pretty worn out, trying to win the affections of a reporter through the wonders of text messaging. He keeps on telling the woman to text him and join him in his hotel. But is it Favre? He talks with an accent, he is determined. Online reaction is definitely split.

In the first message, the male says "Jen – just got done with practice, got meetings here, in a couple more hours I'm going back to the hotel to just chill, so send me a text, um, cause … Ill be in the hotel for a couple of hours … come over tonight … but uh, … but …if you, might give you my number, or … gimme a text, love to see you tonight, take to you later by."

A.J. Daulerio had heard the alleged recordings over the summer. His reaction at the time was "But gray-haired Favre?" In the second message, the male calls back and asks Jenn to his hotel room again. "Okay, we'll im still at practice… if you can make it, great, later."

Favre again has no comment today.
[From LaLate.com]
Kaiser and I conferred on this, and we agree that Favre has a small dick. (His alleged organ is at 2:08 in the video on this page.) She writes that it's "on the small side" while I just think that God (and/or steroids) dealt him a bad hand yet he's still trying to bluff like he's got a full house when all he has is a pair of threes. The voicemails weren't all that threatening, they were just lame and desperate. The sad thing is that this woman had to leave her job over this. She got paid, though. The editor of Deadspin tells BusinessInsider that they paid "More than we ever have" for the photos of Favre's (alleged) penis along with the voicemails. So is it him on tape? If you watch an interview with the guy from around that time it sure sounds like him.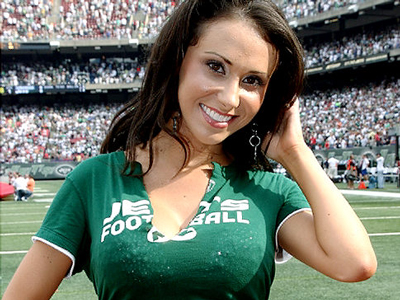 Posted in
Brett Favre
,
Jenn Sterger