Sting invents clever excuse for stripper addiction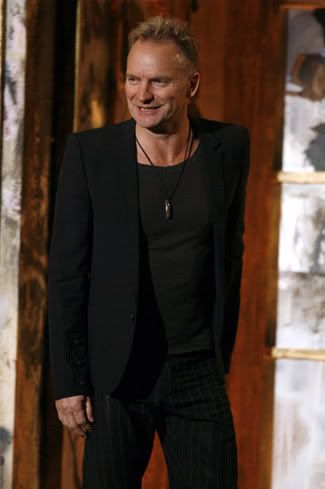 Sting is opening a strip joint in NYC and can finally put those rumors that he's stripper-obsessed to rest. He was just doing research for his new business venture, and the fact that he insisted that dancers keep their clothes on during lap dances bolsters his excuse. Bowie will be able to get his rocks off without guilt, too:
Notorious strip-club aficionado Sting is opening his very own jiggle joint. We hear that the former Police chief is set to launch a satellite of Hollywood burlesque bar Forty Deuce on West 21st Street and 10th Avenue – and among his backers is regal rock legend David Bowie. While we've never spotted Bowie at Scores, Sting is a regular at top-shelf mammary meccas, where he is known for asking strippers to keep their dresses on during lap dances.
You go, Sting. Guess those threesomes with Trudie were getting old.
Posted in
Business ventures
,
Sting