Are Cameron Diaz and Paul Sculfor engaged?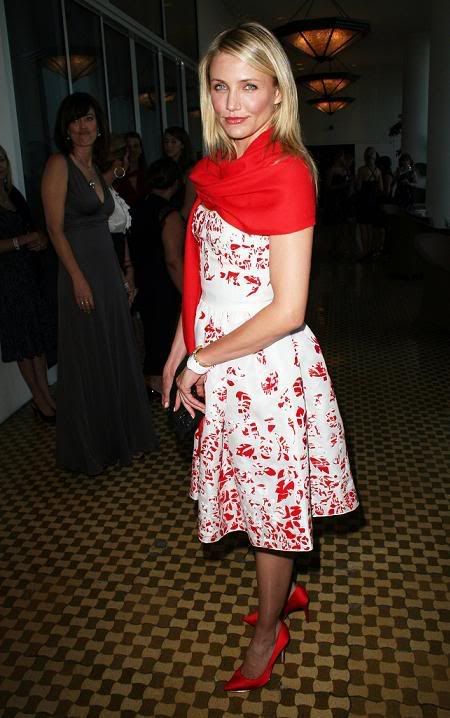 A matter of mere days ago the internet was abuzz with rumors that Cameron Diaz was dating Jennifer Aniston's ex, model Paul Sculfor. The pair were seen taking a walk and making out on a beach in Los Angeles on Monday – a classic romantic combination. Later that day, Diaz was photographed driving (with a different man in her car) with a massive ring on her left hand, leading us to wonder if she's planning on tying the knot.
Cameron Diaz has fuelled engagement rumours by sporting a huge ring on her wedding finger.

The actress appeared to flash the dazzling ring at photographers as she left the Nobu restaurant in Santa Monica yesterday, indicating that her relationship with new beau Paul Sculfor may have taken a more serious turn.

Earlier this week the 35-year-old was pictured looking blissfully happy as she kissed and cuddled the bricklayer-turned-model, who previously dated Jennifer Aniston, during a day out in West Hollywood.

The couple couldn't keep their hands off each other as they enjoyed a dinner date before strolling to a nearby boutique.
[From the Daily Mail]
You don't exactly go to Nobu when you want to keep things low key and private. That sure looks like an engagement ring to me. If so, congrats to Cameron and Paul! If not… excellent publicity ploy.
Header of Cameron at the Women in Film's 2008 Crystal Lucy Awards in Beverly Hills on June 17th – no ring on the hand. Here she is on Monday leaving the Chateau Marmont with quite the ring on her finger. Images thanks to WENN.
Posted in
Cameron Diaz
,
Engagements
,
Paul Sculfor
,
Rumors