Chris Brown to taint the memory of the late Aaliyah with a song collaboration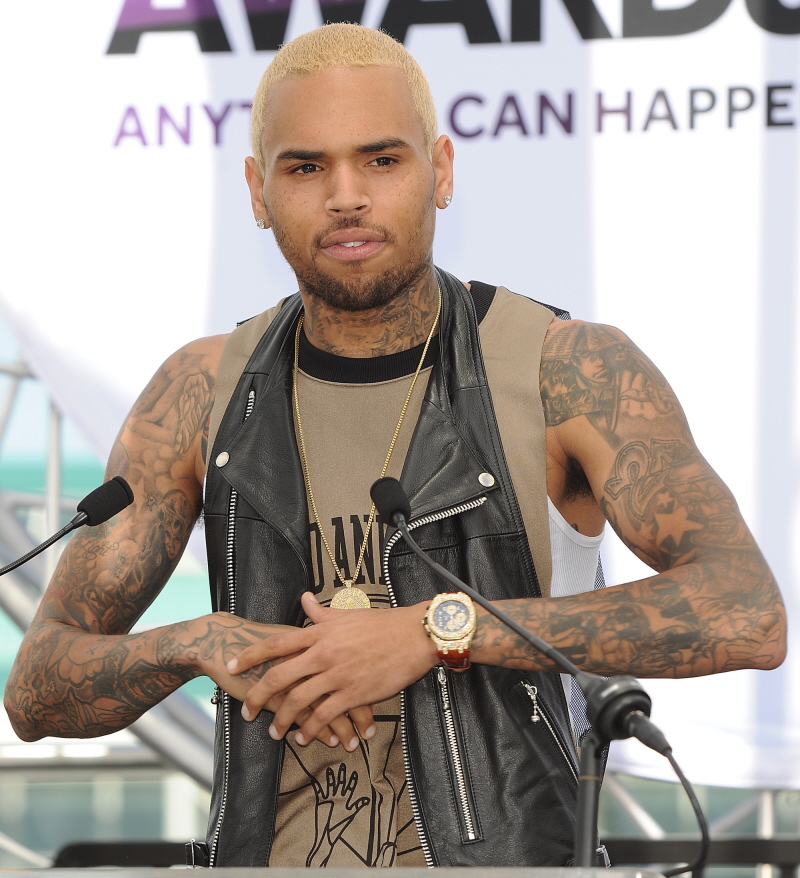 You know I don't like to talk about Chris Brown unless it's super-important. Well, I'm breaking one of my own rules here. These are photos of Chris yesterday at the BET Awards 2013 press conference at Icon Ultra Lounge. Chris's outfit was… um… odd? At first I only saw him from the waist up, and I thought he was just wearing a leather vest as a top, and I was all "Chris Brown is a Village Person." But there's a sleeveless t-shirt under there, and the camo pants are doing their part too. This ensemble is just awful, right? I guess he wanted to show off his ink, but instead of looking arty and hip, he looks like a would-be leather-daddy on stroll.
At the BET press conference, Chris announced that his next single off of his new album ("X") will be called "They Don't Know". And it's a collaboration! With the late artist Aaliyah. God, remember Aaliyah? I loved her. She had a great, sultry voice. RIP Aaliyah! Apparently, Chris got his hands on previously unreleased vocals from Aaliyah (and hopefully he got permission from her estate?), thus the "collabo". Chris has already shot the music video too, and he said at the BET presser: "I shot it in the hood. I went to the Cedar Block. Bringing both worlds together and trying to uplift the poverty side of the community and show them where I'm from. I'm from Virginia, but everybody comes from a broken home or being broke. I remember when I was." Ugh.
Meanwhile, have you heard the story about Chris's Hollywood Hills home and how he painted colorful "monster murals" on the walls? Here's a photo: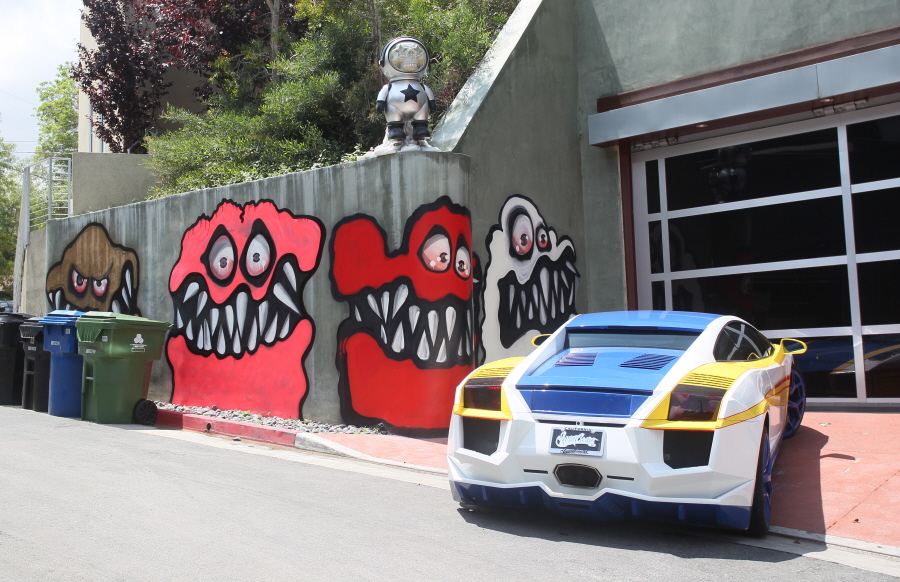 So what would you do if your neighbor did that? If it was Chris Brown… well, I would probably try to ignore it. But some neighborhood moms are pissed at him because the monsters are scaring their kids:
The monsters painted on Chris Brown's house might scare some children in his Hollywood Hills neighborhood — but not all of them.

"My kids think they're really cool," Melissa Harrington said of her 6-year-old twins. "They're pretty excited about it." Harrington, who lives a five-minute walk away from the pop star, called the murals "colorful" and "cute."

"Look at the paint job on his cars. They're works of art," she said. "What style of art are you going to paint on a modern home like that?"

Brown drew complaints from other neighbors — along with a citation from the city — after he painted the 8-foot tall, brightly colored creatures on a retaining wall and along the side of his concrete-and-steel-and-glass home. Patti Negri, head of the Hollywood Dell Civic Assn., told the Los Angeles Times that she had gotten numerous complaints from residents.

"There are lots of babies, lots of children, and they're literally frightened," she said. "It's like devils on the wall — big scary eyes and big scary teeth, and just the whole vibe is not what we're used to."

Responding to complaints about the monster art, L.A. city code officials cited Brown for unpermitted and excessive signage and ordered him to remove the art within 30 days. He also faces fines that start at $376 but could rise significantly if he fails to comply.

"They jump right out at you. They aren't just at the curb by the bins. It is all the way up the side of the house," said L.A. City Councilman Tom LaBonge, whose district includes Brown's colorful abode.

Negri said neighbors have also complained about Brown's loud parties, large entourages and fast cars.

"Chris himself did not warm himself to the neighborhood when he first got here, so this is kind of the straw that broke the camel's back," she said.

Harrington said plenty of celebrities have lived in the area — including Eva Longoria, Lil' Jon and Lindsay Lohan — bringing paparazzi and lots of cars, and added that her non-famous neighbors also throw big parties and speed through the narrow streets.
"It's not just necessarily in fancy cars or Chris Brown," she said.

Brown's attorney, Mark Geragos, said Brown has more to fear from his neighbors than the other way around.

"I'm scared of neighborhood busybodies like this," Geragos told The Times. "They've called animal control. They have sicced parking [enforcement] on him, and now they reached the heights of ridiculousness here. Shame on them." Geragos said the city can expect a legal fight over the artwork, calling it an attempt "to suspend the 1st Amendment."

Brown responded to critics via Twitter, saying "imma paint until my hands fall off."

"It's art," he tweeted Saturday. "There are scarier creatures on Harry potter. Get a … life!"

Harrington noted Brown isn't the only resident with an unusual paint job.

"Behind our house is a house with pink-and-yellow stripes," she said. "Chris Brown can see it out of his window if he looks across the canyon. … If you really don't like the murals, then call in that pink-and-yellow one he has to look at every day. Don't just persecute the guy," she said.
"Persecute"? Seriously? Are we going to cry "persecution" every time some d-bag gets a fine from the city code people? As for the monster art… I can see how it would scare young children, but I can also see how it's a slippery First Amendment issue. What if the "public art" was something more traditionally beautiful? What if he graffiti'd butterflies and baby ducks onto his wall? Would there still be complaints? If those complaints went away if the art was cuter, then I think Chris has a decent case.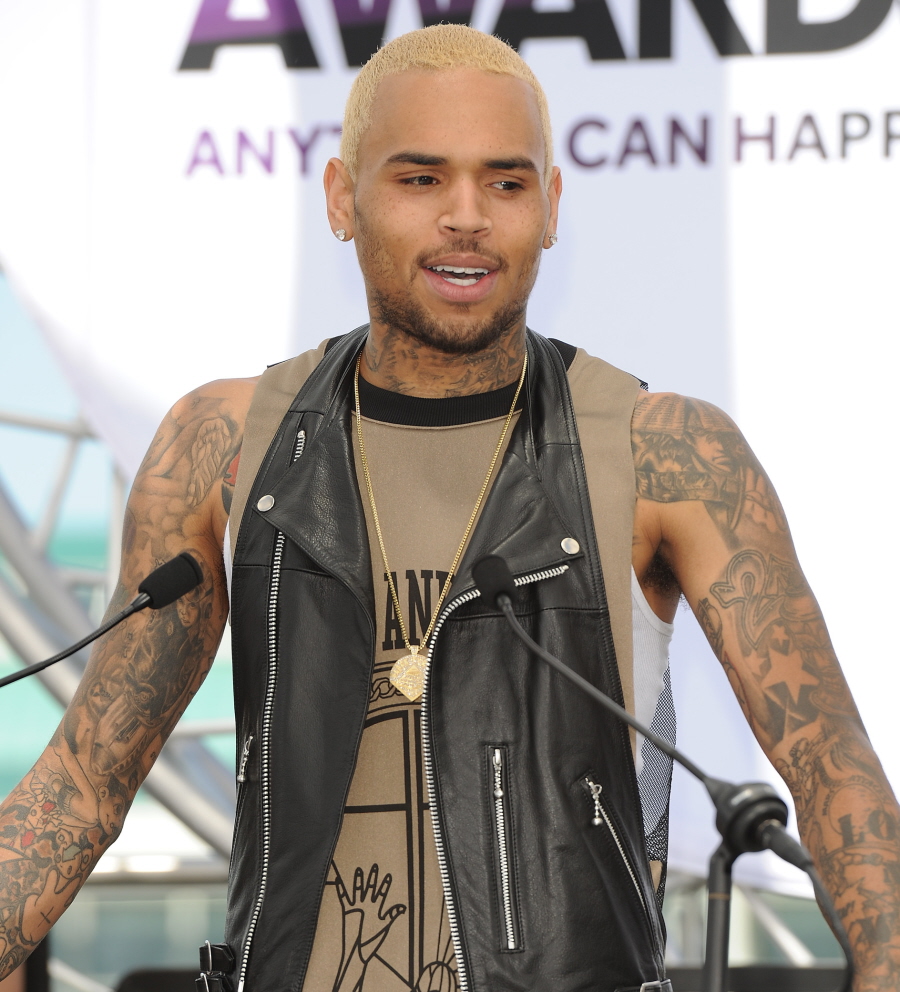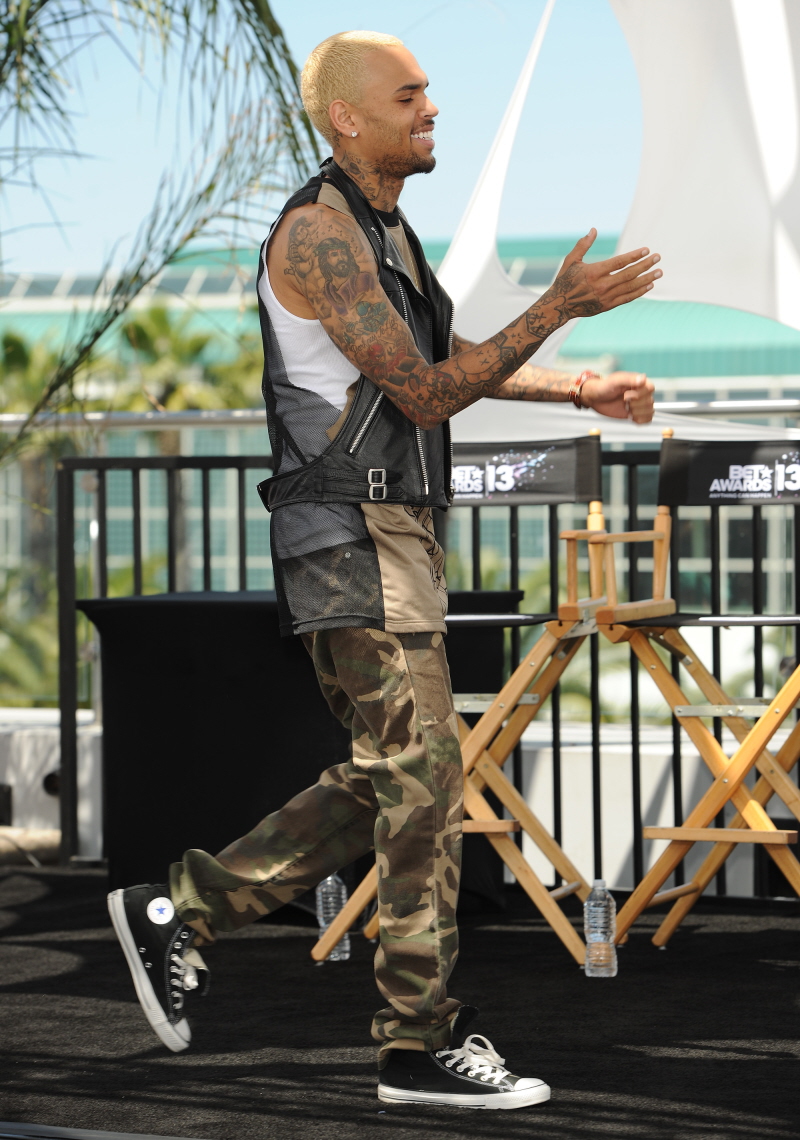 Photos courtesy of WENN.

Posted in
Chris Brown