Dolly Parton cracks jokes about Britney & Lindsay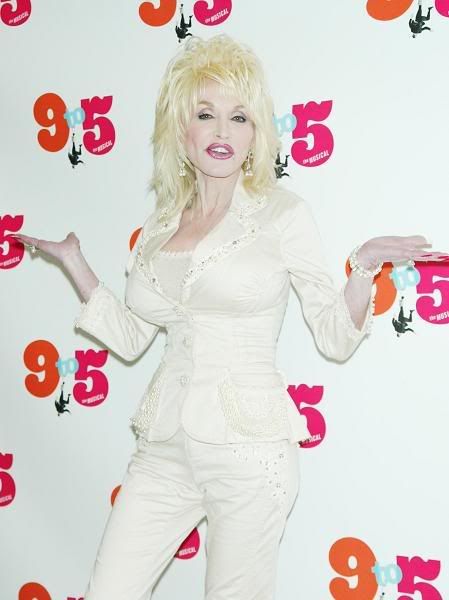 I used to find Dolly Parton really tacky. But then I matured and realized just how freaking awesome she is, because she embraces her tack. She works it like a drag queen. In fact she's acknowledged that she looks like a hooker. And she's fine with it, and has certainly cultivated a unique persona for herself.
Dolly had a few sassy comments about Britney Spears and Lindsay Lohan during her concert Sunday night at Los Angeles' Greek Theatre. And of course she wasn't above poking fun at herself either.
Dolly Parton says it's time to leave a couple of the world's most famous starlets alone. "Poor little Britney Spears and Lindsay Lohan," Parton said at her concert last night at L.A.'s Greek Theatre. "Ain't it awful? If those little girls slept with as many men as they say in the tabloids, why their little butts would have more fingerprints than the FBI!" All kidding aside, Parton said, "I kinda feel sorry for them. We should give those two a break."

She even got a bit political—kinda. Some fans wore T-shirts reading, "Dolly for President."

"I don't think so!" Parton said of her presidential aspirations. "I think there have been enough boobs in the White House." Commenting on how times have changed, she said of this year's presidential race, "We've had a woman, we have a black man and an old stiff." But that's as serious as she got when it came to current events. "People are always asking me in interviews, 'What do you think of foreign affairs?' I just say, 'I've had a few.' "
[From E! News]
I think there's been some debate over whether or not Dolly comes up with her own quips on the spot. I'd like to imagine that she does, and it best fits with my image of her as a sassy old broad. And I don't care who wrote it, that "fingerprints on their butts" line is classic. I'm going to see how often I can work that into everyday conversation from now on. And if I ever meet Lindsay or Britney, I'm going to have to ask if it's true. I'm guessing it's one of those "behind every joke there's a little truth" situations.
Here's Dolly Parton at a and greet for her new Broadway show 'Nine to Five the Musical' held at the New 42nd Street Studios in New York City on July 15th. Photographer: Joseph Marzullo. Images thanks to WENN.
Posted in
Britney Spears
,
Britney Spears
,
Concerts
,
Country Music
,
Dolly Parton
,
Lindsay Lohan
,
Music