Bea Arthur has passed away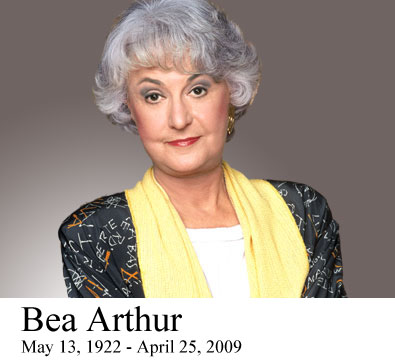 Beloved Golden Girls star Bea Arthur has passed away at her home in Los Angeles at the age of 86. She was suffering from cancer. Bea started out performing in musicals and found success on television later in life. She earned a Tony award in 1966 for her role on Broadway as Vera Charles, the best friend to Angela Lansbury's Mame. Bea went on to star in her own television series in 1972 at the age of 50 as acerbic outspoken Maude, a liberal feminist who faced polarizing issues like abortion, alcoholism and domestic violence, all with biting humor. Arthur is best known for for her Emmy-winning role as Dorothy in groundbreaking NBC series "The Golden Girls," which aired from 1985 to 1992. She is survived by two sons, Matthew, 47, and Daniel, 44, and two granddaughters.
Beatrice Arthur, an icon of '70s TV as the star of Maude, and then one of the staples of '80s TV as one of the leads in The Golden Girls, has died at age 86, according to an Associated Press report. A family spokesman told AP the Emmy and Tony Award winner had cancer, and died peacefully at her home in Los Angeles.

Arthur's best-known roles came in popular sitcoms that didn't shy away from the serious issues of the day. On Maude, which aired from 1972-1978, Arthur's pantsuit-wearing, feminist title character had an abortion, which resulted in a flurry of viewer protests. Arthur scored five Emmy nominations and one win for the role. The ribald, hilarious Golden Girls — which over seven seasons tackled hot-button issues such as menopause, homophobia, suicide, and racism — found Arthur playing gruff, wisecrack-spewing divorcée Dorothy Zbornak, who shared a Miami home with her mother and two loopy friends. Arthur picked up four more Emmy nods and one win as Outstanding Lead Actress in a Comedy Series for the role.
In a 2005 interview with EW, Arthur recalled she "flipped" when she first read the script for The Golden Girls' pilot episode. "After all of the crap I'd been sent, here was something so bright and adult and fabulously funny," she said.

Arthur's long-time friend Billy Goldenberg, who co-created 2002′s Bea Arthur on Broadway, tells EW.com that the actress was "never afraid to say anything that she believed in. The rest of us always took a moment before we said anything, maybe edited it. But she never did. And that was rather odd, because she was a very shy, private person." Goldenberg says that while Arthur would often wonder why she inspired such widespread and passionate fandom, he surmised it was the way the actress championed underdogs, "people who felt like second-class citizens," in both her on-screen and off-screen life.

After exiting Golden Girls in 1992, Arthur worked sparingly. Since 2000, she made guest-starring appearances on Curb Your Enthusiasm and Futurama. She scored yet another Emmy nomination as Outstanding Guest Actress in a Comedy Series for a role as a loopy babysitter on Malcolm in the Middle.

Earlier in her career, Arthur tasted success on Broadway and on the big screen, even winning a Tony Award for her roles as Vera Charles, formidable pal of Angela Lansbury's title character in Mame. She would go on to play the same role in the musical's big-screen adaptation, though in that instance opposite Lucille Ball.
[From EW.com]
EW also has some quotes from friends of Arthur that are touching.
From Betty White, Arthur's co-star in Golden Girls:
"I knew it would hurt, I just didn't know it would hurt this much. I'm so happy that she received her Lifetime Achievement Award while she was still with us, so she could appreciate that. She was such a big part of my life."
From Angela Lansbury, Arthur's co-star in Mame:
"Bea Arthur and I first met when we did 'Mame' together in 1965. She became and has remained 'My Bosom Buddy' ever since. I am deeply saddened by her passing, but also relieved that she is released from the pain. I spoke to Matt, her son, yesterday and I was aware that her time was imminent. She was a rare and unique performer and a dear, dear friend."
It's hard to believe that Arthur was 86 as she seemed so vibrant and young on The Golden Girls. The show has a kind of comic timelessness in reruns and when you watch it you can easily forget that it last aired over 15 years ago. RIP Bea Arthur, you will be sorely missed.
Here is Bea Arthur singing "What'll I Do" on the Golden Girls:

Photo credit: WENN.com. The most recent pictures are of Arthur with Angela Lansbury on 12/9/09.
Posted in
Bea Arthur
,
Deaths