Jennifer Lopez: "I can't help but be a different person now that I've had kids"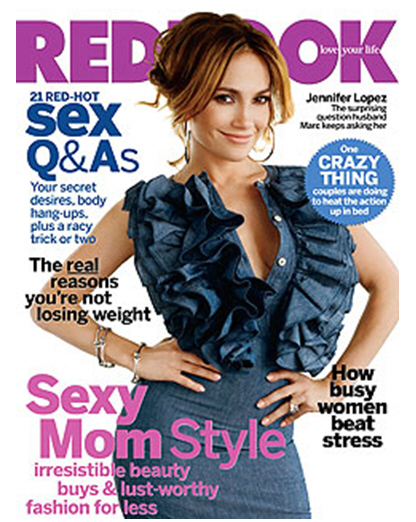 Jennifer Lopez is really trying to sell us on this whole "I'm just a humble mama from the block" image. She's the cover girl for the May issue of Redbook, and her interview sounds a lot like the same interviews she's been giving for the past few months. Meaning, all about being a mom and how much she's changed and how they're her "number one" priority. While I totally believe that Jennifer adores her kids and that she's probably a great mom, I do tend to think that she's been giving off a whiff of desperation as she tries to revamp her image as a Oprah-approved super-mom, all to sell herself as an actress and singer, yet again. Here's more from Redbook (via People):
Jennifer Lopez's world turned upside down when twins Max and Emme were born in March 2008. In the two years since then, she's changed with it.

"I can't help but be a different person now that I've had kids," the singer and actress, 40, tells the May issue of Redbook, on newsstands April 20. "That really does change your whole perspective on life for the better. I definitely feel like I've grown up."

It took a little while to get up to speed. Lopez relied on husband Marc Anthony, who had two sons with previous wife Dayanara Torres, to teach her the basics of diaper changing. Lopez says she was almost afraid to touch the babies at first "because I might hurt them, because they were only five pounds each."

After two years as a mom, she is now a pro.

"My main priority now is that my kids are happy; that's my No. 1 focus in life," she says. "Are these little people happy, content, and getting everything they need? Everything after that is secondary. Before, my work was my main priority – even above myself."

The kids, in return, have nourished her. "I think the biggest thing they've taught me is what loving someone is and what it should feel like," she says. "This is what unconditional love means. It's crazy, but it's heaven and earth."

And when she can't be with them, she feels the downside of love: guilt. "I didn't know that feeling before," she says. "You don't know about it because nobody ever tells you. I think it's because women are a little ashamed to admit it. You feel guilty whenever you can't have your kids right there with you on your hip."

Lopez has a busy spring and summer planned. Her first film in three years, The Back-Up Plan, comes out this month, following by a guest-starring role on Glee and the summer release of her new CD, Love?.
[From People]
My advice to Jennifer is to keep it simple – your fans already like you, and if you're looking to appeal to new people or people who have written you off years ago, stick with a simple message. Either you're the accessible, loving, sweatpants-clad mother who can't bear to be separated from your kids (the Jennifer Garner) or you're the working mom, happy to have a job and happy to balance family and career (let's call this one the Mary-Louise Parker, but it fits many actresses). What people don't get is the mixed message of a leather-catsuit wearing diva who only talks about how much she's "changed" with motherhood. Because we don't really see the change. Because you're still in the same f-cking leather catsuit.
Redbook cover courtesy of People Mag.
Posted in
Jennifer Lopez