John Galliano isn't going to jail for drunkenly slurring "I love Hitler"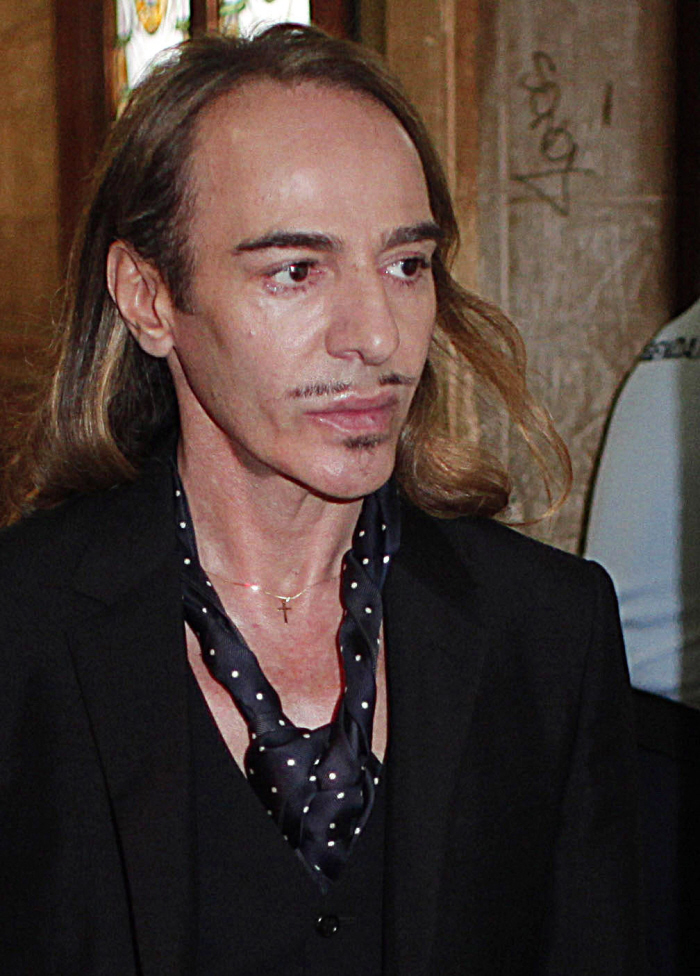 This is just a follow-up, and hopefully the last post, about John Galliano and his drunken, hate-speechy shenanigans. Earlier this year, Galliano was arrested and charged with assault and a hate crime when he attacked – verbally and physically – a woman. After that came the video of Galliano sitting in an outdoor café or something, saying on camera that he loves Hitler. That is considered "hate speech" in France, and they have laws against it. Anyway, a total sh-tstorm followed, and Galliano was publicly maligned by many in the fashion industry. He was first suspended, and then fired from his position at Christian Dior, and Galliano checked himself into rehab. Now, the finale! Galliano was just convicted of hate crimes in Paris, but he doesn't have to go to jail:
Fashion designer John Galliano was convicted in Paris Thursday of hate crimes after making anti-Semitic and racist remarks on two separate occasions.

The court imposed a suspended fine of 6,000 euros ($8,500) this afternoon. The former Dior designer was also ordered to pay a symbolic one euro fine to one of the plaintiffs in the case.

Galliano was not in court to hear the ruling. Speaking to reporters outside the courtroom, his attorney Aurélien Hamelle called it a "wise decision" and added that his client was now "very relieved."

The 6,000 euro fine is suspended on a conditional term, according to legal sources, that Galliano not be found guilty of any crime in France for five years. He must also pay a 90-euros court cost to the French government.

Two Cases
Thursday's decision is the result of two cases heard simultaneously in June by the 17th chamber of the Paris Criminal Court. In the first episode, which resulted in Galliano's Feb. 24 arrest, he was accused of assaulting two people at La Perle, a cafe down the street from his Marais apartment.

The second case involved an incident on Oct. 8, 2010, at the same bar, where he was accused of insulting a 40-year-old woman. The plaintiff in that case came forward only after his February arrest.

Neither case was directly related to a third incident – Galliano's infamous video in which he professed his love for Hitler.

Galliano, 50, who was fired by Dior following the incidents, attended the proceedings Wednesday, having barely been seen since his arrest. After testifying to a police inquiry in February, he left France to enter The Meadows rehabilitation center in Wickenburg, Ariz.

Since his April release from The Meadows, he was rarely seen in public, other than briefly at Los Angeles International Airport while in transit to an outpatient care facility. He did attend Kate Moss's July 1 wedding, for which he also designed the gown.

On June 22, Galliano took the stand in his own defense, testifying to the court that he doesn't remember the incident of Feb. 24 because of a triple addiction to sleeping pills, Valium and alcohol. Explaining his absence of memory, he said: "I have an addiction. I am currently undergoing treatment."

Dressed in a somber black suit, the designer told the court his addictions grew from his work load and grief caused by the deaths of his father and his right-hand man, Stephen Robinson.
[From People]
Eh. It sounds like the French government didn't really care, right? What's the use of having hate speech laws on the books if you don't enforce them vigorously? The whole things sounds like a colossal waste of time. And considering the influential people who are still on Galliano's side, he'll be back. He'll have a career again. I don't see him getting a job as some chief designer for one of the major fashion houses, but he'll probably do his own line, which I'm sure will be enormously popular.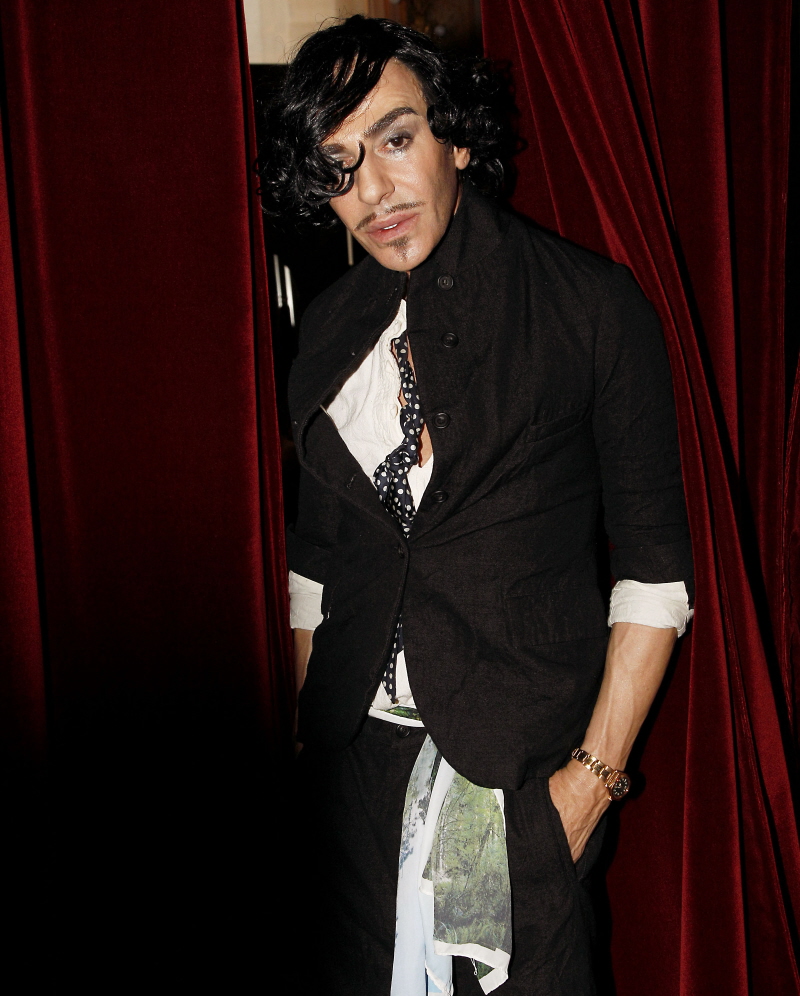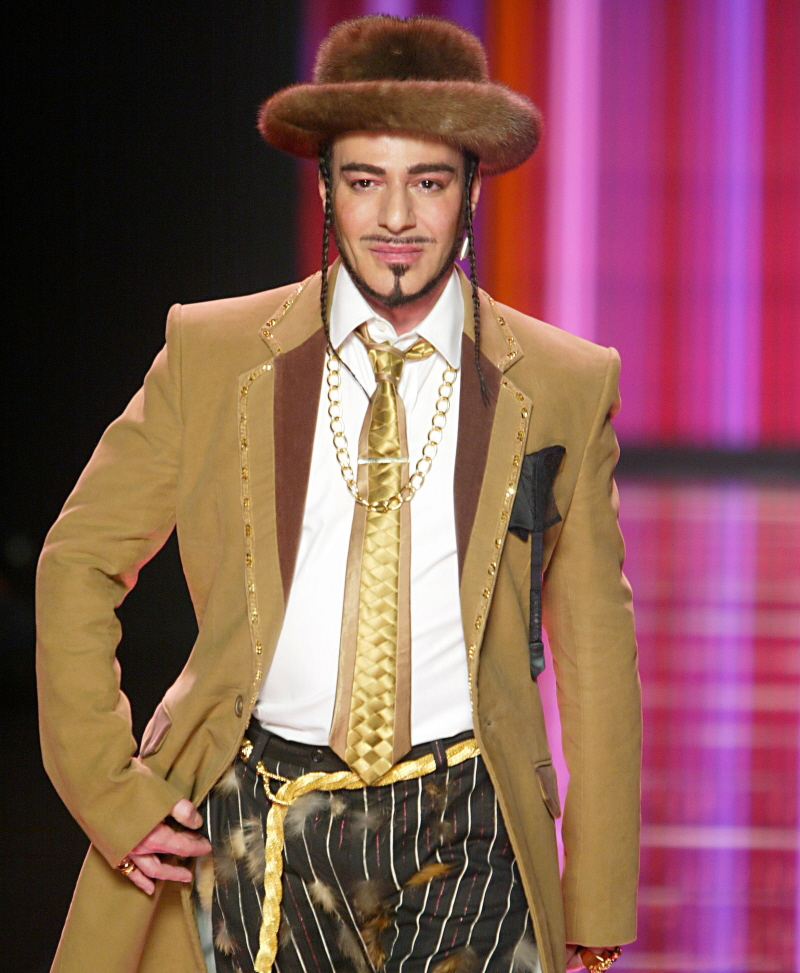 Photos courtesy of Fame & WENN.

Posted in
Crime
,
John Galliano