Jennifer Aniston tells John Mayer to move in or it's over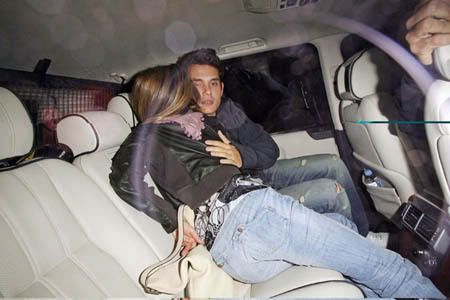 You know your relationship is getting serious when it comes time to have the moving in discussion. While it can be a little nerve-wracking (What if they say no? What if they're mortified I even asked?) apparently that's not possibility that's even entered into Jennifer Aniston's head. According to Now Magazine, when Jen asked John Mayer to move in with her, it was more of a command/threat/ultimatum, depending on how you look at it.
Dishing out ultimatums is a risky business and it can backfire. Jennifer Aniston accompanied John Mayer on his tour dates in Callifornia [sic] last month but her reunion with him in Chicago on 18 July, after a few days apart, wasn't a joyful one.

After she arrived at 2am at the Peninsula Hotel bar in the Windy City, security got rid of all the other guests so that John, 30, and Jen, 39, could dine alone together and have a serious heart-to-heart chat about their future.

'It was crunch time,' a source close to the couple tells Now.

'Jen's told him she wants him to move into her £7.5 million Hollywood home once the tour ends [on 31 August], but John's told her that, while he's not against it in principle, they have to give it time.'
[From Now Magazine]
I think the "crunch time" is supposed to be the ultimatum. The way Now ends the article makes it sound like John said no for the time being. But AZ Central says he's agreed, and will be moving in at the end of September.
Jennifer Aniston and John Mayer are planning a "trial marriage". The couple – who have been dating for three months – are said to be keen to test the strength of their relationship, and think John moving into Jennifer's house is the perfect first step.

A source said: "John wants to settle down as much as Jennifer does. "What's more, he's been telling her that he thinks she is the one and she believes him." John's move into Jennifer's Beverly Hills mansion is set to happen after his tour ends in September.

The couple are also reportedly planning a family. The source added to Britain's Grazia magazine: "John is the first guy since Brad who has talked seriously about having children and Jennifer is very excited about it."
[From AZ Central]
This whole thing just sounds fraught with peril. John Mayer is not the guy you settle down with. At least current 30-year-old John Mayer isn't. He's the guy you use to get back at/get over your ex-boyfriend. And from the stories I've heard, John will help you out with that no matter who you are. But he's not the man you start picking out china with. Generally I don't jump on the "poor Jennifer Aniston" train because I think she's reasonably smart and not nearly as pathetic as tabloids paint her to be. But I really think she's getting duped here, and this can only end badly.
Note by Celebitchy: I would be surprised if either of these stories is anything more than speculation. Yes we picked a very unflattering picture of these two, but it's hard to find one where they're together.
Jennifer Aniston and John Mayer are shown on 6/28/08 in London. Credit: ISO IMAGES/bauergriffinonline.com
Posted in
Cohabitation
,
Jennifer Aniston
,
Jennifer Aniston
,
John Mayer
,
Relationships